Should You Combine Your Cover Letter and Resume into One Document?
The internet has impacted virtually every area of life, including the job search process. Gone are the days when a job seeker would simply hand an employer a cover letter and resume in paper form. Today, more companies than ever accept digital copies of those job search documents.
In fact, many companies and employers now only accept emailed digital cover letters and resumes so they can make use of applicant tracking systems (ATS). Unfortunately, there's been little effort to standardize submission processes, and that can make it a little confusing for the average job seeker.
For example, how should you submit your emailed resume and cover letter? Should you send them separately or combine them into one document? In this post, we'll examine both options and offer the advice you need to make the best decision.
What's the difference between a cover letter and resume?
Before you decide whether to combine your cover letter and resume into one document, it is helpful to make sure that you fully understand each of these important tools. The fact is that each of these documents has its own role to play in the job search process, and they have some major differences:
Each of these documents serves a distinct purpose in the job search process. Resumes are designed to provide an employer with an easy way to quickly assess your qualifications. The main purpose of a cover letter is to help the employer understand your motivations, goals, and personality. Both are important documents, but they are not interchangeable.
Your cover letter should be a targeted document that focuses on your qualifications for a specific job role. It should contain information about why you are the best candidate for the position and what you hope to achieve for the employer if you are hired. Your resume is more of a marketing tool that highlights your skills, relevant work experience , and educational qualifications in an easily digested summarized format.
Structure and format
These two documents also have dramatically different structures and formats . Your resume will be divided into specific sections for easier consumption and will include bullet point lists of relevant skills and achievements. Cover letters look more like any other written communication, conveying your message in full sentences and paragraphs.
Cover letter and resume: to combine or not to combine?
Let's get right to the main question here: should you combine your cover letter and resume into one document? As a general rule, you should try to avoid it wherever possible. Since resumes and cover letters serve two very different roles in the job search process, they should be treated as separate documents. The only time you should even consider combining these two documents is when the company has instructed you to do so.
Review the instructions
Whenever possible, it's a good idea to get the submission guidelines for the position straight from the source. That means asking the company's hiring manager how your resume and cover letter should be sent. If there are clear instructions, it's important to follow them to the letter to maximize your chances of receiving the right type of attention. On those rare occasions when a company wants a combined document, the job posting will usually include that instruction.
Why you should not combine these two documents
In most instances, however, you will discover that the instructions are vague. Perhaps the only instruction is that your resume must be emailed. If that's the case, then you should always choose to leave these two documents as separate files. There are several very good reasons to do so:
If you include these two tools in one document, applicant tracking systems may reject it. That can happen if the ATS mistakes your cover letter for a resume and assesses it based on its rules for resume approval.
Hiring managers often want to go directly to your resume to review your qualifications. If your cover letter is part of that document, it could be a distraction that frustrates your reader.
Your cover letter and resume serve different purposes. Keeping them separate helps to ensure that each document receives the attention it deserves.
What if employers request that your cover letter and resume be combined?
As we noted above, there may be times when a specific employer requests that a resume and cover letter be sent as one document. Obviously, that request should be honored if you want to be considered for an interview. The important thing then is to ensure that you combine them properly. The following tips can help:
Decide which document you want the employer to see first
Since the cover letter serves as your introduction, there is a case to be made for putting it in the front of the resume. If you want to make sure that the ATS scores your resume properly, however, you may want to put the resume at the beginning of the document. That can also help hiring managers quickly access your qualifications.
Create a new document
Make sure that you create an entirely new document for your combined file. That will enable you to keep them separate for other companies and submissions. Then copy and paste your resume and cover letter into this new document. Be sure to save the file with an appropriate file name. For example: JohnSmithResumeCoverLetter.docx or JohnSmithResumeCoverLetter.pdf.
Use proper formatting
When you paste each document into your combined file, make sure that you retain the original formatting. Also, be sure to include a page break at the end of the first document so that the next document begins on a fresh page.
Submit the combined file
Once you have your new combined file, submit it to the company. If the online job posting includes submission instructions, follow them to the letter. Otherwise, simply send it to the appropriate email address.
How to email your cover letter and resume
When emailing your cover letter and resume, either include the cover letter as an attachment or copy and paste its text into the email message. Don't do both. 
It is generally recommended that you submit both the resume and cover letter as file attachments rather than having any part of them in the body of your email message. What you can include in the email text is confirmation that you have attached the resume and cover letter files.
Of course, you also need to decide whether you want to submit a Word document or a PDF file. Once again, review the job board instructions to see what the company is requesting. If there is no specific option listed, then the best thing to do is to submit each document in a Word file. 
Sample cover letter and resume template
Below, you will find a resume and cover letter template that you can use to ensure that your job search documents contain the information that employers want to see. You can use these templates to guide you as you create your own cover letter and resume:
Resume template
[Your first and last name]
[Your Phone number]
[Your Email address]
Professional Summary
[No more than three sentences highlighting your qualifications, experience, and achievements.]
Core Competencies
[Bullet point list of your relevant skills. Use multiple columns to list 12-15 top skills ]
Employment History
[Company name], [city], [state] | [Employment dates]
[Job title]
Job responsibility and achievement
[Repeat employment history for additional jobs, in reverse chronological order]
[Name of school], [city], [state]
[Degree], [major]
[Date you graduated] It should be noted that you don't have to include education dates if you graduated more than one year ago. 
Certifications/Licenses
[Name of certification or license, organization providing it, and relevant dates]
Awards and Achievements
[Award, honor, achievement]
Cover letter template
[Your city and state]
[Recipient's first and last name]
[Company name]
[Company address]
Dear [Recipient's name],
My name is [your name] and I am interested in discussing the open [position name] position at your company. I have [length of experience] experience as a [your profession] and am confident that I can provide a great deal of value for your company if hired.
I have recently been employed at [relevant employer name], where I was responsible for [cite job duties using keywords that match the skills needed in the open position]. Prior to that, I [provide examples of job duties that show your qualifications to fill the company's open job]. I would love to have the opportunity to use these skills as part of your team.
I have included my resume with this letter so that you can evaluate my qualifications and experience at your leisure. I appreciate your consideration and look forward to having the opportunity to discuss the position with you in greater detail.
Respectfully,
[Your name]
You should choose to send your cover letter and resume as separate documents, unless the company has instructed you to combine them into a single file. More importantly, make sure that you get those critical job search tools into the right hands so that you can increase your chances of landing an interview!
Want to know whether your resume has what it takes to capture a hiring manager's interest? Get a free resume review from our team of experts today!
Recommended Reading:
How to Tailor Your Resume to Different Positions (Examples)
How long should a resume be in 2023?
How to Get Your Resume Past the ATS Scans
Ken Chase, Freelance Writer
During Ken's two decades as a freelance writer, he has covered everything from banking and fintech to business management and the entertainment industry. His true passion, however, has always been focused on helping others achieve their career goals with timely job search and interview advice or the occasional resume consultation. When he's not working, Ken can usually be found adventuring with family and friends or playing fetch with his demanding German Shepherd. Read more resume advice from Ken on  ZipJob's blog .
Is your resume working?
Find out with a free review from ZipJob.
Get a free resume review today
Our experts will review your resume's grammar, layout, and ability to pass ATS — all free and delivered straight to your inbox.
How to make your cover letter stand out: Cover letter makeover
Is your cover letter a little drab overhaul it to show how you can fulfill the employer's needs. see our before and after examples for inspiration..
Too many job seekers use their cover letters to express what they want; however, a truly effective letter speaks to the employer's needs. If your cover letter seems like it's just not doing the job, revamp it by showcasing your accomplishments and focusing on the employer's requirements.
How to make a cover letter stand out
Focus on your value proposition—how would having you as an employee benefit the company?
Highlight your career accomplishments
Align your skills with the employer's requirements
For inspiration, take a look at our "before and after" cover letter makeover.
Sample cover letter: Before
The "before" cover letter sample is OK, but to stand out in today's job market, there has to be more substance. The job seeker explains that she has a strong work ethic and a successful career, but doesn't provide any evidence of her accomplishments. See the "before" cover letter sample here .
Sample cover letter: After
The "after" cover letter example is a strong statement of the job seeker's value proposition. She includes examples of her accomplishments so the employer can see exactly how she would be an asset to the company if hired. See the "after" cover letter sample here .
More cover letter help
Need ideas for your cover letter format? Check out Monster's cover letter examples .
Get help making over your resume
Once your cover letter is refreshed and looking strong, turn your attention to your resume. Could it use some help getting into job-search shape? Get a free resume evaluation today from the experts at Monster's Resume Writing Service . You'll get detailed feedback in two business days, including a review of your resume's appearance and content, and a prediction of a recruiter's first impression. It's a quick and easy way to make sure your skills and experience are polished and looking sharp.
Most Helpful In Cover Letters
Esthetician Cover Letter Sample
By Venus Gentile, Monster Contributor
How to Write a Compelling Engineering Cover Letter – Including Example
By Jennifer Verta, Monster Contributor
Write a Letter of Interest for Your Dream Job
By Martina Mascali, Monster Contributor
Nursing Cover Letter Example
Administrative assistant cover letter sample.
Buy our cover letter and resume template bundle today!
Does A Cover Letter Go Before Resume Or After?
Table of Contents
Does the cover letter go before the resume ? Employers read a resume first and then the cover letter. Your prospective employer will look at the resume to ensure you have the right skills and experience. If your resume has information relevant to the position, they will take the time to read your cover letter.
Employers often read cover letters for positions that require specific skills. For example, they read cover letters for IT, programming, computer, and engineering positions. Remember, your potential employer will read the cover letter after he/she likes your resume . Otherwise, the employer or recruiting manager will ignore reading it. Read on!
What do employers want?
Does a cover letter go before a resume ? No, it does not! Employers always look at the resume first and review the information. If they need more information, they will read the cover letter. It does not make sense to read all the details in your cover letter.
Employers receive hundreds of resumes and cover letters, which they lack time to go through all. However, there are some exceptions. For example, if you have applied for journalism, copywriting, editing positions, or any other creative field, they may read the cover letter first to analyze your writing skills.
A cover letter is an application with a one-page length. It introduces your work history, skills, experience, and personal interest in applying for a specific job. Although many people think that cover letters are an obsolete concept currently, they are still an essential part of the job application.
Where should a cover letter go on a resume?
A cover letter usually goes in your job application with your resume . The employer or hiring manager will read your resume and determine whether you are a suitable candidate for the position. If you have an outstanding resume , your employer will read the cover letter and later schedule an interview.
It is crucial to write an effective cover letter to grab the employer's attention. Make sure you follow a consistent approach to ensure they read to the end.
An effective cover letter includes two main topics. The first one is about showcasing your skills and convincing your potential employer.
The second one is about showing your passion for and interest in the job. Make sure you write a cover letter that contains authentic information. Avoid general information and fluff. Employers have years of experience reviewing cover letters, meaning they know whether the information is fluff or factual.
Common Cover Letter Mistakes
Writing a good cover letter is equally as important as preparing your resume . Here are a few mistakes people make when writing a cover letter.
Writing "Dear Sir"
Avoid gender bias. at times, the hiring manager could be a lady. So, if you write "dear sir," she may not like the salutation.
It is crucial to find out information about the person who will review your resume and cover letter. You can get this information from the company's HR department. If you don't want to write a person's name, you can write "Hiring manager" or "Human Resource Department."
Not Proofreading
Avoid sending cover letters prior to editing and proofreading. Grammatical and typographical errors can impact your cover letter negatively. They create a bad impression. You can prevent this by reading cover letter templates or samples. If you don't know how to write an effective cover letter, make sure you consult your career counselor for a resume critique. Visit this link for products related to cover letters.
Writing a Generic Letter
Avoid writing a generic letter. Perform thorough research about the company and mention its name to make a better impression. Also, avoid too much flattering. You should learn what the company pride itself on, including its products, awards, achievements, etc. Visit the company's official website to get more information.
Does a cover letter go before a resume ? Your cover letter is an important one-page document that plays a crucial role in the hiring process. It is usually read after resumes by most hiring managers.
Related Posts
Want to read more? Check out a few of my other posts to learn more that can be helpful on your career journey:
Do Employers Check Education On Resumes?
Can Employers Find Out If You Were Fired?
Can A Resume Be Front And Back? Does it Matter?
Do You Need A Resume For Your First Job?
Some Of My Favorite Tools
Thank you again for reading my article. Writing this blog takes a lot of time, attention, and effort so I take care in using a very standard set of tools to deliver my blog to you. Maybe you will find these helpful if you have any similar interests along your career path.
Web Hosting: To get started with a website I recommend SiteGround . Their prices are great and they have free backups for my specific plan. ( Here is a very good write-up about utilizing their hosting platform that explains a lot of the benefits and walks you through the very easy sign-up process.)
Outsourcing : I use Fiverr for many different tasks. My life is pretty busy and I try to use my time wisely. I utilize outsourcing services like Fiverr whenever possible to have people do various tasks that I'm just not good at – like graphic design. If interested, here is the person I specifically use to do graphical design for many of my images.
Online Privacy : I work hard and strive to keep confidential business details private. Therefore, I always want to keep my work viewable only by the correct people. One of the ways I protect myself online is by using a VPN and more specifically I personally use NordVPN . I use NordVPN specifically because it's fast, I can use it on any of my devices, and I can chose from any specific location. If you are looking to retain your privacy online, I highly recommend NordVPN to both my friends and family.
Leave a Reply Cancel reply
Privacy Policy Designed using Hoot Ubix Premium . Powered by WordPress .
Buy our cover letter and resume template bundle today! Dismiss
Cover Letter Vs. Resume: Which Should You Use?

Cover letter vs resume: what's the difference?
Three major differences between a cover letter and a resume
Resumes and cover letters go hand in hand, 3 expert tips on writing a cover letter vs. a resume, example resume and cover letter.
Applying for a job can be scary; trust us – we know.
But that doesn't mean it needs to be confusing, too.
However, there's this one uneasy thought that puzzles job-seekers, especially first-timers.
"Resumes? Cover letters? Aren't they the same thing? How am I supposed to know what goes where?"
We get that a lot.
So, to help you cut down on confusion and get your job application right, we're going to talk about cover letters vs resumes and settle on the difference once and for all.
In this guide, you'll find out:
What the difference between a resume and a cover letter is;
What should be included in each document;
How to make sure your cover letter makes it to the top of the pile.
Let's dive right in!
Cover letter vs resume: what's the difference?
Upload & check your resume.
Drop your resume here or choose a file . PDF & DOCX only. Max 2MB file size.
So, how are a resume and a cover letter different?
While the purpose of both is to prove to the hiring manager that you have what it takes to get the job, they do so in two very different ways.
Basically, you can consider your resume to be a summary of your work and education experience, while your cover letter focuses on how this experience relates to this specific job.
Have you heard that saying in the beauty community that says your eyebrows should be sisters, not twins?
You can apply that same logic to your cover letter and resume.
These two documents should complement each other, not copy each other exactly.
One big difference we can name right off the bat is that pretty much every employer requires a resume for a job application, but not a cover letter.
However, including one always boosts your chances of success (unless the posting specifies that you shouldn't send one, of course).
Now then, to really understand what the difference between a cover letter and a resume is, we will take a quick look at what each of them is at its core.
What is a resume? What does a resume include?
In short, a resume summarizes your work experience and educational background.
It's a detailed account of the jobs you've had, the schools you've attended and the degrees you got, any awards and certifications you might have, your skills, etc.
Most commonly, a resume is formatted as a list with bullet points. This makes the document easily scannable and eliminates fluff, which is perfect for a busy hiring manager.
Usually, you should write your resume in the third-person and be as clear and concise as possible, using few words and not going into too much unnecessary detail.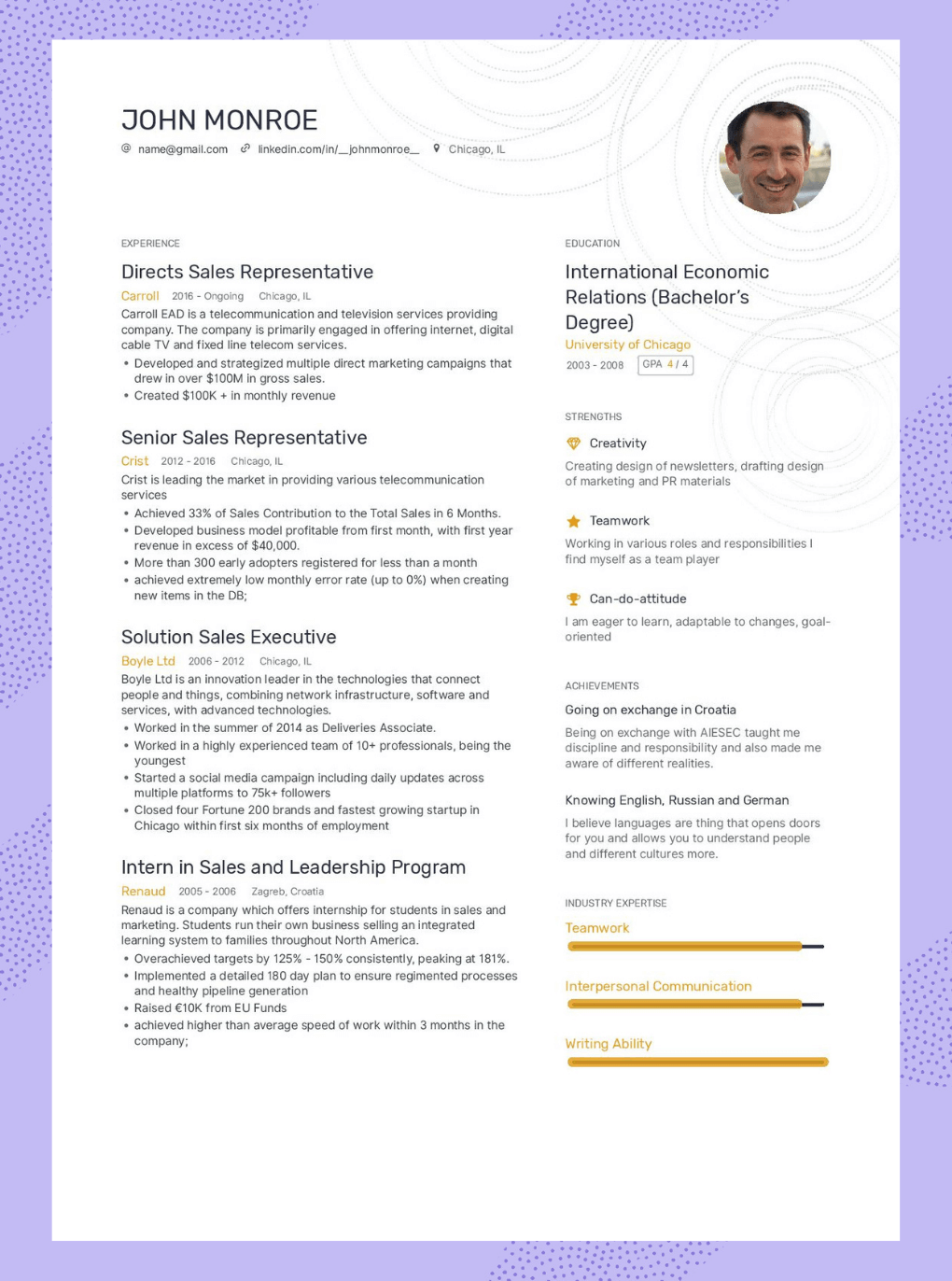 TRY ENHANCV TEMPLATES
So, here's a list of what your resume should include:
Contact information
Summary, or objective
Work experience
Dates of employment
Additional information, such as certificates, spoken languages, etc.
But what about cover letters?
What is a cover letter? What does a cover letter include?
A cover letter adds relevant context to your resume.
It highlights what your qualifications are and how they relate to the particular job you're applying for.
Basically, what a cover letter does is give the employer all the reasons why you are the best candidate for the position.
It shows off your skills and gives examples from your experiences to back them up.
You write a cover letter in a letter format, unsurprisingly. It consists of a greeting, three or four body paragraphs, and a closing. And, as opposed to the resume, you should use the first-person.
When writing your cover letter, keep in mind that employers are likely to refer to your resume to make the connection between the person and the job applicant.
So, seeing how they're probably going to be reading them at the same time, don't make your cover letter a carbon copy of your resume.
Rather, it should expand on the points you've made in your resume, giving real-life examples that showcase your skills and letting the employer know just how perfect you are for the job.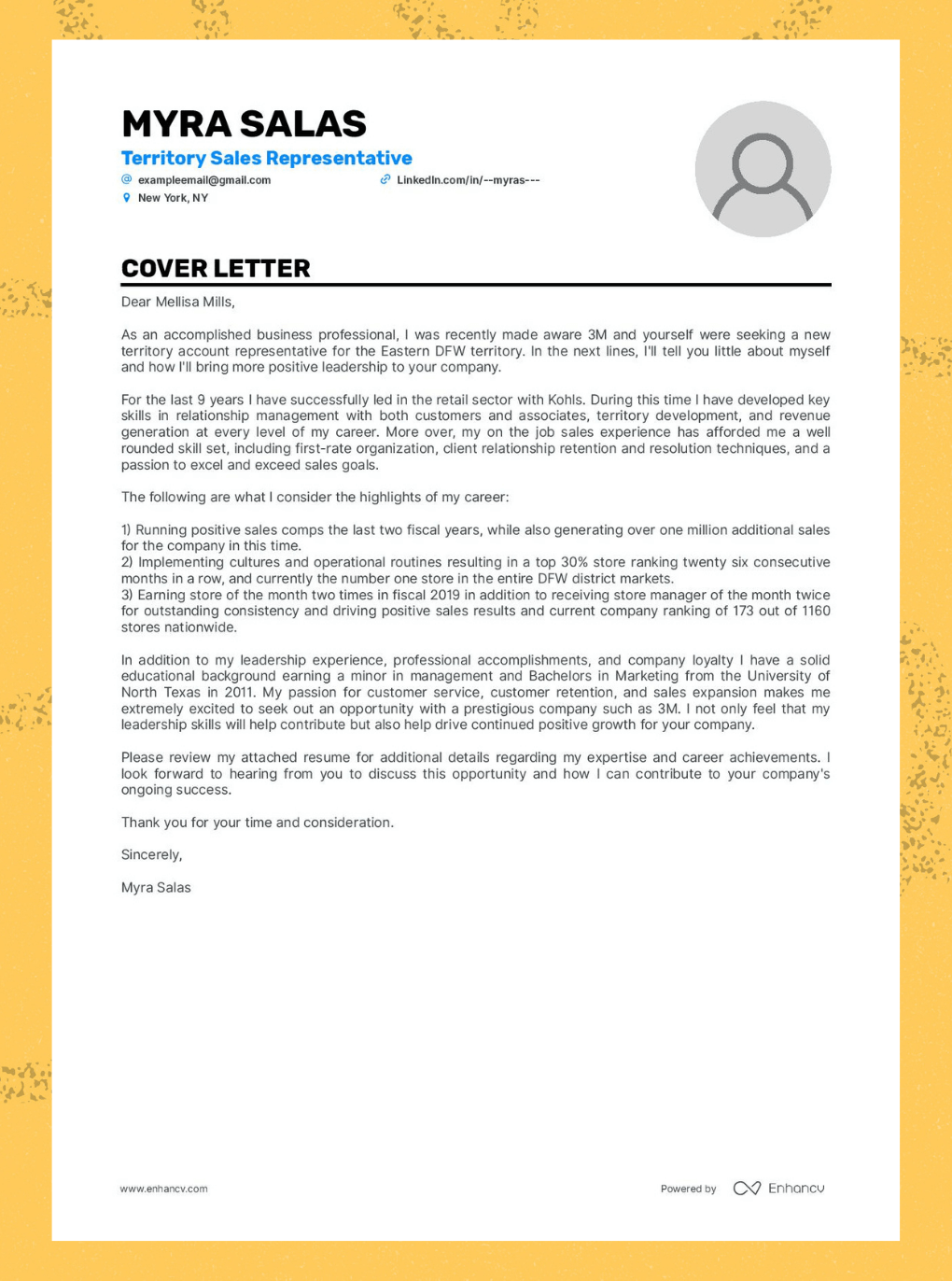 SEE MORE EXAMPLES
But what should you include in your cover letter ?
Professional heading
Address section
Formal salutation
Show-stopping introduction
Your reasons for applying for this particular company and position
Your skills as they relate to the job
Closing words on your excitement to join the company
A call to action
Oh, and don't forget to read the job offer carefully and include some keywords in your letter!
So, now you know what a cover letter and a resume are, and what they should include.
Let's move on and cover the main differences between the two.
Knowing what each of these documents does is not always enough.
You need to understand how they differ.
So, in this section, we'll go over three of the most important distinctions between a cover letter and a resume.
Resumes and cover letters differ in importance
We'll make a wild guess here and say that you probably haven't come across a position in your job search that didn't require a resume.
Now, how many postings have you read that didn't need a cover letter?
Enough to notice, we're sure.
That's because resumes and cover letters aren't equally important.
The internet is rife with information about which one is more important with various arguments supporting both sides.
However, we think that, unless the job posting specifies that a cover letter is not to be submitted, you should absolutely include one in your application.
You can't skip out on the resume, though.
Cover letters and resumes use different structures
As you may have already noticed, one of the main differences in the "cover letter vs resume" battle is the structure.
A resume is usually one or two pages long and contains specific sections, bullet points, and other graphs used to represent a candidate's professional skills.
A cover letter, on the other hand, has 3-4 structured paragraphs, an introduction, and a closing paragraph, and is usually no more than 300-500 words.
The goal of a cover letter vs a resume is different
Another crucial difference between the two documents is their purpose.
A resume's goal is to provide the hiring manager with lots of varying information, but in a brief format – just a page or two.
They'll use your resume to quickly decide if you're qualified for a particular job (at least on paper – the proof comes with your cover letter).
The purpose of a cover letter is to let you tell a story about yourself as a person, not just an employee.
It helps you expand on the points you made in your resume and give some much-needed context to the employer.
So, there you have it – these documents are different in many ways, however…
We already mentioned this above, but cover letters and resumes complement each other well, so they should be used accordingly.
While a resume is quickly scannable, a hiring manager might struggle to make sense of all the data you're throwing at them, especially if your resume is on the longer side.
That's why a cover letter is a good addition to a resume, as it helps translate that information into paragraphs, making it easier to read and take in.
But that's not all – a cover letter and a resume, as different as they are, should stick to the same design .
There's not a single recruiter out there that wants to spend their valuable time trying to match a resume to a cover letter like it's a puzzle.
Cover letters are also a great way to make sure your resume doesn't end up in the trash.
Lots of employers read the cover letter first to help them decide if the resume is worth reading at all.
So, boost your chances and type up that cover letter.
Are you struggling to separate your cover letter from your resume, wondering how to make them complementing, yet different, or you just want some tips on how to write a stellar cover letter?
Well, then read on!
We've got three pieces of advice for you, coming straight from the professionals.
Don't make your cover letter repetitive
We already said this before, but we'll say it again – do not make your cover letter an exact copy of your resume!
Nobody wants to read the same thing twice.
You wouldn't, so why should your employer?
Don't be afraid to let loose a little bit and use a more conversational tone than you would on your resume.
Your cover letter should show the hiring manager your qualifications, but also your personality and your passion.
Don't go into too much job or education detail. Mention them briefly and talk about how they shaped you into the perfect candidate and what you learned from the experience.
Keep it short and sweet
You wouldn't want the recruiter to fall asleep halfway through your cover letter, would you?
So, keep it short, clear, and straight to the point. Leave all the unnecessary details out, talk about relevant experiences only, and most importantly, make it captivating.
As for the specific length, aim for three or four paragraphs and try not to fill more than 3/4 of a page.
Use a subjective tone
A cover letter allows you to talk about things you wouldn't mention on a resume.
No resume contains a section about how you found the position, how passionate you are about it, or how each skill you've mentioned relates to the job.
Yet, these are all important aspects to a hiring manager.
So, you can afford to use more subjective information when writing a cover letter.
Let them know why you are certain you'd make a good fit. After all, you're the one that knows what you can bring to the table, right?
And there you go – you're now ready to craft that perfect resume and throw on a stellar cover letter for good measure.
If you'd like a little extra help, take a look at these great resume and cover letter examples .
Hopefully, they'll help you get on the right track!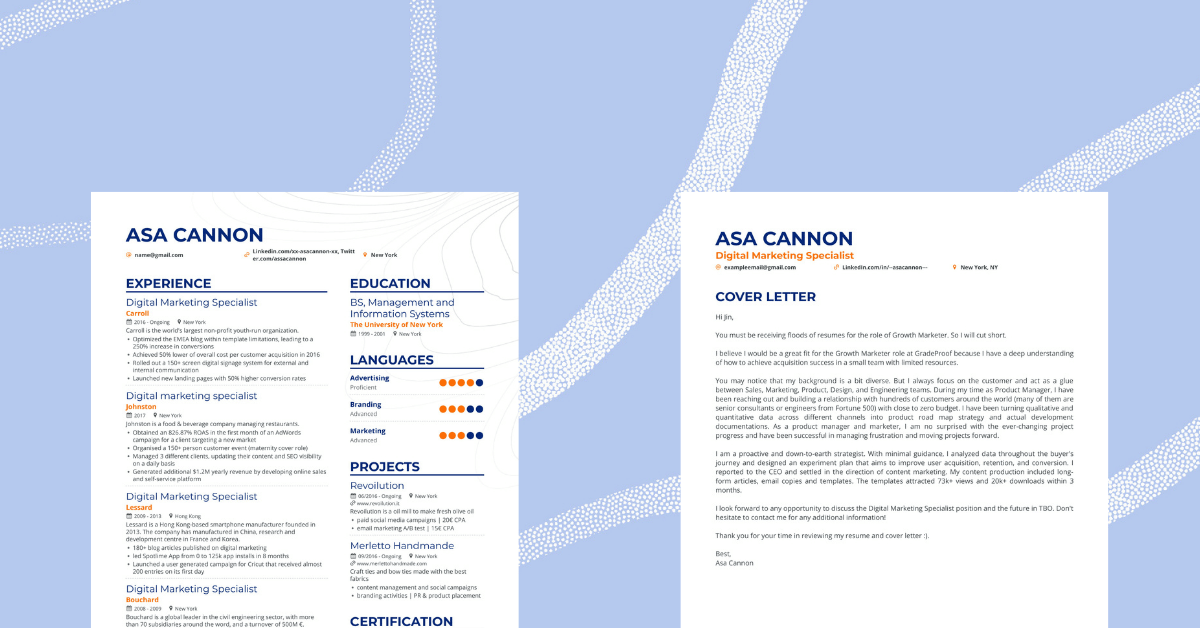 BUILD A MATCHING COVER LETTER
And, if you're looking for an even easier way out, take our resume builder for a spin and save yourself the headache.
Yes, a resume and a cover letter are two separate worlds. But they really are two sides of the same coin.
To summarize, here are the most important differences in the battle of cover letter vs resume:
A resume is always required for a job application, while a cover letter can be optional.
Resumes are formatted as a one or two-page document with bullets and sections, while a cover letter uses a letter format and has the standard introduction, 3-4 body paragraphs, and a closing.
Cover letters are often what helps resumes get read.
A resume and a cover letter should complement each other, while still being different.
A resume is written in the third-person and is more objective; a cover letter uses a subjective tone and is written in the first-person.
Resumes outline your work and educational background, achievements, certificates, and skills. Cover letters focus on how those skills and experiences relate to the job at hand.
Was this information helpful to you? Do you feel ready to tackle your resume and cover letter? Share your thoughts with us in the comments!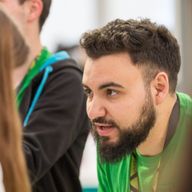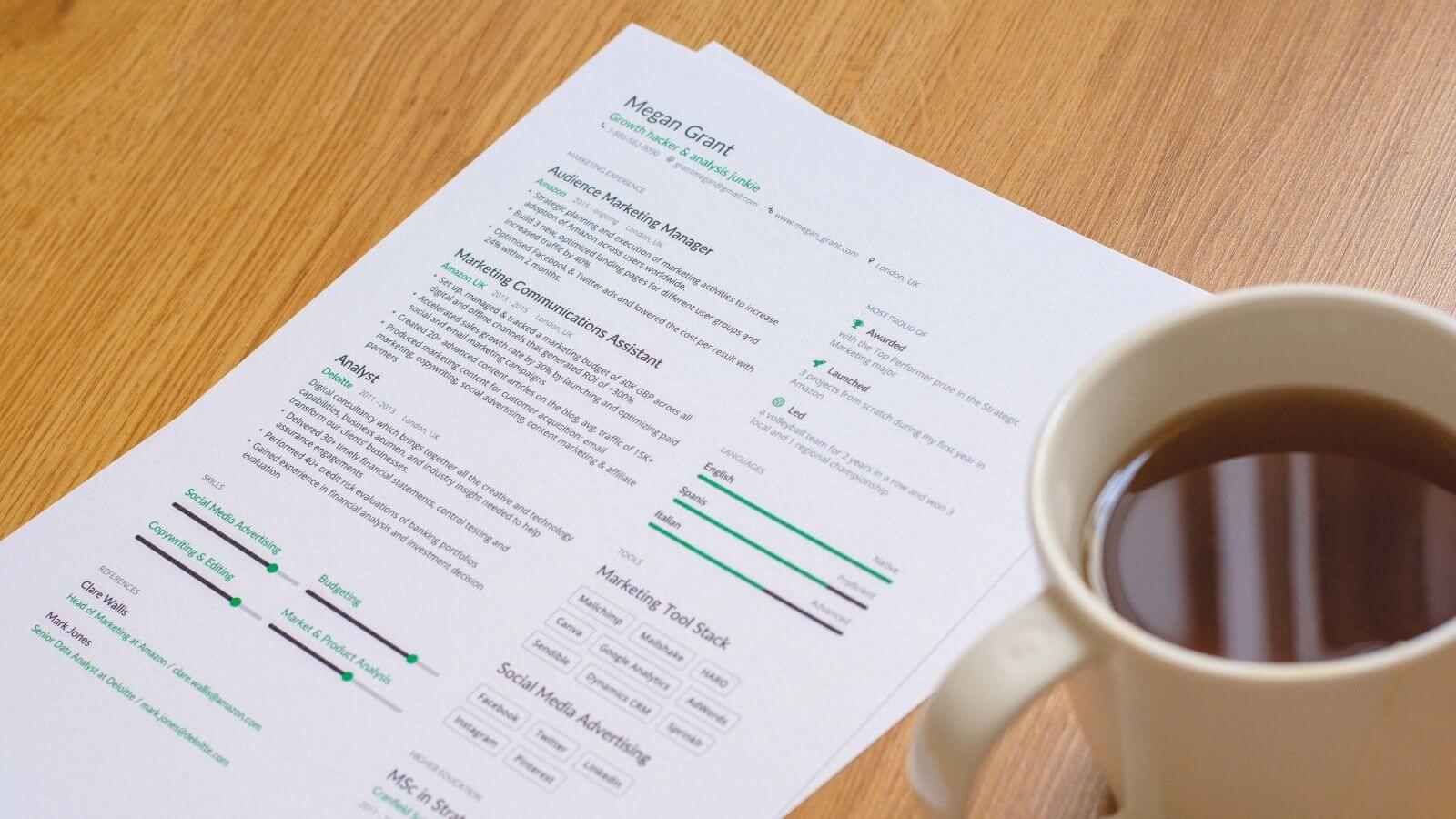 30 Resume Tips And Advice For 2023 [With Expert Insights]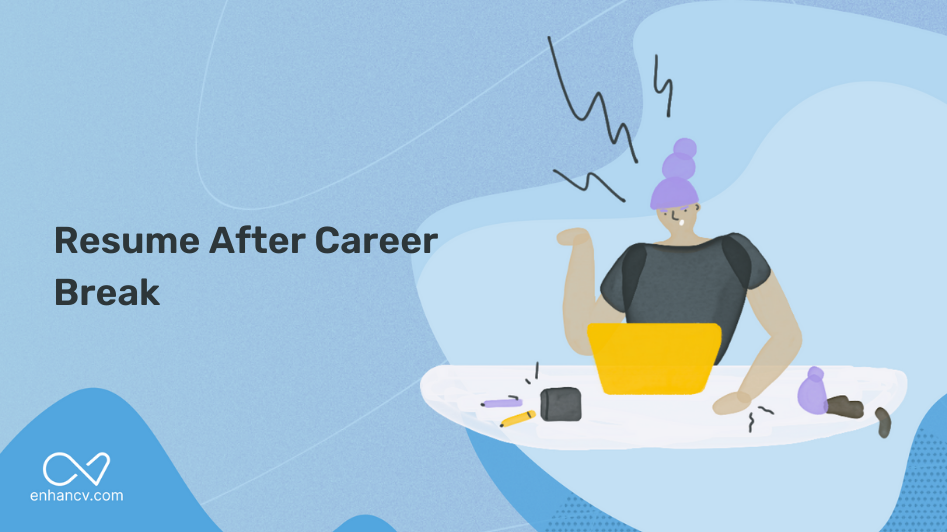 Resume After Career Break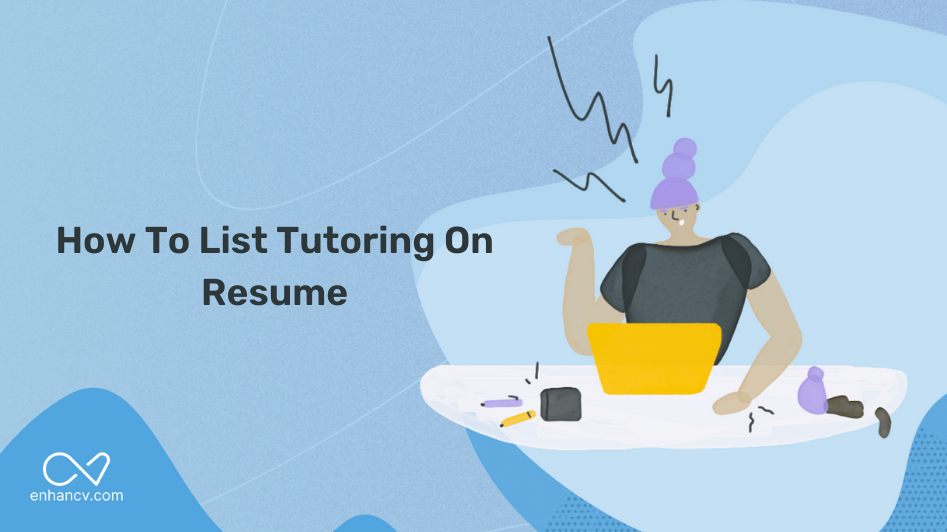 How To List Tutoring On Resume
How Do I Make A Professional Resume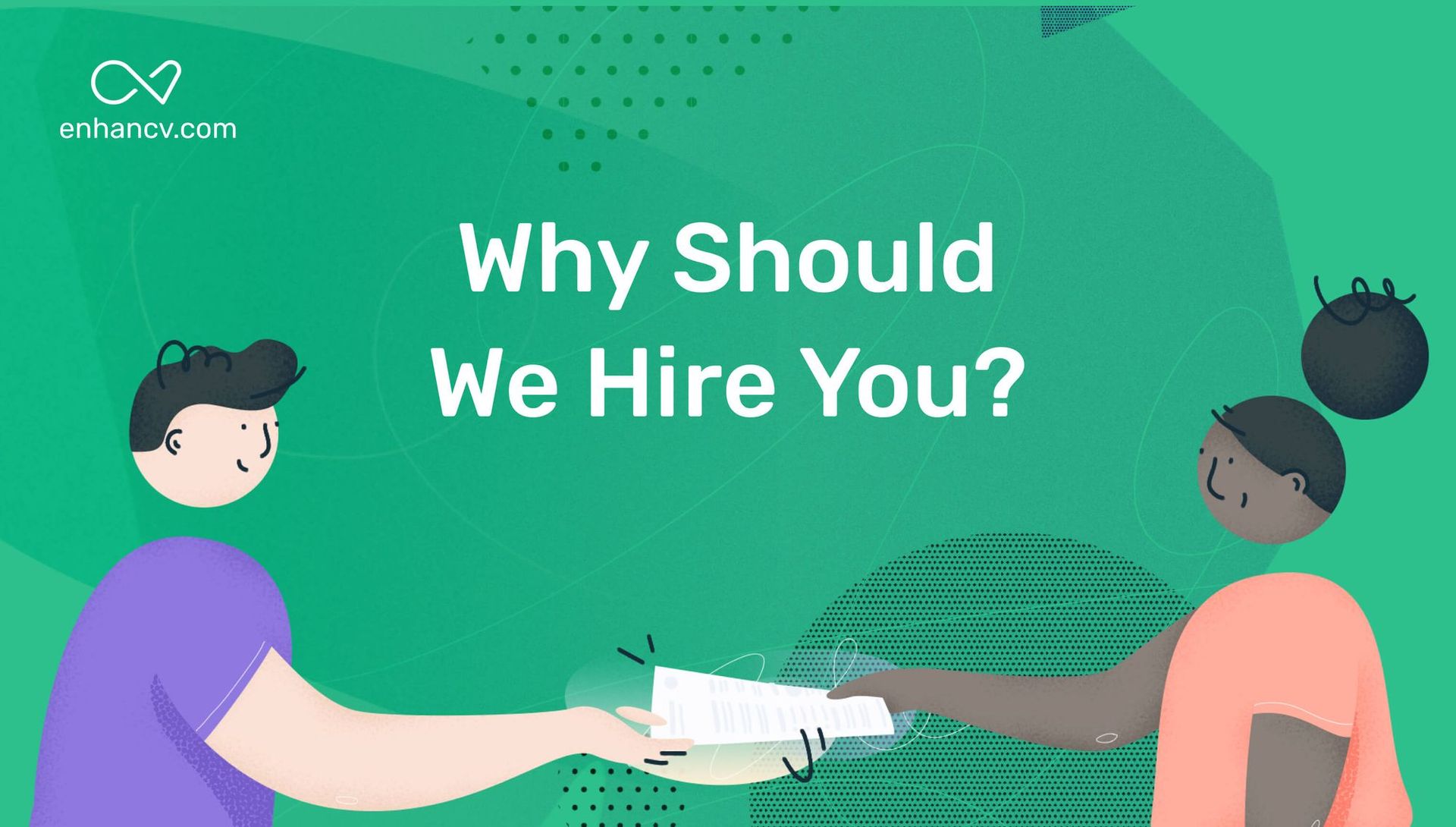 How to Answer "Why Should We Hire You?"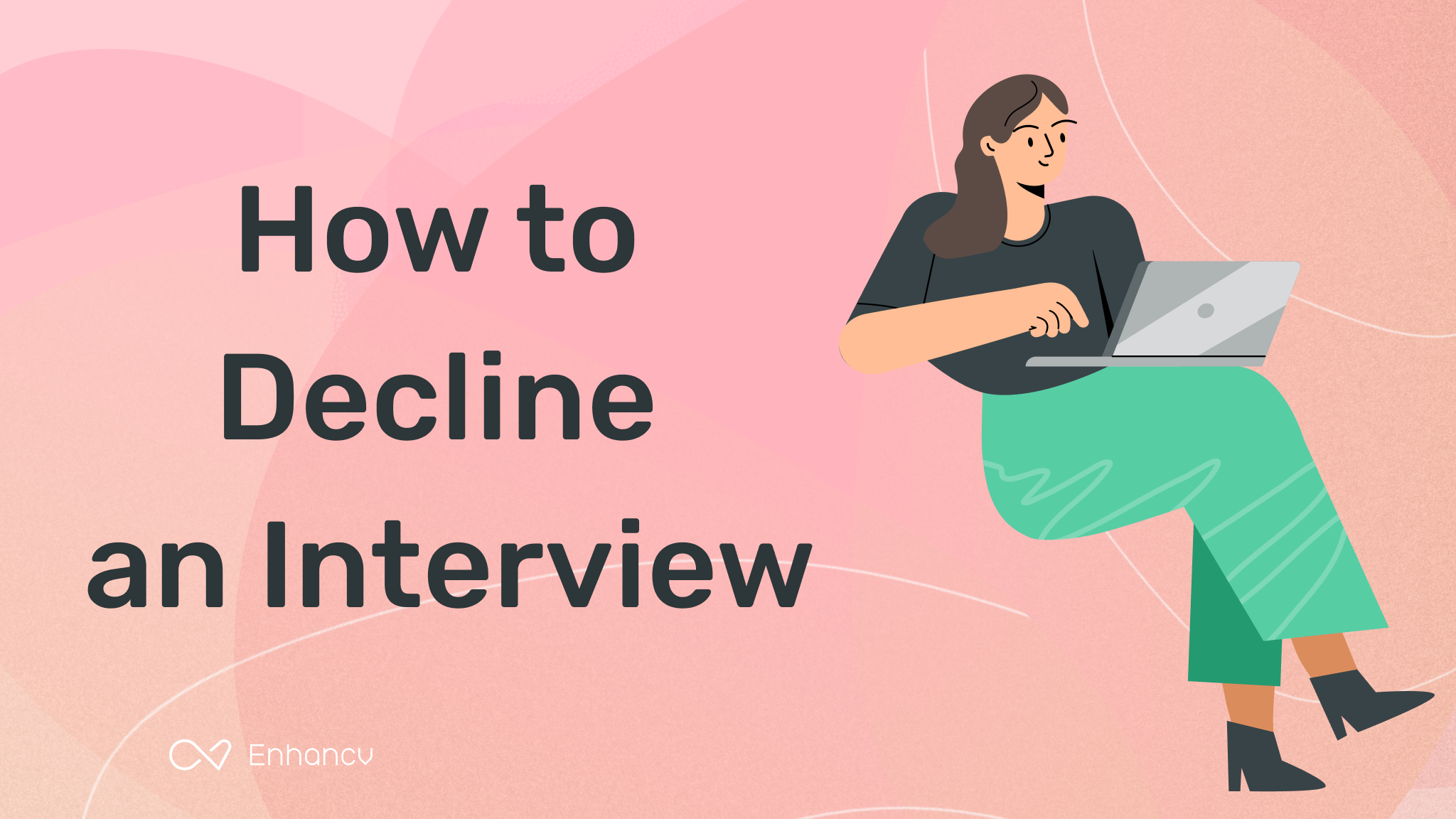 How to Decline an Interview: With Tips and Templates to Help You Succeed
Create Resume
Terms of Service
Privacy Policy
HTML Sitemap
Resume Examples
Resume Templates
Resume Formats
Resume Checker
Resume Skills
How to Write a Resume
Modern Resume Templates
Simple Resume Templates
Cover Letter Builder
Cover Letter Examples
Cover Letter Templates
Cover Letter Formats
How to Write a Cover Letter
Resume Guides
Job Interview Guides
Job Interview Questions
Career Resources
Meet our customers
Career resources
English (UK)
French (FR)
Swedish (SE)
© 2023 . All rights reserved.
Made with love by people who care.
Search Search Please fill out this field.
Career Planning
Finding a Job
Cover Letters
How to Sign a Cover Letter (With Signature Examples)
Do You Need to Sign a Cover Letter?
Sign Uploaded or Printed Cover Letters
Cover Letter Signatures Examples
Signatures If You're Emailing
Signature Examples for Emails
Which Email Address to Use
How to add a digital signature, need more cover letter help.
  South_agency / E+ / Getty Images
When writing a cover letter to include with your resume, it's important to pay attention to every detail, since you only get one chance to make that first impression. So, what exactly should you include in your signature when you're writing your cover letter to apply for a job?
It varies, depending on how you apply for the position. The format and information included in your signature will change according to whether you are mailing, uploading, or emailing your cover letter document. 
Does Your Cover Letter Need a Written Signature?
When distributing your cover letter online by emailing it or uploading it onto a company's web portal, it is not necessary to hand sign your cover letter. Employers don't expect to see your handwritten signature on your cover letter. You could add a scanned image of your signature to your document, but it is optional and not required.
How To Sign an Uploaded or Printed Cover Letter
Uploaded Letter: If you're uploading your cover letter to a job site, your signature will simply include an appropriate closing phrase and your full name. Place a comma after your close, such as Best, or Sincerely yours, and then insert your name in the line below.
Use a formal business-style letter format that includes a heading, salutation, the body of the letter, closing phrase, and your signature. Review these guidelines for what to include in your letter .
Hard Copy Letter:  When you're printing a hard copy letter, include a closing phrase, your handwritten signature, and your typed full name. Leave several spaces between the closing phrase and your typed name. That way, you'll have room for your signature when you print out the letter. Sign it using either blue or black ink. 
Signature Examples for Uploaded or Printed Letters
For uploaded or hard copy printed letters, there is no need to include as much information as you would in an email message, because the heading of your cover letter includes your contact information.
Signature Example (uploaded letter)
Best regards,
Janet Dolan
Signature Format (signed letter)
Closing phrase, 
Handwritten Signature 
First Name Last Name
Signature Example (signed letter)
Janet Dolan (Your Signature)
What to Include in an Email Signature 
If you are emailing your cover letter or inquiry letter, end with a polite sign-off followed by your full name. There is no need to sign a cover letter that's being sent electronically. Write out your full name in the same font as the rest of the letter, and don't use italics or a handwriting font. 
The formatting here is very similar to that in an uploaded cover letter. However, emails do not contain a header with your phone number or other contact information. 
It's a good idea to include these details in your closing paragraph or after your typed signature. That makes it easy for the employer or networking contact to get in touch with you.
You can also include links to online portfolios, if appropriate, or a link to your professional social media accounts, such as LinkedIn or Twitter.
You don't want to make this section too cluttered, so restrict yourself to the most relevant information. Here's how to set up an email signature, along with more advice on what to include in it and what to leave out. 
Signature Examples for Emailed Documents
When you are sending email cover letters , it's important to include contact information so the hiring manager can easily see how to contact you. At the very least, include your name, email address, and phone number. You can also add other optional information, such as your street address, online portfolio, or social media accounts.
Email Signature Format
Your Name Email Phone
Email Signature Example
Karina Hoffman karina.hoffman@email.com 555-123-5678
Sample Email Signature With Full Address
Your Name Street City, State Zip Code Email Phone
Sample Email Signature With Social Media Handles
Your Name Email Phone LinkedIn Profile  (Optional)  Twitter Account  (Optional)
Don't use your work email address for job searching. Use your personal email account, or set up a unique account to use just for your job hunt. Many free online email services exist, like Gmail and Yahoo Mail, which you can use to set up a new email account exclusively for your job search.
Even though you are using a personal account, choose an email address that looks professional.
Your best bet is some variation on first initial, last name (e.g., jdoe@gmail.com) or first name, last name (janedoe@gmail.com). Here's how to set up an email account just for your job search.
Adding a handwritten signature is an optional touch, though definitely not required, and it is possible to add your handwritten signature digitally. The simplest way is to use a scanner or a scanner app on your smartphone:
Simply sign a piece of printer paper and then scan the page.
After scanning, the software will give you the opportunity to crop the scanned image (that is, cut the image down to the size of your written signature) or you can crop it in Word.
Once you've cropped your signature image to the appropriate size, save your signature as a .gif, .jpg, or .png file to your desktop or a folder on your computer.
Open the Word document where you composed your cover letter and then insert the image of your signature into the document underneath your closing phrase.
Remember to type your name below your handwritten signature.
Get information on how to write a cover letter , including what to include in your cover letter, cover letter format, targeted cover letters, and cover letter samples and examples.
Georgetown University. Cawley Career Education Center. " Cover Letters ."
Microsoft Office. " Insert a Signature ."
By clicking "Accept All Cookies", you agree to the storing of cookies on your device to enhance site navigation, analyze site usage, and assist in our marketing efforts.
Career Services
Career Communities
Career Resources for Graduate Students
Curriculum Vitae (CV), Resume, and Cover Letter Resources for Graduate Students
Curriculum vitae (cv) and resumes.
Boise State University Resources:
Curriculum Vitae Overview : Use this to get started and learn about the differences between a CV and resume!
Resume and Cover Letter Resources
United States Federal Government Resumes: Federal Government Resumes are similar to resumes and CVs because they are targeted documents to a specific position. Although there is overlap, federal resumes contain very detailed information about past experiences including (hours worked per week, salary, supervisor's name/phone number/address, occupational series numbers and the starting and ending grades of the federal government positions held, etc). Visit USAJobs.gov and What should I include in my federal resume? for more information and resources.
Application materials outside the United States: Visit GoinGlobal for country specific guides that include resume/CV resources, job search resources, employment opportunities and trends, business resources and networking groups, work permits and visa regulations, cost of living and compensation information and much more.​​
Additional Resources:
Creating an Undergraduate CV – Columbia University Center for Career Education
Graduate CV Checklist – The George Washington University School of Engineering and Applied Sciences
Graduate CV Guide and Template – The George Washington University School of Engineering and Applied Sciences
Resumes/CVs and Cover Letter Resources – University of Georgia
Resume Examples – University of Georgia
Building Your CV Guide for Graduate Students – Princeton University
CV vs Resume Guide – Princeton University
Transforming your CV to Resume Guide – Princeton University
Cover Letters
Cover Letter for a Postdoc or Research Position: A cover letter for a post-doctoral or research position is tailored to showcase the applicant's expertise and research accomplishments. The focus here is on the specific research project or lab the applicant is interested in and how their research aligns with the ongoing work of the organization or principal investigator. Important elements to include are:
Research Experience: Detail your Ph.D. research, methodologies, findings, and any relevant publications. Emphasize how your expertise can contribute to the research goals of the prospective position.
Research Goals: Explain your short-term and long-term research goals, indicating how the postdoc or research position will further your academic and career aspirations.
Alignment with the Lab/Organization: Demonstrate your familiarity with the work of the lab or organization and how your research interests align with their ongoing projects or research areas.
Cover Letter for an Academic Job: An academic job cover letter is typically written by a graduate student or a Ph.D. holder seeking a faculty position at a university or college. In this type of cover letter, the emphasis is on the applicant's research and academic achievements, teaching experience, and their potential to contribute to the academic community. The following aspects are important to include:
Research Focus: Describe your research interests, ongoing projects, and any published work. Emphasize how your research aligns with the department's focus and how you can contribute to the institution's academic reputation.
Teaching Experience: Highlight your teaching experience, including courses you have taught or assisted with. Demonstrate your passion for teaching and your ability to engage and educate students effectively.
Future Goals: Express your long-term academic career goals and how the specific position fits into your overall trajectory as a researcher and educator.
Cover Letter for a Non-Academic Job: A cover letter for a non-academic job is targeted towards positions in industries outside of academia, such as corporate, government, nonprofit, or private sector jobs. The focus in this type of cover letter is on transferable skills and experiences that make the applicant a strong candidate for the specific role. Key points to address are:
Transferable Skills: Highlight skills acquired during your academic journey, such as analytical abilities, problem-solving, project management, communication, and teamwork skills. Connect these skills to the requirements of the non-academic job.
Relevant Experience and Accomplishments: Emphasize any internships, clinical, practicum, jobs, or research experiences that align with the industry or job you are applying for.
Alignment and Fit: Express your enthusiasm for the company or organization and how your background makes you an ideal fit for the position.
Cover Letters Virtual Workshop – Boise State University
Graduate School Application Cover Letters – Roanoke University
Cover Letters for PhD Students – Harvard University
Letter Templates
does a cover letter go before or after resume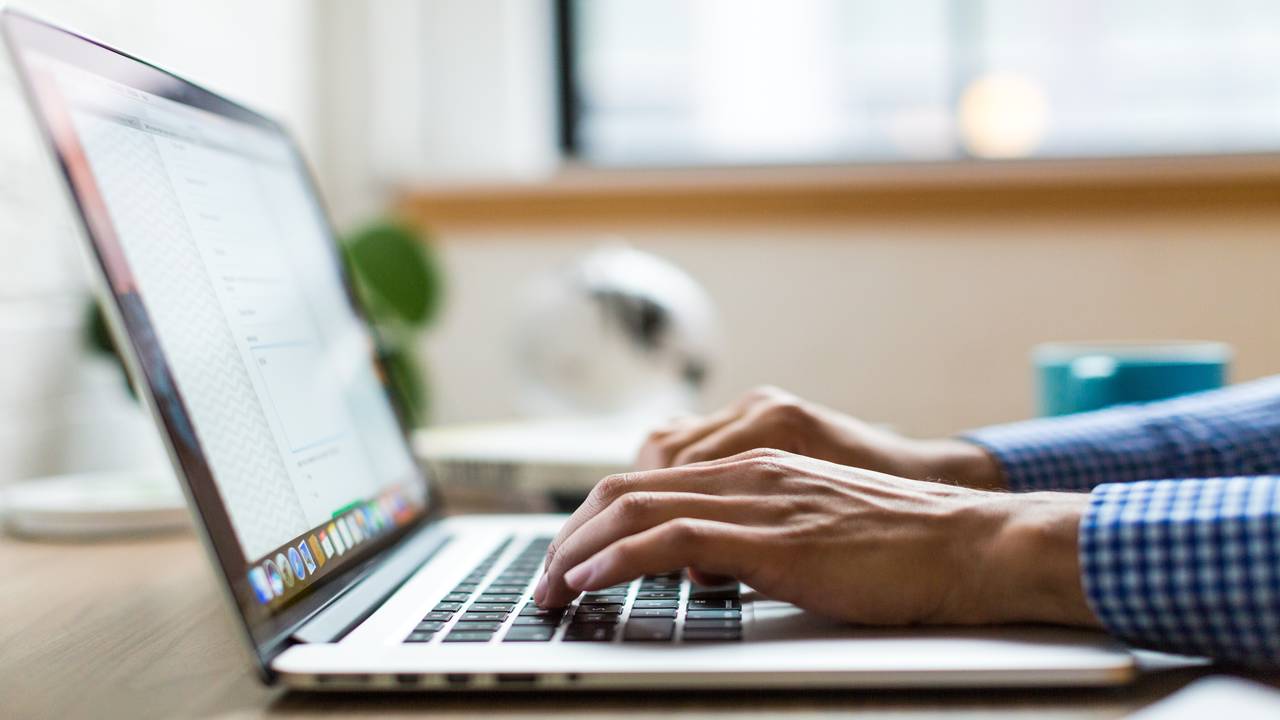 As a job seeker, you might be wondering whether you should submit your cover letter before or after your resume. In this article, we'll answer that question and provide some tips and examples to help you write a compelling cover letter. Plus, we'll answer some frequently asked questions about cover letters and resumes.
Before we dive into the answer to the question of whether a cover letter goes before or after a resume, let's define what a cover letter is. A cover letter is a document that accompanies your resume when you apply for a job. It is typically a one-page document that explains who you are, why you're applying for the job, and why you're the best candidate for the position. Now, let's get to the question at hand: does a cover letter go before or after a resume?
The answer is simple: a cover letter should always go before a resume. The reason for this is that the cover letter serves as an introduction to your resume. It gives the reader a glimpse into who you are and why you're interested in the position. The cover letter should entice the reader to want to learn more about you, which is where your resume comes in. Your resume provides the details of your education, work experience, and skills.
If you're applying for a job online, the best practice is to include your cover letter in the same file as your resume. This makes it easy for the hiring manager to review both documents at once. If you're applying for a job in person or by mail, you should print out your cover letter and resume and staple them together.
Example 1: Applying for a Marketing Position
Dear Hiring Manager,
I am writing to express my interest in the marketing position at XYZ Company. With my strong background in marketing strategy and my passion for creative problem-solving, I am confident that I would be an asset to your team.
In my current role at ABC Agency, I have developed and executed successful marketing campaigns for a variety of clients, including some of the largest brands in the industry. I am excited about the opportunity to apply my skills and experience to a new challenge.
Thank you for considering my application. I look forward to the opportunity to discuss my qualifications further.
Example 2: Applying for a Teaching Position
Dear Principal Smith,
I am excited to apply for the teaching position at ABC School. As a certified teacher with five years of experience in the classroom, I am confident that I would be an excellent fit for your school.
In my current role at XYZ School, I have implemented engaging lesson plans that have led to a significant increase in student test scores. I am passionate about creating a positive learning environment and helping students achieve their full potential.
Example 3: Applying for a Sales Position
I am excited to apply for the sales position at XYZ Corporation. With my proven track record of exceeding sales targets and my expertise in relationship building, I am confident that I would be a valuable addition to your team.
In my current role at ABC Company, I have consistently achieved or exceeded my sales goals and have been recognized for my ability to establish and maintain strong relationships with clients. I am passionate about helping customers find solutions that meet their needs and exceed their expectations.
Example 4: Applying for a Graphic Design Position
I am excited to apply for the graphic design position at ABC Agency. As a talented and creative designer with a passion for visual storytelling, I am confident that I would be an asset to your team.
In my current role at XYZ Studio, I have designed engaging visuals for a wide range of clients in various industries. I am well-versed in the latest design trends and software, and I am always seeking new ways to push the boundaries of what is possible.
Example 5: Applying for a Technical Writing Position
I am writing to apply for the technical writing position at XYZ Corporation. With my extensive experience in writing technical documentation and my ability to explain complex concepts in simple terms, I am confident that I would be an excellent fit for your team.
In my current role at ABC Company, I have written user manuals, training materials, and technical specifications for a wide range of software products. I am skilled in researching and analyzing technical information and presenting it in a clear and concise manner.
Example 6: Applying for a Human Resources Position
I am excited to apply for the human resources position at ABC Corporation. With my extensive experience in recruiting, onboarding, and employee relations, I am confident that I would be a valuable addition to your team.
In my current role at XYZ Company, I have implemented successful recruitment strategies that have led to a significant increase in qualified candidates. I am passionate about creating a positive work environment and supporting employees in their professional development.
Writing an Effective Cover Letter
To write an effective cover letter, follow these tips:
Research the company and the position to which you're applying
Address the letter to a specific person if possible
Clearly state your interest in the position
Highlight your relevant skills and experience
Show enthusiasm for the company and the industry
Clean up errors and typos before submitting
Keep the letter to one page
Frequently Asked Questions
Q: do i need a cover letter.
A: While it's not always required, a cover letter can help you stand out from other candidates and showcase your personality and enthusiasm for the position.
Q: Can I use the same cover letter for every job I apply for?
A: It's generally not recommended to use the same cover letter for every job you apply for. Instead, customize your letter for each position by highlighting the specific skills and experience that make you a good fit.
Q: How long should my cover letter be?
A: Your cover letter should be one page or less.
Q: What should I include in my cover letter?
A: Your cover letter should include an introduction, a brief summary of your qualifications, and a closing paragraph thanking the reader for considering your application.
Q: Should I include my salary requirements in my cover letter?
A: It's generally not recommended to include your salary requirements in your cover letter. Instead, wait until the interview process to discuss compensation.
Q: How can I make my cover letter stand out?
A: To make your cover letter stand out, focus on highlighting your unique skills and experience, and show enthusiasm for the position and the company.
A well-written cover letter can help you land the job of your dreams. By following the tips and examples in this article, you can create a compelling cover letter that showcases your unique qualifications and helps you stand out from other candidates. Remember to always include your cover letter before your resume, and tailor your letter to each specific job you apply for. Good luck!
free resume cover letter examples
canadian resume and cover letter templates
resume cover letter examples 2021
resume and cover letter maker
free resume and cover letter builder
intro for resume cover letter
Features for Creative Writers
Features for Work
Features for Higher Education
Features for Teachers
Features for Non-Native Speakers
Learn Blog Grammar Guide Community Academy FAQ
Grammar Guide
Action Verbs for Cover Letter or Resume: Best Power Words to Include

The ProWritingAid Team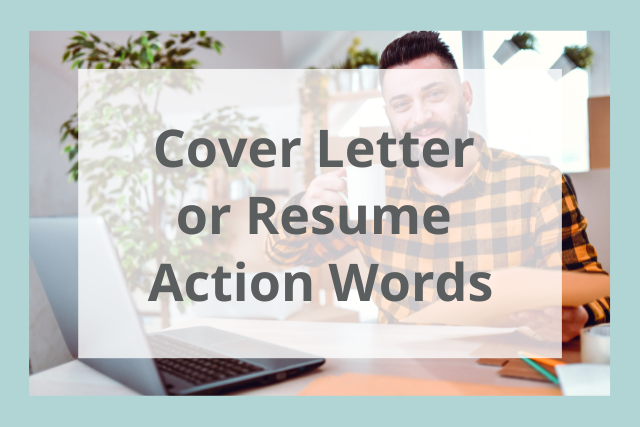 Adding action verbs will help your CV and cover letter to stand out from the rest of the pile. Your CV is your chance to show prospective companies the highlights of your professional and academic history, so the language that you use should be in tune with this aim.
Similarly, both your CV and cover letter need to be concise, so you should pick powerful words that help you stand out.
To make your application, use strong, industry-appropriate action verbs when highlighting your skills in your cover letter or CV.
Action verbs imply that action is taking place (or in the case of a CV, has taken place) and come across as more dynamic. This gives your application materials a more energetic, upbeat, and positive feel.
Use action verbs selectively to achieve the most impact. You don't need to pack every single sentence with an action verb, but you should try to include at least two or three.
ProWritingAid will notify you if you have less than three action verbs in your CV or cover letter and you'll receive an alert telling you that you need to "include some action verbs to make your CV stand out." If you have three or more, you're all set!
Action Verbs Help Highlight Your Skills
Using action verbs helps your CV and cover letter stand out to a hiring manager. Rather than opting for weak or commonplace words or phrases to describe your previous employment, choose action verbs to stress the skills you have developed and opportunities you seized.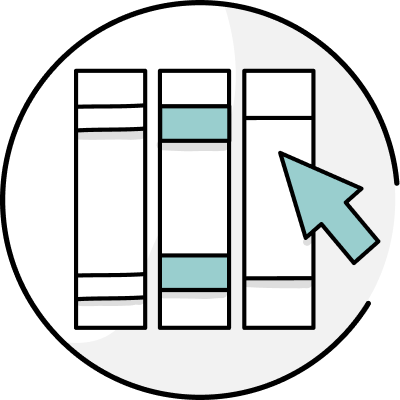 Be confident about grammar
Check every email, essay, or story for grammar mistakes. Fix them before you press send.
The most successful people in the world have coaches. Whatever your level of writing, ProWritingAid will help you achieve new heights. Exceptional writing depends on much more than just correct grammar. You need an editing tool that also highlights style issues and compares your writing to the best writers in your genre. ProWritingAid helps you find the best way to express your ideas.
Get started with ProWritingAid
Drop us a line or let's stay in touch via :
Meet Your Career Advisor
Utilize Handshake
Explore Careers
Develop Resumes & Cover Letters
Build Connections & Network
Practice Networking
Search for Career Opportunities
Learn About the Management Internship
Interview with Confidence
Review Offers & Negotiate
Prepare for Graduate School
Navigate as an International Student
Take Advantage of Virtual Career Resources
Recruiting Insights
Student Success & Career Outcomes
Guidelines & Policies
MS in Business Analytics
MS in Management Studies
MS in Mathematical Finance & Financial Technology
Meet Your Career Coach
Develop Resumes & Cover Letters
Review Offers & Negotiate
Career Resources
Fund Students
Engage with Students
Recruit Students
Alumni Success Stories
Explore Industries
Diversity, Equity and Inclusion Resources
UDC's Resources for DEI
Contact/About Us
Meet the Leadership Team
Meet the Industry Relations Team
Meet the Undergraduate Career Advising Team
Meet the MBA Career Coaching Team
Meet the Career Consultant Team
Meet the Marketing & Operations Team
What to Say When You're Reaching Out to Someone on LinkedIn
Share This: Share What to Say When You're Reaching Out to Someone on LinkedIn on Facebook Share What to Say When You're Reaching Out to Someone on LinkedIn on LinkedIn Share What to Say When You're Reaching Out to Someone on LinkedIn on Twitter
What to Say When You're Reaching Out to Someone on LinkedIn was originally published by the Harvard Business Review. 
If networking isn't at the top of your to-do list, it should be — unless you're Beyoncé.
For those of us who aren't Queen Bey, cultivating your network offers many  benefits : greater learning opportunities, broader career prospects, access to leaders' insights, and more immediate job options, among others.
But what previously took place face-to-face in local meetups, alumni gatherings, industry conferences, and happy hours is now largely confined to video due to the global pandemic. Still,  effective networking  online is key for young people seeking their next role — possibly a remote job, given broader industry trends and  permanent WFH announcements  from major companies like Facebook and Twitter.
LinkedIn may be your best shot at expanding your network while so many people are WFH. Sure, it may lack the light-hearted user experience of other social platforms, but it offers the opportunity to track trends, make meaningful connections, and maintain  a curated  digital resume  that recruiters and potential employers  can easily access and review. The problem is, while LinkedIn shows promise for early career professionals too, few are using it well — especially when it comes to  outreach .
Common mistakes people make while networking on LinkedIn
If you've been hesitant to reach out to people on LinkedIn, or if you've been reaching out and not hearing back, there are strategies you can use to increase your chances. But first, let's look at five common mistakes you might be making:
You don't know what you want:  Have you thought about why you're reaching out to someone? Are you seeking more information about a role or company? A relationship that can grow? Or a lifeline to a potential future mentor or employer?
You're putting your own needs first:  Don't be self-serving. No one will respond to "It would be good to connect with you," unless they know what's in it for them.
Your messages are weak:  Being specific and sensitive is especially important in 2020, a year of upheaval and loss on many levels. Generic, non-personalized messages have a low probability of success. As entrepreneur  Larry Kim  has said: "What are the 11 most boring words in the English language? " I'd like to add you to my professional network on LinkedIn ."   
You're using an awkward tone:  Sometimes even the best messages will be met with silence or ghosting. Still, many continue to approach total strangers in ways they'd never dare in person.
You're not being persuasive enough:  If you haven't been able to convince the other person why you really want to connect with them, chances are they won't respond.
Craft messages that get responses
Now that you've identified what mistakes you're making, let's look at how you can overcome these and flip the odds in your favor. No, there isn't a simple playbook or shortcut. But you can cut through the noise by employing research-backed approaches such as  Cialdini's principles of persuasion  and by borrowing proven practices from both regular folks and industry leaders.
I recently reached out to experts, entrepreneurs, and authors who specialize in this area — from within my network and a few I wasn't connected to — in order to learn more about formulating messages that:
a) Are authentic to your personal brand
b) Will resonate with recipients at any level
Here's what they told me.
If you are seeking advice on a career path or job change
People aren't employment oracles just waiting for your message soliciting their sage advice. Think deeply about the kind of guidance you want and then identify the most relevant person to approach.
"Clarity is key when you're performing cold outreach,"  Cynthia Johnson , author of  Platform: The Art and Science of Personal Branding , told me. "Assume that the person you're reaching out to is busy and wants to give you the best advice possible. If you're direct and specific as to what you're asking and why you're asking them, you will have created the perfect environment for a confident and thoughtful response."
Sending a vague (and all-too-common) "Can I pick your brain?" message isn't going to be helpful.  Tim Herrera , founding editor of Smarter Living at  The New York Times , recommends being straightforward and transparent to improve your chances of receiving a reply. "Whatever the ask is, the best favor you can do for yourself is not to beat around the bush. You're teeing the recipient up to give you exactly what you want because they know exactly what that is. You've taken away the ambiguity for them, which will save them time and mental effort, and you're also setting up the exchange to be as productive and efficient as possible." Of course, he added, you should always aim to be kind and courteous.
Here's an example of a note that is precise, but is flexible on timing:  
Erica, your professional journey really stood out to me. I'm very interested in building my career as a  [role] . Since you've been in that position, would you have some time to offer me a bit of advice on pursuing this? I would really appreciate a brief call at your convenience.
If you want someone to review your resume or cover letter 
When making this kind of request, put yourself in the shoes of the receiver and try to answer this question for them up front: Why is this person contacting me? Acknowledge that you're asking them for a favor.
Here's a persuasive and considerate one that was sent my way:
Hi Kristi, you've built a really interesting career in thought leadership, and  [mutual contact ] mentioned you were a great resource as she revised her resume. Since I'm hoping to advance from  [my current role] , I'd love to get your brief take on my cover letter if your schedule allows it.
Receiving a carefully formulated request like this is somewhat rare, as it doesn't make any assumption that I can provide a labor-intensive line edit to someone's application materials. Again, the acknowledgement that I'm using my time to help matters. In cases where I've been referred to jobseekers by other people I've helped, I'm even more likely to respond. If someone I help then pays it forward by assisting others in their own circles, that makes the investment worth it. (In other words: always mention a referral if you have one.)
If you are inquiring about a job posting and/or hiring process
"We all have demanding schedules and are a little burned out," explained  Amber Naslund , principal content consultant at LinkedIn — a role she landed after building a consistent presence on the platform. "Open-ended messages like 'I just wondered if you had any openings…' aren't useful, because all of those details are on a company's career page and that puts the work on the person you're asking."
According to Naslund, it's better to ask about a specific role and see if someone is willing to introduce you to a recruiter, make an internal referral, or answer questions you have about that role, or the company. "Being respectful of people's time, expertise, and relationships can go a long way when you're trying to land your next job," she told me. The professional you reach out to could, for example, be a teammate who works closely with the role in question, or the person who would be the immediate supervisor.
You could try a message like this:
Hi Cameron, I saw that your company is recruiting a marketing assistant. Since it seems you'd work directly with this person, it would be wonderful to hear your thoughts on the role. I'm looking to get some clarity on the role and responsibilities before I apply. Do you have a few minutes to speak with me about it in the next week or two? 
If you are approaching a potential mentor
Before sending an invitation to connect, investigate whether or not someone might be interested in serving as a mentor.
Johnson recommends looking for a leader who demonstrates that they are A) experienced in the areas in which you're seeking mentorship and B) show signs of having some availability.
Johnson found her longtime mentor on LinkedIn. "I assessed his expertise by doing diligent searches and thorough evaluations of his communications online with others." She identified the groups he had joined on the platform, including some where she noticed that he was very active, and joined them too. "His activity told me that he was interested in discussion and possibly had a bit of extra time to work with me," she said. "You can do this type of assessment, too, and find an amazing mentor."
When writing to a prospective mentor, make sure you've done your homework. Here's an example of a message you could send:
Divya, your posts on edtech in the STEM education forum have been really thought-provoking! I've interned for a few startups in this space and am excited about my own next steps — but I definitely could use some guidance from an experienced pro like you. Would you be open to chatting about this?
If you are reaching out for help after a recent job loss 
In need of others' assistance? Contextualizing your messages will make all the difference.
Jobseekers should aim to strike up a conversation about their experience, what they're looking for, and who they feel might be helpful to them, Naslund said. "It's a great way to warm up the conversation and increase the likelihood that a new connection is willing to make some helpful introductions. People's networks are sacrosanct; most of us have worked very hard over a number of years to gain the trust of our networks and the people we've worked with, so we're not likely to open that up to just anyone and make cold introductions."
Here's an example of what you could say to let the other person know why you're reaching out to them:
Eitan, I'm looking to join a mission-driven team like yours and just happened to see your colleague's post about the product manager role. Would you be the right person to ask about one of the technical requirements? Let me know if I could send an email your way.
According to an old Chinese proverb, the best time to plant a tree was 20 years ago; the second-best time is now. So if you haven't cultivated your network, you'd better get started. But don't dive into a new relationship with a request straight away.
Andreas Klinger , a serial entrepreneur and investor in remote-first capital, recommended playing the long game. "Plan to have long-term engagement with someone (for example in conversation via Twitter) well before you need anything. Or you can engage through content marketing — that is, sharing thoughtful articles on social that you've written or admire — that will capture others' attention."
It's worth noting that if you want to connect with Klinger, paying attention to the preferred platform counts: in his LinkedIn profile, he advises that you reach out via Twitter. Others may also indicate the best way for you to contact them, which will up your chances of hearing back.
Now it's time to get started. Put these principles into practice and tell us how it's going. It's understandable that reaching out to people you've never met might feel intimidating— and that it means  facing possible rejection . Try to remember that not only is rejection normal, but it also indicates  you're aiming high enough  to achieve even greater success. Growth of any kind involves some risk. The advantage: you'll learn valuable lessons and can continually improve along the way.