Key Elements of a Cover Letter
The cover letter is usually the first item an employer reads from you. Your letter should immediately indicate what position you are applying for and then give information that demonstrates why you should be considered for the position. Do not repeat all of the information contained in your resume. Instead, highlight or elaborate on resume items that are directly applicable to the position for which you are applying. The following information should be included in your cover letter.
Information about you
Begin your cover letter with your contact information. It should be in block style, on the left margin of your paper, towards the top. Name Current home address Telephone number
Include a date as you would do with any business letter.
Contact Person's Name, Title, Employer, and Address
Including a specific name can get your letter and resume to the hiring manager more quickly and can be an effective personal touch. If you are applying for an advertised position that does not give a name to contact, call the company and ask for the department manager's name.
Choose the appropriate way to address the contact person. For example: Dear Mr. Johns (if a man's name is the contact) Dear Ms. Smith (if a woman's name is the contact) Dear Prospective Employer (if there is no contact name)  
Opening Paragraph
In the opening paragraph tell how you learned about the position. You may, for example, know of a job through: a classified advertisement an unsolicited mailing the Internet personal referrals
Middle Paragraph
This paragraph gives a summary of your background and critical skills (hard skills) that make you qualified for the position.
Second Middle Paragraph
This paragraph can be used to demonstrate your persuasive skills (soft skills).
Contact Information and Closing
At the end of the letter talk about your availability for the job, where you can be contacted, and when you are going to contact the hiring person for an appointment to discuss your application. If you have no contact name you may simply want to indicate your anticipation for a response in this part of the letter. Thank the person to whom you are writing for his/her time and consideration of your application.
Other Considerations:
Paper and Printing
Use white or ivory (20-25 lb.), 8 ½ x 11 bond paper printed on one side only.
Use the same paper for resume, cover letter, and envelopes if possible.
Make sure that there is no shadowing or dirty marks from your printer on the papers.
Error Prevention
Follow instructions in employment ads or recruitment directions.
Proofread! Look for spelling and formatting errors. Make sure recipient's name, company name, and title are correctly spelled in the letter and on the envelope.
Proofread again!
Have another person proofread your letter and resume.
Be sure there are no errors of fact.
Sign in blue or black ink.
Keep a copy of the cover letter and resume for your records.
Follow up with a phone call, about five days after expected delivery.
Layout and Design
Follow standard cover letter format.
Keep the cover letter to one page.
Set margins at 1 ½".
Use a simple, easy to read font style, 10-14 point. (Times, Courier, or Helvetica)
Use boldface, italics, all-caps and underlining, but don't overdo it.
Planning and Tone
Tailor each cover letter to one specific position.
Use industry jargon specific to your career field.
Identify the employer's key words and use them.
Make all statements positive. Check the tone by asking yourself if each sentence leaves a positive impression.
Show originality but not cuteness.
Use action verbs and phrases .
Sound determined and confident not desperate.
Organize context in a reasonable and logical order.
Use correct grammar.
Keep sentences short.
Keep paragraphs short.
Use short words and simple language.
Make every word count.
Punctuate using commas, dashes, and periods.
Focus on the employer's need for a worker, rather than your need for a job.
Tell how your skills and personal qualities match the employer's needs.
Focus on what you can do for the employer and how you contribute to the organization.
Show you have researched the company double check those facts.
Be specific avoid general statements.
More From Forbes
20 key elements to include in your cover letter.
Share to Facebook
Share to Twitter
Share to Linkedin
When it comes to landing your dream job, your cover letter can be your strongest ally. A well-crafted cover letter goes beyond just reiterating your resume—it's a chance to showcase your personality, highlight your relevant skills and explain why you're the perfect fit for the position. In a competitive job market, standing out is crucial and a thoughtfully written cover letter can catch the right attention.
Below, Forbes Human Resources Council members share advice on 20 essential components that every potential employee should include in their cover letters to make a lasting impression and increase their chances of securing an interview.
1. Tailor Your Cover Letter To A Specific Role
If asked for a cover letter, make it meaningful and use the opportunity to show a potential employer you did your homework. Don't miss an opportunity to bring your unique voice to your application, and be sure to make it relevant to the specific role. Employers, if you want to read something interesting, ask for it! Put the effort in, too—ask candidates to respond to a creative prompt. - Tory Clarke , Bridge Partners
2. Share The Context That Supports Your Resume
Cover letters are tricky. I don't just want your sales pitch. I want to see the context that supports and informs your quantifiable impact and accomplishments in your career. The cover letter is your opportunity to share the context that supports the resume, not regurgitate it. - Christopher Courneen , M S International, Inc. (MSI)
3. Let Your Personality Shine Through
Your cover letter is an excellent opportunity to highlight your past accomplishments and how they can benefit this potential employer. All accomplishments should be personalized to the specific role you're applying for. It's also a great way to let your personality shine through. Doing something a little different will often catch the hiring manager's eye and make you stand out. - Hazel Kassu , Sudduth Search
Best Travel Insurance Companies
Best covid-19 travel insurance plans, 4. demonstrate how you will fit in with the culture.
As culture is moving to the forefront, many companies are looking more for cultural fit. Cover letters should connect your character traits and practices to that of the company's core values and culture indicators, which makes it easier for companies to visualize a great fit. - Tiersa Smith-Hall , Impactful Imprints, Training & Consulting
5. Create A Compelling And Tailored Narrative
The most important thing for candidates to include in their cover letters is a compelling and tailored narrative that effectively communicates their qualifications, experience, enthusiasm, unique selling points, company knowledge and alignment with the job requirements. Tailor each letter, be concise, proofread and include contact information. - Subhash Chandar , Laminaar Aviation Infotech
Forbes Human Resources Council is an invitation-only organization for HR executives across all industries. Do I qualify?
6. Explain Questions That Arise About Your Resume
A cover letter can show your story. Were you laid off? Did you take time off to have a family? What did you learn from your time off of work? It is a great way to explain resume gaps, highlight training or education, add additional skills and abilities and explain any other situations. It gives the recruiter and hiring manager a chance to get to know more about you. - Erin ImHof , CertiK
7. Treat Your Cover Letter As A Mission Statement
Your cover letter is a mission statement, presenting not what you can do but why you do it. In a tough market with an abundance of qualified candidates, you need to differentiate yourself with personality and aspirations. Recruiters are looking for your passion for the company and why your values match the company's mission—stand out as a candidate who will have drive behind their work. - Laurie Chamberlin , LHH
8. Do Your Research And Demonstrate Your Knowledge Of The Company
Cover letters that stand out demonstrate a potential employee's deep knowledge of the company and why they want to work there. Cover letters should not be vague or formulaic. Candidates who want to land a job need to take the time to do their research, get to know the company and be specific about why they are a good fit. - Leigh Yanocha , Knopman Marks Financial Training
9. Outline Two Tangible Accomplishments And Keep It Brief
Keep it brief. Outline two tangible accomplishments that showcase ownership, collaboration and determination to succeed. Also, it is important to not repeat what is included in your resume. Instead, connect specific and relevant information that highlights your communication and critical thinking skills, and your growth and progressive mindset. Lastly, what is your value to the company? - Chandran Fernando , Matrix360 Inc.
10. Demonstrate How Your Skills Are Transferable And Adaptable
Talent agility is key for organizations in this era of technological innovation. Demonstrate what skills you have in your backpack and how those are transferable and adaptable across different kinds of work and roles. Given the shrinking shelf-life of skills, it's also a huge advantage to show an appetite for continuous learning so that you can grow and pivot with the organization. - Siobhan Savage , Reejig
11. Be Present On Social Media, Especially LinkedIn
Cover letters are a practice that is a little outdated. CVs, too. Keep your LinkedIn profile up to date and add as many details as you can there. Write articles or be present on social channels. And if you want to add an extra flavor to your application, record a short video highlighting why you are the best person for this role. - Ilona Bernotaite , Kilo Health
12. Be Specific About What Excites You
Candidates should explain why they are enthusiastic about the job. Organizations want skilled employees, but they also want employees who will bring positive energy to work and contribute to the culture. By being specific about what excites them about the role, candidates demonstrate their ability to drive culture, engagement and productivity. - Niki Jorgensen , Insperity
13. State Your Value Proposition Clearly
Some may argue that the cover letter's crown jewel is your value proposition: what you can offer that no one else can. This isn't merely a repetition of your CV. Instead, it's a story about how your unique skills and experiences make you the right person for the job. Conveying this effectively can set you apart from the crowd. What makes you unique? What is your superpower? - Joseph Soares , IBPROM Corp.
14. Highlight Your Value As A New Hire
Always intertwine the mission, vision and values of the organization into your message. It allows the reader to easily convey which skills and experiences support and relate to the company's specific values and aspects of the vision and mission. Also, using the mission, vision and values to describe how you plan to address conflict and company challenges will highlight your value as a new hire. - Kimika Banfield , Arootah
15. Choose The Appropriate Format To Submit
Are cover letters passé? Maybe. Maybe not. Many employers describe the value of cover letters as a means for the candidate to highlight their alignment of values and skills, yet so many cover letters go unread or skimmed at best. If applying for a writing position, then adhering to the tradition might be a good idea. If not, consider replacing the written document with a quick and entertaining video clip that exposes personality and fit! - Laci Loew , XpertHR (a division of LexisNexis Risk Solutions)
16. Prepare Your Digital Footprint As Well
A cover letter may still be expected, but is it really needed? In today's world, let your digital footprint tell your story. Make sure your online brand and resume—your LinkedIn account and social media channels—are updated, professional and competition-ready. A cover letter is fine, but it doesn't tell your whole story. - Jess Elmquist , Phenom
17. Make Your Cover Letter Interactive
Cover letters can be seen as outdated and offer little space to tell a truly impactful story. So, work with that and create a differentiated and interactive cover letter that engages the reader. Add a QR code to your LinkedIn profile, a custom microsite or portfolio, social media accounts, or a personalized video message that shows your passion (free tools exist). Branding 101—get creative to stand out. - Nicole Fernandes , Blu Ivy Group
18. Treat Your Cover Letter And Resume As Marketing Materials
Cover letters continue to be controversial in their value proposition. Some recruiters and managers may say the most important thing to include is to not submit a cover letter at all. That said, if you are including a cover letter, use that to differentiate and capture the attention of the reader. Cover letters and resumes are marketing documents so choose your words and tone wisely. - Julie Hankins , NNIT
19. Highlight Your Most Significant Accomplishments
Cover letters are not an effective tool in the modern job market but they can supplement a resume if written in formal, explicit language. It should be well-organized, concise and accurate, highlighting the candidate's most significant accomplishments on projects or tasks. The key to overcoming an employer's preconceptions about all job applicants is to highlight relevant skills and experience. - Dr. Nara Ringrose , Cyclife Aquila Nuclear
20. Sell Who You Are And Your Superpower
As cover letters start to fall out of trend, the employers that require them are even more likely to read them. So don't miss the opportunity to sell who you are, how you align with the role and the superpower that makes you rise above the other candidates. - Jessica Wallen , Marten Law
Editorial Standards
Reprints & Permissions
Side Hustles
Power Players
Young Success
Save and Invest
Become Debt-Free
Land the Job
Closing the Gap
Science of Success
Pop Culture and Media
Psychology and Relationships
Health and Wellness
Real Estate
Most Popular
Related Stories
Land the Job The No. 1 danger of using ChatGPT on your   resume, according to career expert
Land the Job ZipRecruiter: 3 in-demand soft skills   candidates are 'most lacking in'
Work Psychologist Adam Grant on the 'amazing'   cover letter he remembers years later
Land the Job Could resumes soon be a thing of the   past? Experts give their verdict
Next Gen Investing If you use AI in these 3 ways, you're   'really going to succeed,' says expert
The only 3 things you should include in a cover letter (Hint: It's not your qualifications)
Searching for a new job is a time-consuming endeavor. By some estimates, the typical worker takes about six weeks to apply for, interview and finally land a new job offer. And across any industry and level of work, there's one step to the process that's bound to slow down even the most qualified and enthusiastic candidate: the cover letter.
But findings from one new report offer some motivation to draft a good elevator pitch, even in a time when cover letters are becoming increasingly optional.
According to a survey of 200 hiring managers from ResumeLab , a resume advice site, 83% of HR professionals agreed with the statement "a great cover letter can make me decide to interview a candidate, even if I don't think their resume is good enough."
That means, out of every 10 resumes where the applicant might not have the right work history, set of skills or management experience, eight job seekers are likely to advance, as long as they can make up for it in their cover letters.
A majority of hiring managers said cover letters were crucial to their hiring decisions, and 77% give preference to candidates who submit one, even if they're deemed optional on the application form. A similar share always expect the document, even if they're not required in order to apply.
Cover letters only matter if job seekers do this
While cover letters can give candidates a leg up on the competition, they come with a major caveat.
Companies are increasingly relying on applicant tracking systems, often shortened to ATS, and artificial intelligence software to review resumes. These algorithms scan resumes for specific words and phrases around work history, responsibilities, skills and accomplishments to identify candidates who match well with the job description.
Ian Siegel, CEO of jobs marketplace ZipRecruiter, estimates more than 70% of resumes are now reviewed by robots before they reach a human reader.
That means resumes, and how they're written, matter first and foremost.
To be sure, the ResumeLab survey was designed to measure the impact of a cover letter only after a resume passed an ATS scan and made it to a human reviewer, explains Maciej Duszynski, career expert and researcher behind the study.
Siegel offers three recommendations for a resume to make it past the bots:
1. "Use standard file types — no more trying to stand out by putting your resume into Photoshop," he tells CNBC Make It . Instead, "Use Microsoft Word or Google Docs to give something the parser can parse.
2. "Check your grammar and spelling. It seems obvious, yet a surprising number of job seekers don't do it.
3. "Clearly list your skills and make it easy for the parser to understand your years of experience," Siegel says.
If possible, Siegel says to demonstrate mastery of each skill by listing your years of experience learning or using each one in your work history.
The only 3 things to include in your cover letter
While workers should be detailed about their qualifications on a resume, they need to be quick — and creative — when it comes to their cover letter. Siegel estimates that hiring managers spend an average of 20 seconds reviewing a given cover letter.
The majority of hiring managers from the ResumeLab survey said the most important thing they're looking for in a cover letter is the applicant's reason for wanting to join the company.
Siegel agrees this is one of just three things job seekers should include in their cover letter.
"The golden rule of applying to a job is showing specific interest," he says. "A lot of people write cover letters to describe their background and explain why they're a fit for the role. But I would start my cover letter with the sentence, 'I'm so excited to apply to this job because ... ' and fill in the blank about the business."
Beyond that, Siegel boils down the most important things to include in a cover letter to three points.
"Show enthusiasm, show you've done research, and show you want to come in there and make a contribution," he says.
According to the ResumeLab survey, hiring managers also find cover letters helpful in understanding anything surprising about the candidate's work history, such as a reason for changing careers or explaining an employment gap.
A strategy with even better odds
While a good job candidate can increase their odds of cutting through the noise by perfecting their resume and cover letter, it's still not the most surefire way to land an interview.
"The cover letter may be one way you can break out, but a far better way to receive consideration if you're an imperfect candidate is via reference," Siegel says. "Roughly 19% of the people who are getting hired are doing it because they had a friend recommend them."
LinkedIn data supports the referral method . According to the networking site, 70% of professionals get hired at companies where they have a personal connection. Yet 51% of millennials feel uncomfortable about reaching out to their connections for a referral, and 40% say they avoid this step altogether during their job search.
Check out: The best credit cards of 2020 could earn you over $1,000 in 5 years
Don't miss: 78% of job seekers lie during the hiring process—here's what happened to 4 of them
You control your data
We and our partners use cookies to provide you with our services and, depending on your settings, gather analytics and marketing data. Find more information on our Cookie Policy . Tap "Cookie Settings" to set preferences. To accept all cookies, click "Accept All".
Cookie settings
Click on the types of cookies below to learn more about them and customize your experience on our Site. You may freely give, refuse or withdraw your consent. Keep in mind that disabling cookies may affect your experience on the Site. For more information, please visit our Cookies Policy and Privacy Policy .
Choose type of cookies to accept
These cookies allow us to analyze our performance to offer you a better experience of creating resumes and cover letters. Analytics related cookies used on our Site are not used by Us for the purpose of identifying who you are or to send you targeted advertising. For example, we may use cookies/tracking technologies for analytics related purposes to determine the number of visitors to our Site, identify how visitors move around the Site and, in particular, which pages they visit. This allows us to improve our Site and our services.
These cookies give you access to a customized experience of our products. Personalization cookies are also used to deliver content, including ads, relevant to your interests on our Site and third-party sites based on how you interact with our advertisements or content as well as track the content you access (including video viewing). We may also collect password information from you when you log in, as well as computer and/or connection information. During some visits, we may use software tools to measure and collect session information, including page response times, download errors, time spent on certain pages and page interaction information.
These cookies are placed by third-party companies to deliver targeted content based on relevant topics that are of interest to you. And allow you to better interact with social media platforms such as Facebook.
These cookies are essential for the Site's performance and for you to be able to use its features. For example, essential cookies include: cookies dropped to provide the service, maintain your account, provide builder access, payment pages, create IDs for your documents and store your consents.
To see a detailed list of cookies, click here .
This site uses cookies to ensure you get the best experience on our website. To learn more visit our Privacy Policy

What to Include in a Cover Letter (Examples for 2023)
What to include in a cover letter? Your biography? Work history? Photos of your golden retriever? Learn what to put in a cover letter to make recruiters interested in you.
As seen in:
You know you need a cover letter… But what should be in a cover letter besides a desperate plea to give you a job? Your dream opportunity may slip by if you don't include the right things in your cover letter.
Cheer up! Writing one will be a breeze if you know what to put in a cover letter. Not only that—you'll write an attention-grabbing cover letter that will get employers on the phone ASAP.
So what should a cover letter include? Our brief cover letter guide will show you what should and shouldn't be in a cover letter and why.
This guide will tell you:
What to include in a cover letter to land the job you're after.
What NOT to include in a cover letter.
What are the elements that make a great cover letter.
Want to save time and have your cover letter ready in 5 minutes? Try our cover letter builder. It's fast and easy to use, and you'll get tips and right-vs-wrong examples while writing it. Choose from 20+ professional cover letter templates that match your resume.
CREATE YOUR COVER LETTER NOW
Here's an infographic showing you what to include in a cover letter: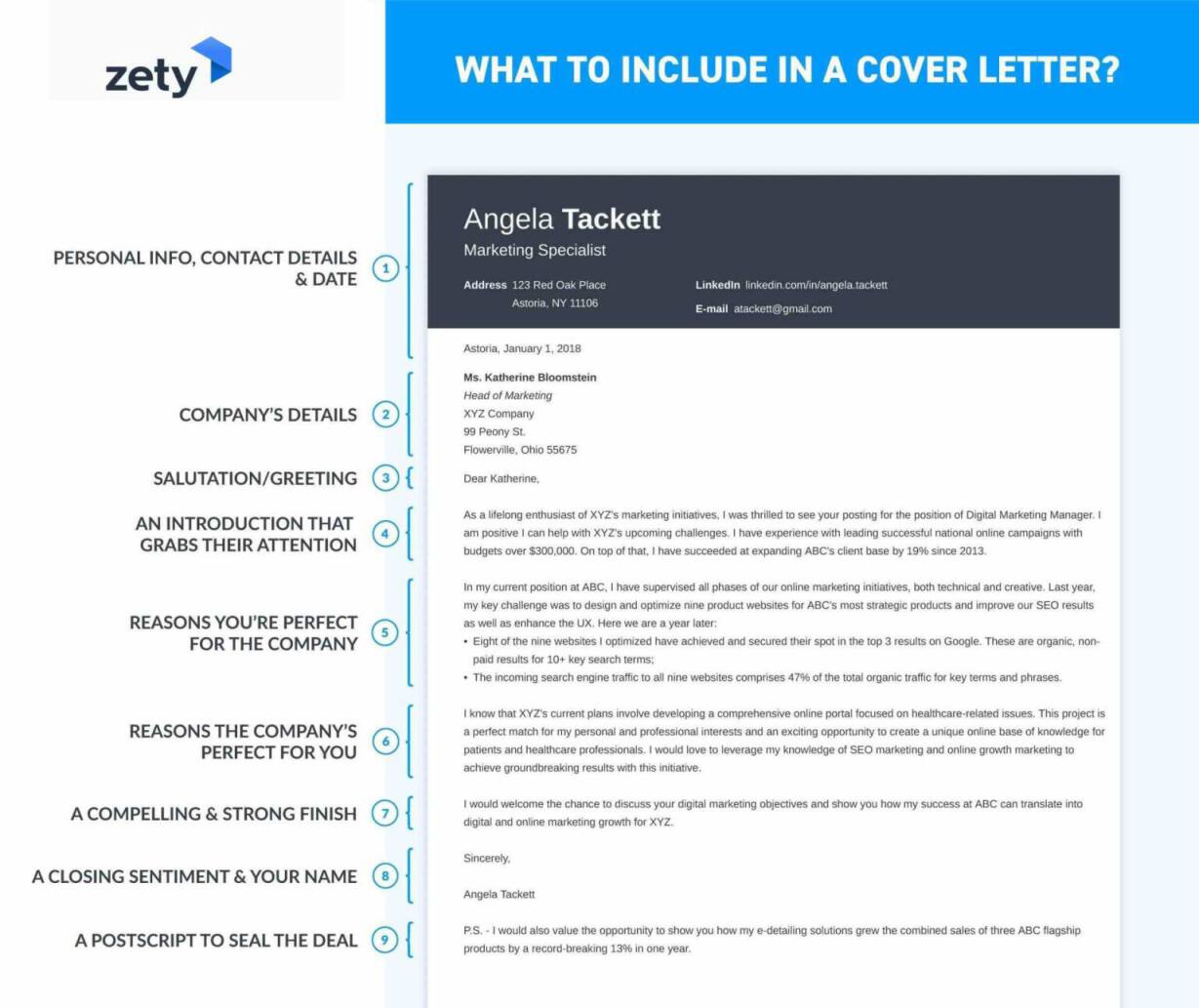 Sample cover letter for a resume— See more cover letter examples here .
Looking for some cover letter examples? See:
The Perfect Cover Letter for Any Job (Example & Guide)
General Cover Letter Example
Email Cover Letter Example
Brief Cover Letter Example
Cover Letter with No Experience Example
Motivational Statement Example
5 Short Cover Letter Examples for Any Job (+ Writing Guide)
Cover Letter for an Internship: Example & Tips for All Interns
Business Cover Letter: Samples, Proper Format, & Writing Guide
Cover Letter Examples to Land Any Job
Need a detailed cover letter writing guide? Check here: How to Write a Cover Letter in 8 Simple Steps
Now, let's see what should be in a cover letter for a resume to make it successful:
What to Include in a Cover Letter?
The key to writing a successful job application is to know exactly what to put in a cover letter. With a good writing guide, it's just like following a cooking recipe. Think of each element of a cover letter as the necessary ingredients and your writing style as seasoning that adds a unique flavor.
Here are the key elements a cover letter should include:
Professional Cover Letter Format
Remember to use easy-to-read cover letter fonts that can make a good impression on recruiters. Set the spacing and margins of your cover letter to maintain a good balance between text and white space, and limit the cover letter length to one page.
Contact Information
What contact details should you add? Must-haves include your name, email address, and phone number. Nice-to-haves are your mailing address, branding statement, and LinkedIn profile.
Current Date
End your cover letter header by inserting the date of writing before moving on.
Company Information
You need to list the name of the person leading the recruitment process, their job title, and the company address.Research the company website, or a site like Glassdoor , to locate the hiring manager's name so that you can address your cover letter correctly.
Dear is regarded as one of the best cover letter salutations out there, as it is helpful whether the letter is formal or informal and whether you know the recruiter's name. Avoid cliché greetings such as Dear Sir or Madam , or To Whom It May Concern , as they're considered lazy and outdated.
Opening Line
What should the first paragraph of a cover letter include? Like the compelling first line in a great novel, the opening paragraph in a cover letter should immediately hook the reader in a way that makes them want to read further.
Your Interest in the Company and Position
Show your enthusiasm for the job by including attention-grabbing facts about the company or your respect for their products and services. A bit of praise can get you very far!
Reasons You're Great for the Job
Show them you are the perfect fit for the company and team by mentioning your professional achievements . Give specific examples of using the required skills in the past. This section of your cover letter shouldn't be a repetition of your resume but a tailored demonstration of your expertise.
Closing Paragraph With a CTA
Write an impressive closing paragraph of your cover letter by briefly summarizing everything, and add a Call To Action by proposing a meeting or a phone call.
Closing Sentiment and Your Name
Simple ones such as "Best Regards" or "Sincerely" with your full name are enough. Remember to add a cover letter enclosure to make sure the hiring manager knows you sent through a complete application.
A P.S. at the bottom of your cover letter always draws the reader's attention, even if they don't care to read the rest. Include an original idea for the company, or show off an impressive achievement in a way that will make them want to learn more about you.
Now that you know what should be included in a cover letter, make sure to fill each element correctly. Remember what your cover letter should say : you can help the company succeed!
Sloppy cover letters don't land job interviews—they land in the trash can instead. Make sure your cover letter looks its best. Learn more: Formatting a Cover Letter Step-by-Step
When making a resume in our builder, drag & drop bullet points, skills, and auto-fill the boring stuff. Spell check? Check . Start building a professional resume template here for free .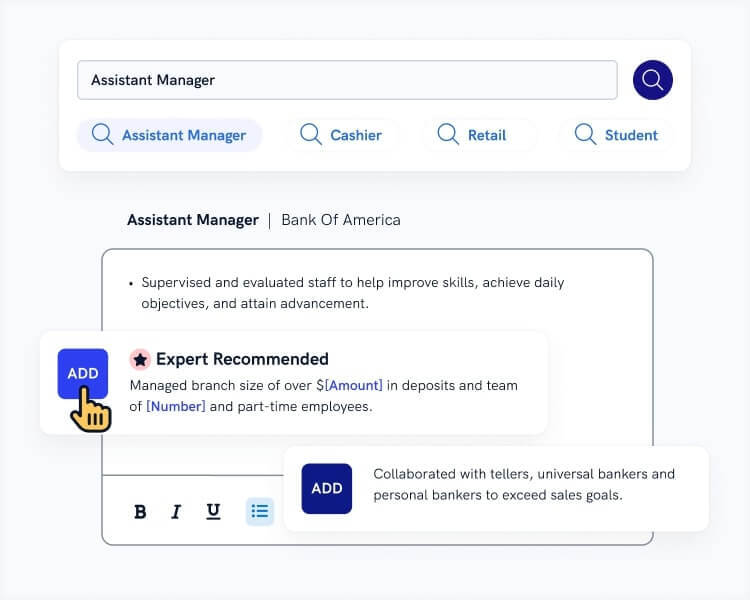 When you're done, our free resume builder will score your resume and our resume checker will tell you exactly how to make it better.
What Not to Include in a Cover Letter?
Maybe you've got a unique idea about what to include in a cover letter for a job. It's better to check if it's not against the rules. There's always a bit of freedom in writing a job application, but going too far won't make a good impression on recruiters.
What not to put in a cover letter:
Irrelevant Information
Your cover letter should include relevant experience that fits the advertised position. Skip anything that won't matter to the hiring manager.
Extensive Paragraphs
A cover letter is not an essay! Keep the paragraphs up to 5 sentences long to write a killer cover letter .
False Claims
It's the same as in a resume— lying on a job application is a big NO. If you claim something, make sure you have facts to back it up.
Salary Expectations
Generally, it's better not to include them. Mention your salary requirements in the cover letter only if the job advertisement tells you to do it.
Negative Remarks About Previous Jobs
Never say you hated your job . Whatever the circumstances of leaving a previous position are, keep all remarks professional.
If you need to explain something in your cover letter, make sure you're not using unverifiable claims, such as: "I didn't get a promotion because the manager chose someone who slept with the boss ."
Personal Information
Unless it's relevant to the position or the job advertisement, don't focus on details of your personal life. The recruiter doesn't need to know everything about you. In fact, providing irrelevant information may lead to unconscious bias and employment discrimination, even though it's against labor laws .
Social Links
Leave the socials, profile URLs, and portfolio to your resume unless the cover letter template of your choice has a place for them.
Excessive Flattery
You don't need to be like, "I love you guys!". Show your enthusiasm for the job, but don't go too far with flattery . Focus on the company's achievements rather than subjective opinions about it.
Your Wishes
It's perfectly fine that you expect certain things from the company. But in your cover letter, focus on saying what you can do for them .
Spelling or Grammar Errors
It's just common sense—use a spellchecking tool such as Grammarly to ensure you didn't make any mistakes.
Wrong Names
It's obvious, but make sure that you address the letter to the right company and person.
Strange File Name
Naming a cover letter is important. You don't want the file lost on the recruiter's hard drive. Always put your name and the position you apply for in the file name.
Remember that a cover letter should be formal . Unless you know for certain that the company culture is extremely relaxed, don't include jokes or puns.
got a wealth of tips on writing a cover letter that will let you stand out: 35+ Successful Cover Letter Tips, Advice & Guidelines
Plus, a great cover letter that matches your resume will give you an advantage over other candidates. You can write it in our cover letter builder here. Here's what it may look like: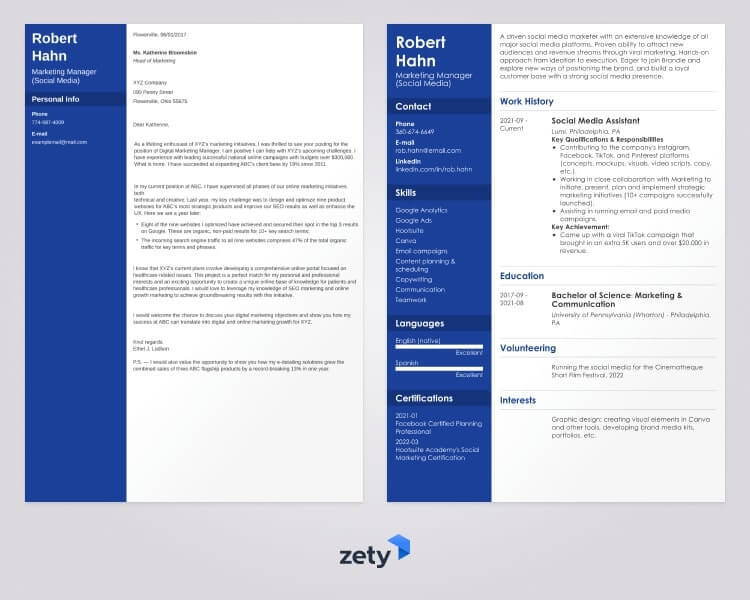 See more cover letter templates and start writing.
Key Takeaway
In a nutshell, here's what to put in a cover letter to get the job of your dreams:
Powerful start: Your opening sentence and the introductory paragraph on your cover letter are vital because they'll determine if the hiring manager continues reading. Mention your relevant skills and work achievements to grab their attention.
Strong middle: Use the second and third paragraphs to show that you are a perfect fit for the position on offer and the company and that they are the ideal place you'd love to work at.
Memorable finish: You kept their attention that far but have a compelling ending and an attention-grabbing postscript, so they'll be sure to move on to your resume.
Do you have any questions on what to put in a cover letter? Not sure what should be in a cover letter to make it effective? Get at us in the comments below, and we will answer your question. Thanks for reading!
About Zety's Editorial Process
This article has been reviewed by our editorial team to make sure it follows Zety's editorial guidelines . We're committed to sharing our expertise and giving you trustworthy career advice tailored to your needs. High-quality content is what brings over 40 million readers to our site every year. But we don't stop there. Our team conducts original research to understand the job market better, and we pride ourselves on being quoted by top universities and prime media outlets from around the world.
https://www.glassdoor.com/index.htm
https://www.dol.gov/sites/dolgov/files/ofccp/regs/compliance/factsheets/FACT_Workplace_Aug2016_ENGESQA508c.pdf
https://www.glassdoor.com/blog/cover-letter-words/#:~:text=8.%20Flattery%C2%A0,future%20hiring%20manager.%E2%80%9D
Frequently Asked Questions about What to Include in Cover Letters
What to include in a cover letter.
It's good that you know that cover letters are necessary . When writing a job application, it's also important to know what should a cover letter include. The purpose of a cover letter is to express your interest in the advertised position and present your qualifications for the job. In order to do that, you must include the essential cover letter information.
Here's what goes in a cover letter:
1. Your contact information
2. Date of the letter
3. Contact information of the hiring manager and the company
4. Salutation + the hiring manager's name
5. Attention-grabbing opening statement .
6. First paragraph, containing your enthusiasm for the position and the company
7. Second paragraph, containing an overview of your qualifications
8. Third paragraph, specifying why this position is perfect for you
9. Closing paragraph with a Call To Action
10. Greetings and optional P.S.
Remember that your cover letter layout should match the resume template—this makes your job application appear more professional! If you don't want to work with font sizes, cover letter spacing & margins , and all of that fluff, you can pick some simple cover letter templates to download , or a few free cover letter templates in Microsoft Word to make your life easier.
What are 3 things you should include in a cover letter?
While certain parts of a cover letter, such as contact information and salutations, are easy to remember, the contents of the cover letter's paragraphs are more difficult to write. However, once you remember what your cover letter should say in 3 short points, it will become easier to write one.
Here are the 3 things you should include in a cover letter:
Your enthusiasm for the job and the company
Your research about the position and the company's business goals
Your willingness to make a contribution
Why do these things matter to recruiters?
First, they want to see you are enthusiastic about the advertised position . By letting them know what attracts you to the job and the company, they can see that you didn't just send the same letter to 20 other businesses. For this reason, never address your cover letter with "To whom it may concern" —it really makes a bad impression on the reader!
Second, by doing research about the position and the business, you can learn about their current goals, history, achievements, and challenges to overcome. You can make a great impression by referring to a little-known fact or a significant achievement of the company in your cover letter.
Third, the hiring managers want to know what you can do for the company. Explain how you can contribute to the overall business goal and the goals of the department you'd work for. Be as specific as possible!
What are the 7 things you should include while formatting your cover letter?
Just like there are many recipes for apple pie, there are also many guidelines for cover letters. How are you supposed to know which ones matter? We tried to combine them into 7 points to make formatting a cover letter easier.
Here are the 7 things you should include in a cover letter:
1. Cover Letter Header : add your contact information and contact details of the company
2. Salutation : tailor the cover letter greeting and use the hiring manager's name instead of the cliché " Dear Sir or Madam "
3. Opening paragraph : grab the reader's attention by introducing yourself, stating why you want this job, and what attracts you to the company.
4. Second paragraph : present your qualifications by referring to the requirements from the job advertisement.
5. Third paragraph : show that you're the perfect candidate for this position by explaining how you can contribute to the company's success.
6. Closing paragraph : summarize your interest in the position and include a Call To Action.
7. Greetings and signature : use a professional closing and paste your scanned signature for a personal touch.
That's it!
Sometimes, the job advertisement may ask candidates to also include their salary expectations in cover letters . If that's the case, make sure to also mention them!
As for the ideal length of a cover letter , it's best to keep it short enough to fit a bit more than half of a page. Recruiters are busy people, they don't have time to read long essays.
What are the 4 parts of a cover letter?
It's not easy to find a general cover letter outline . But don't worry, writing a cover letter can be easier than finding the perfect answer to your question via Google . You just need to know what 4 parts to include in your cover letter .
Each cover letter has four distinct sections:
Header with contact information and salutation
Your introduction
Body of the letter
Closing statement
That's what a cover letter should look like .
The body is the longest section of a cover letter. It may consist of several paragraphs (though usually two are enough) dedicated to proving that you're the best fit for the advertised position. In this part, you should include an overview of your qualifications, refer to the requirements mentioned in the job ad, and explain how you can use your skills and knowledge to assist the employer and help the company achieve its goals. Remember that the goal of your cover letter is to sell yourself . It's important to be specific—vague promises are not convincing for recruiters!
Don't miss out on exclusive stories that will supercharge your career!
Get a weekly dose of inspiration delivered to your inbox
Similar articles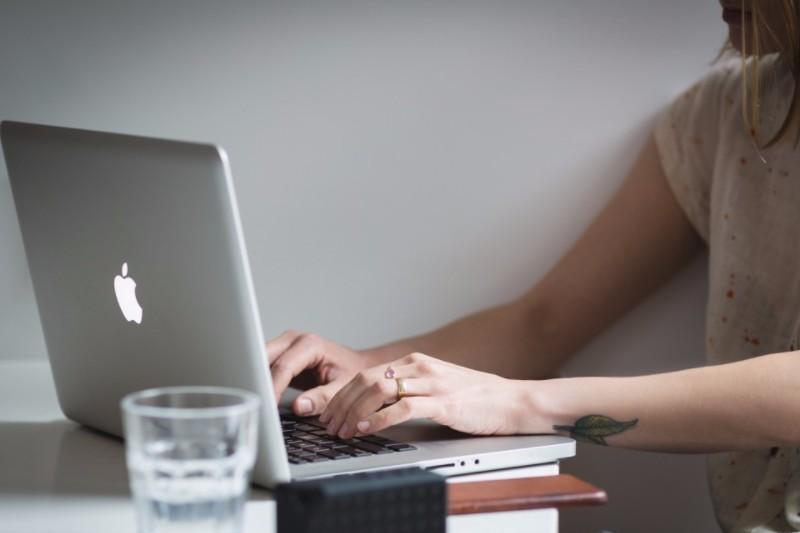 Are Cover Letters Necessary in 2023? Do You Need One?
Your resume is perfect and ready to be sent. But what about your cover letter? Is a cover letter necessary? We have the answer!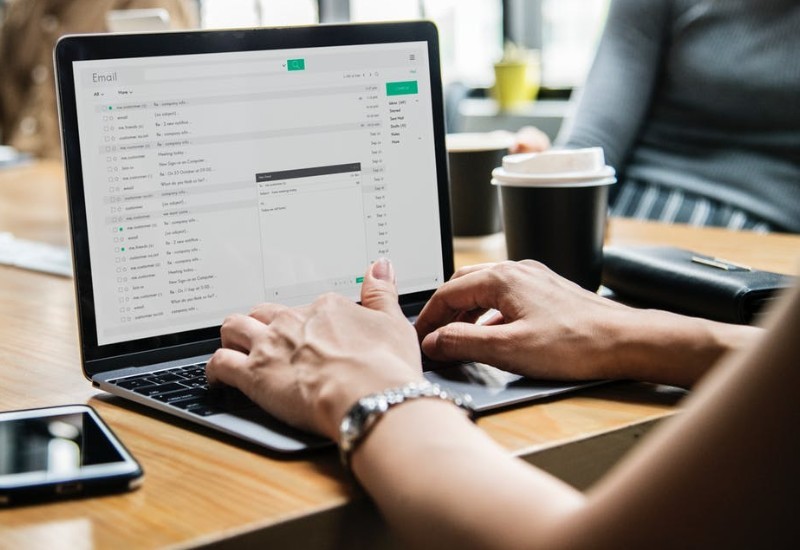 How to Send an Email Cover Letter (Samples & Tips)
Want to send a cover letter along with your resume? You've got two options: email your cover letter as an attachment, or write an email cover letter. We'll show you how to do both.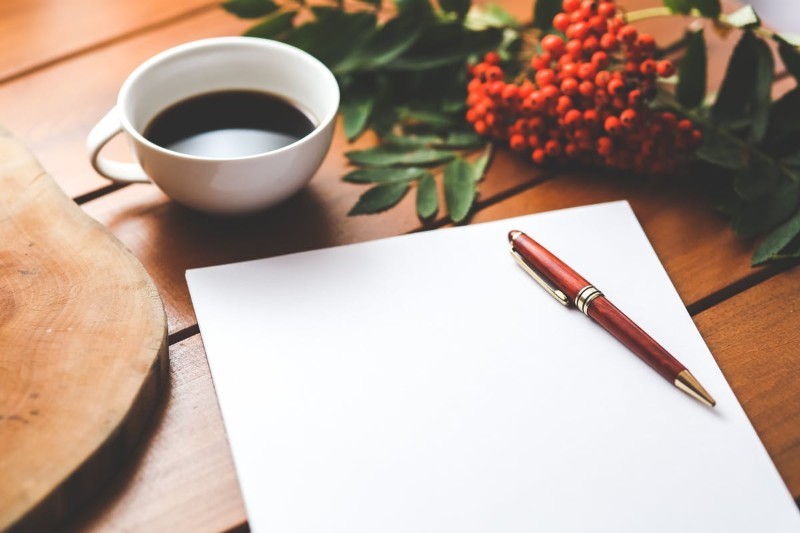 General Cover Letter Sample, Generic Template, & Tips
Can you use a generic cover letter for all jobs? Only if you know how to do it well. See a professional general cover letter sample and read our tips to make it even better.
Search Search Please fill out this field.
Career Planning
Finding a Job
Cover Letters
What to Include in a Cover Letter for a Job
When writing a cover letter , specific information needs to be included: a contact section, a salutation, an introduction to the hiring manager, information on why you are qualified for the job, a closing, and your signature. The way the information is listed and the format depend on how you are sending your letter.
The goal of your cover letter is to make a case for getting selected for a job interview, so it's important to include all required information along with a compelling argument for why you would be a strong candidate for the position .
It can be time-consuming to write a custom cover letter for each job you apply for, but it's important to take the time and effort to show the company why you are a good match.
The more your experience and your skills match the job description, the higher your chances of getting picked for an interview.
Be sure to include information in your letter about how you possess the particular skills and requirements that the employer is seeking.
Don't simply repeat what's in your resume. Your resume lists your skills, but your cover letter should highlight how you have put those skills to use.
Before you start writing, review cover letter examples and make sure that your letter explains how your skills relate to the criteria listed in the job posting. Looking at examples of effective cover letters will give you a starting point for creating your own letter.
Here's what to include in a cover letter to send with a resume when you apply for a job.
What to List in a Cover Letter Contact Section
When writing a cover letter to mail or to upload to a job board or company website, the first section of your cover letter should include information on how the employer can contact you.
Printed or Uploaded Letter List the following information in the contact section:
Hiring Manager Name (if you have it) Title Company Address City, State Zip Code
Your Name Address City, State Zip
Email Cover Letter When you send an email cover letter , include your contact information in your signature instead of listing your contact information at the top of the message:
Your Name Street Address City, State Zip Code Email Phone LinkedIn
Here's more information, with examples, on how to address a cover letter .
Choose an Appropriate Salutation
It's important to include an appropriate greeting at the beginning of the cover letter or message. If you have a contact person for your letter, be sure to include their name in your letter.
Consider salutation examples that are appropriate for cover letters and other employment-related correspondence.
For example:
Dear Hiring Manager (if you don't have a contact person)
Dear Mr. Smith
Dear Ms. Jones
Dear Rory Dolan
Dear Dr. Milliard
Highlight Your Qualifications in the Body Section
The body is the most important part of a cover letter or an email message applying for employment.
The body of a cover letter includes the paragraphs where you explain why you are interested in and qualified for the posted job :
Why you are writing.
How you are qualified for the job.
Appreciation for being considered for the position.
Be specific by referencing the employer's job requirements as listed in the job posting in this part of your cover letter.
Include Keywords in Your Letter
Including keywords related to the jobs for which you are applying in your cover letters can help you get selected for a job interview. These are specific words hiring managers look for when considering applications.
As hiring processes have become automated, online applicant tracking systems are programmed to search for keywords.
Choose an Appropriate Closing
Make sure to close your letter in a professional manner. Casual closings as you would write to a friend or a family member are not appropriate in a letter to a potential employer.
Best regards
Respectfully
Thank you for your consideration
Add Your Signature to the Letter
What is included in a cover letter signature depends on whether you are sending or uploading a cover letter document or using an email message as your cover letter.
Hard copies of letters should be signed by hand. Scanning your signature to include on PDFs can be a nice touch, while emails should include a professional electronic signature that includes your contact information.
Review Cover Letter Examples
Here's an example of the final product, including information on why the applicant would be an excellent candidate with a summary of his qualifications for the job. 
Download the template for a cover letter here and also review more cover letter samples with free templates you can download to use as a starting point for your own letter.
John Bigham 111 Maple Street Anytown, MA 02222 555-555-5555
September 1, 2020
Shaun Lee Human Resources Goodspring 123 Business Rd. Business City, NY 54321
Dear Mr. Lee:
I am writing to state my interest in the position of Assistant to the Director of Goodspring. I believe that my work experience and education have equipped me with the skills necessary to be a successful candidate for this position. 
During my years with XYZ Wellness, I have been responsible for everything from accounting, bookkeeping, marketing and maintaining records to scheduling appointments and greeting clients and their families at the door. I have proudly overseen our growth from a startup business to a well-respected contributor to the community. 
I have also been in charge of organizing our very successful annual golf fundraiser and dinner. Last year, we raised $145,000 for our local homeless shelter. 
Your mission is an important one, and I would very much appreciate the opportunity to speak with you about how I can contribute to your team and help you continue to provide the services so vital to our community. Thank you for your consideration.
John Bigham  (signature hard copy letter)
John Bigham
When you're sending an email cover letter  (see below)  your contact information should be listed after your signature.
What to Include in an Email Cover Letter
The body of an email cover letter should contain the same information as a document cover letter, but two big differences are the subject line and your contact information.
Many employers ask that specific information is included in the subject line , and you must follow those instructions carefully. Contact information should be included with your electronic signature.
What Not to Include in a Cover Letter
There are some things that don't belong in a cover letter. Don't go overboard. Including too much information can hinder your chances of getting an interview.
Keep your letter concise and focused, and don't include extraneous details.
By clicking "Accept All Cookies", you agree to the storing of cookies on your device to enhance site navigation, analyze site usage, and assist in our marketing efforts.
What to Include in a Cover Letter
Let your resume set 'em up and your cover letter knock 'em down..
Many jobs ask you to file a cover letter along with your other application materials, but even if a cover letter is optional, you might take the opportunity to send one along. To make the effort worth your while, you need to know what to include in a cover letter. The goal is to express your knowledge, applicable skills, and passion for the job in question. But you only have one page to work with, so you need to be smart when choosing what to say.
Before you submit a cover letter, first make sure each one is tailored to the job you're applying for and references the position. Second, make sure each cover letter you write includes these three elements.
This Is What to Include in a Cover Letter
1. proof that you've done your homework.
Recruiters and hiring managers want to see that you know what you're getting yourself into. It's important in the early sections of your cover letter that you refer to these essentials:
the job (example: copywriting)
its title (example: assistant healthcare copywriter)
the company (example: Company ABC)
And don't be afraid to do a little flattering. Impress your potential future boss with an acknowledgement of a major company success. Bonus points if that success relates to the team you'd be joining.
Here's an example for how you'd sneak this info into your cover letter narrative:
I'm impressed by the way Company ABC makes climate change issues accessible to everyday people (particularly in commercials for your EFG Product, which have resonated with me often), and I would be grateful for the opportunity to be part of such meaningful work.
The writing is informal, flattering, and shows the job applicant knows the ropes.
2. An Explanation of How Your Skills Relate to the Job
If you're not sure what should be included in a cover letter, look at how your skills align with the job for which you're applying. Connect the dots for the reader by explaining in the letter what exactly it is you can do for this company and this role based on your previous experience.
One of the best indications of what to include in a cover letter is right in the job ad . Take a piece of paper and make two columns. In one column, pull sentences from the job ad that express what the company is looking for. Then in the next column, add a sentence that explains how your skills match those requirements. It's a smart, organized way you untangle an unruly ball of qualifications and pick out the most appropriate things to include in a cover letter.
Of course, you can also do this in a more traditional way—simply stating how your skills connect to the job.
3. Your Excitement About the Position
Here's an exercise: Think about yourself in the job you're applying for. What do you feel? You're probably pretty pumped, huh? Now harness some of that excitement and put it down on paper.
For example, if you were applying to a web design or UX job, you could write
For as long as I can remember, I've been interested in how the digital world works and how users interact with websites. Website design is not only my career, it's my passion, which is why I hope you'll consider me for this great role on your team.
This has feeling and emotion; a far cry from the dry form letter you thought you had to write.
As we said, HR staff and hiring managers have limited time and a lot of resumes to sort through. Don't put them to sleep. Create something they'll remember you by. It just might be the difference between your application ending up in the trash or the inbox of the boss.
Now, About Your Resume...
Great, you know what to include in a cover letter! But while that piece of paper might be optional, your resume most definitely is not. Resumes are still a tried-and-true requirement that hiring managers use to screen potential candidates. Need some help with that? Get a free resume assessment today from Monster. It's quick and simple and can improve your chances of hearing back from employers.
Most Helpful In Cover Letters
Esthetician Cover Letter Sample
By Venus Gentile, Monster Contributor
How to Write a Compelling Engineering Cover Letter – Including Example
By Jennifer Verta, Monster Contributor
Write a Letter of Interest for Your Dream Job
By Martina Mascali, Monster Contributor
Nursing Cover Letter Example
Administrative assistant cover letter sample.
SUGGESTED TOPICS
The Magazine
Newsletters
Managing Yourself
Managing Teams
Work-life Balance
The Big Idea
Data & Visuals
Reading Lists
Case Selections
HBR Learning
Topic Feeds
Account Settings
Email Preferences
How to Write a Cover Letter
Advice for tackling one of the toughest parts of the job-hunting process.
Perhaps the most challenging part of the job application process is writing an effective cover letter. And yes, you should send one. Even if only one in two cover letters gets read, that's still a 50% chance that including one could help you. Before you start writing, find out more about the company and the specific job you want. Next, catch the attention of the hiring manager or recruiter with a strong opening line. If you have a personal connection with the company or someone who works there, mention it in the first sentence or two, and try to address your letter to someone directly. Hiring managers are looking for people who can help them solve problems, so show that you know what the company does and some of the challenges it faces. Then explain how your experience has equipped you to meet those needs. If the online application doesn't allow you to submit a cover letter, use the format you're given to demonstrate your ability to do the job and your enthusiasm for the role.
No one likes job hunting. Scouring through online job listings, spiffing up your résumé , prepping for grueling interviews — none of it is fun. For many, the most challenging part of the process is writing an effective cover letter. There's so much conflicting advice out there, it's hard to know where to start. Do you even need one, especially if you're applying through an online system?
Amy Gallo is a contributing editor at Harvard Business Review, cohost of the Women at Work podcast , and the author of two books: Getting Along: How to Work with Anyone (Even Difficult People) and the HBR Guide to Dealing with Conflict . She writes and speaks about workplace dynamics. Watch her TEDx talk on conflict and follow her on LinkedIn . amyegallo
Partner Center
Skip navigation
Fall Updates
For Employers
In the Know
Make An Appointment
Internships
Employers We Work With
CCE Programs
Funding Programs
Drop-in Hours
Career Counseling Appointments
Practice Interviews
Programs & Services
Summer Updates
Design Your Next Steps
Resumes & CVs
Cover Letters
Negotiating
Career Advancement
Graduate School
Free Premium Resources
Communications & Media
Engineering & Technology
Environment & Sustainability
Financial Services
International Affairs
Non-Profits & Social Justice
Psychology, Counseling & Social Work
Ways to Gain Experience
Career Assessments
Connect With Alumni
Student Experiences
First-Generation/Low-Income Students
International Students
Students with Disabilities
Veteran Students
LGBTQ Students
Visiting Students
Students of Color
How and Why to Write a Great Cover Letter
A cover letter is a one-page business letter that you submit when applying to a job, along with your resume. As a piece of persuasive writing, your cover letter will aim to convey to the employer why you're a great candidate for the role.
What is the purpose of a cover letter?
Your cover letter complements your resume by making it easy for the employer to see how your experience and interest connect to the position. Your goal is to convince the employer to interview you.
With your cover letter, you'll aim to:
Highlight your qualifications:  You'll show how your skills and experience relate to the employer's needs for a specific position.
Showcase your motivation: You'll demonstrate your enthusiasm for the specific position and the organization.
Reflect your voice and written communication skills: You'll give the employer a sense of your personality and writing style.
When should I write a cover letter?
Not all jobs require cover letters. So, how do you decide whether to submit one?
Submit a Cover Letter when…
The posting explicitly requests that you do so
You're applying to an opportunity at a mission-driven organization
You think that doing so could provide important information to the employer that they wouldn't get from your resume
Consider Submitting a Cover Letter when…
It's marked "optional" in an application, and you have the bandwidth to do so
You have content that you can easily recycle or repurpose into a tailored cover letter
No Need to Submit a Cover Letter when…
A posting specifically tells you not to submit one
There's no way to submit one in an application portal, and doing so would require a serious workaround
If you're applying to several similar opportunities, creating a draft cover letter in advance, geared toward that type of opportunity, can be a helpful way to save time in your actual application process.
How do I write a cover letter?
Your cover letter should articulate your qualifications and motivation for the position. Read the job description closely and research the organization. As you craft your cover letter, use examples that demonstrate your relevant skills, knowledge, and interests. The cover letter should be concise, clear, and well-organized.
Before Writing
Research the employer.
Learn enough about the organization to articulate why you are a strong fit for that firm. 
Review the firm's website and LinkedIn page.
Speak with current or previous employees.
Read articles and social media for current news.
Analyze the job description
Look for skills, duties, and qualifications of the job so you can design your letter to match these as much as possible.
Reflect on your experience and motivation
Identify skills and personal qualities you have developed which will be useful in this role. Ask yourself:
What attracts you about this role/company/industry?
What have you have done in your work experiences, classes, internships, activities, projects, volunteer work, travel, etc., that is similar to the duties required of the job? 
Cover Letter Structure
As a business letter, the cover letter should include:
Heading: Include your name and contact information in the same format as your resume
Salutation: Address your letter to the specific individual who can hire you, if this is known. If the name is not included in the job description, address the letter to the Hiring Manager or title mentioned in the job description.
Body Paragraphs:  Discuss your experiences, interests, and skills to show the employer how you can add value to their team. See the section below for more guidance.
Signature Line: Include a closing and your name.
The cover letter should be one page, about three or four paragraphs, and single spaced. Use 10-12 point font and one inch margins. 
When applying online, upload your cover letter as a PDF file, unless another format is specified. When sending your resume and cover letter by email, you may write a short note or paste your cover letter in the body of your email (without the address header) and also attach the PDF file.
Cover Letter Content
Your cover letter should answer who, what, when, where and why you are applying for the opportunity. 
Introduction
State the position for which you are applying. If you have a referral or spoke with someone from the company, you can mention it in the introduction. Provide some basic information about yourself; this can include your class year and what you're studying at Columbia. Briefly outline why you're interested in the organization and what you bring in terms of relevant experience and skills. 
Body Paragraphs
These paragraphs will highlight your qualifications and strengths that are most relevant to the organization and position. Use the job posting and your research as clues to determine what the employer is seeking in a candidate. Have your resume beside you and reflect on what you want the employer to know about you. Are there experiences you want to expand upon that demonstrate your understanding of the role and ability to do the job requirements?
Structure the paragraphs based on relevance, not chronology. Lead with your most relevant skill or strongest experience.
Start each body paragraph with a clear topic sentence.  This can highlight a key skill set, a transferable experience, or a core area of knowledge you've built through your studies. Walk the reader through a project or experience, integrating the relevant skills you used and qualities you demonstrated. Provide details about your accomplishments and impact. Connect how these experiences have prepared you for this role and why you are motivated to do this job. There is no need to apologize if you feel you lack experience; focus on the accomplishments that you have.
Recap what you would bring to the organization and your interest in the position. Thank the employer for their consideration. Keep your tone positive and enthusiastic. 
Check out our example of how to structure your cover letter content . 
Editing Tips
Use our  Cover Letter Checklist to make sure your format and content is in line with best practices. 
Ensure that the content reflects the requirements in the job description
Keep the cover letter concise, at one page or less
Correct any errors in grammar, sentence structure, and spelling
Use the active voice
Avoid beginning too many sentences with "I"
Privacy Policy Accessibility Notice of Non-Discrimination Terms of Use