How to Write Non-Chronological Reports
Mar 13, 2019 | Report Writing , Writing
Writing is abroad aspect that has different things that one ought to learn about. Most importantly, it gives one the ability to choose a niche that he thinks best suits his skills. One can specialise in any writing especially during their college years. To name a few, writing encompasses, research writing, essay writing, fiction, and non-fiction writing, dissertations, term papers, book reports, movie reviews, non chronological reports and so on. Here, the focus will mainly be on writing non-chronological reports because it is an assignment that is not very common. As such, no many people know what it is nor are they able to write one.
Since writing gives one a chance to choose what h can specialize in, by the end of this blog, you will have an idea of what is involved in non-chronological reports as well as the process of coming up with one. Remember that in writing, you need not worry about the process, but the skills you need to gain before you can start writing anything. With non-chronological reports, it is the same thing.  By now, the biggest question in your mind is; what is a non-chronological report?
As it were, non-chronological reports   are pieces of writing with nonfiction text and provide information on a specific subject. It derives its name because it gives information without refer to the order in which things took place. In other words, non-chronological reports defy time order. The introduction of this report must provide the audience with an idea of what will be discussed. When writing non-chronological reports, it is crucial to avoid the first person pronoun. Phrases like "I am writing a report about…" or "my report is going to…" are not supposed to be used.
You have to organize the notes of your non-chronological reports into major ideas, and subheadings. Every paragraph that you write in your non chronological reports is supposed to shelf a single idea.Just like other types of writing, you do not discuss two ideas in one paragraph. The idea here refers to the topic sentence of the paragraph, which must connect to the main idea of your non chronological reports.
When using subheadings during the process of writing non-chronological reports, it makes it easy for you to remember every part of the topic. As such, you can incorporate details that are necessary for every paragraph. The ideas that you have should have a logical flow. The non-chronology here only refers to the way the events unfold, and as earlier stated, this report does not follow the order in which the events unfolded. However, that does not mean your report will be illogical. Since you are telling a story, you have to make sure that the way you explain these events in your non chronological reports flows sensibly. The progression of thought must be evident.
The language that you when writing non-chronological reports is supposed to be impersonal. As such, instead of employing the first person pronoun, you can use business-like language in this report. The information you provide in this report must also be factual. You can also use some descriptive phrases to add more interest and to keep your readers engaged with your report. More so, the language features also focus on generics, a description that incorporates comparison and contrast. The idea here is to create precision instead of emotion or effect in the entire report. Your chronological reports ought to be written in third person pronoun instead of the first or second person pronoun.
Just like any other type of writing, the conclusion of your non-chronological reports is supposed, to sum up, every major point that you have discussed therein.  Some of the information that is included in your non-chronological reports comprise of the following:
This expounds on a specific process, which happens or happened in a specific order. For instance, it can be about battle events or moments leading up to it.
Here, you are simply retelling something that has an order of time. The event you are retelling has to have happened in real life.Like a trip to the museum or the life of the president of your country.
In your report, you include numbered points on how to do something. In other words, this is howto report. It could be a recipe that tells about how you can cook some food.
The above information may deviate a little from non-chronological reports even though they explore single topics.  The report has to include different aspects of the topic. Children can be required to write or read non-chronological reports about anything. It can be about a country, a plant, an animal, sort or even a planet and so on.
When writing non-chronological reports , you need to use the following format as a structure. It includes the following components:
The title also doubles up as the topic of your non-chronological reports. Just like any other form of writing, you ought to have a captivating article since it is the first thing the audience will see. You need to make it fascinating enough to make them want to read the rest of your reports. You need to hook their attention from the onset because the success of this report depends on your ability to write scintillating content.
The Introduction
The introduction of your non-chronological reports what the paper is all about. The attention of the audience is grabbed at this point because it will help him in knowing if he will continue reading the rest of the report or not. The best thing to do when writing this introduction is to use simple and straight forward language. The reader gets an easy understanding of the report. The simplicity of the language that you use while writing non-chronological reports introduction ought to be reflected throughout the rest of your report. However, it is important to ensure you do not veer off the topic and eventually the original purpose of the report.
The Body Paragraphs
When writing non-chronological reports and their body paragraphs, ensure that the ideas appear each in its paragraphs.  In other words, every paragraph must have a topic sentence that it discusses exhaustively. You have to use facts and description in your non-chronological reports as you formulate your details.  You can subdivide your paragraphs into headings and subheadings. This gives the audience an easy time to understand what you are talking about in the report.
With respect to the definition of non-chronological reports, the events you are writing about do not have to follow the chronological order.  Your body paragraphs ought to be written in present continuous tense. On the other hand, if you are writing historical non-chronological reports, they have to appear in the past tense. When still in the process of writing non-chronological reports, ensure you maintain a formal tone and subject-specific vocabulary. Your ideas can use connective words as links. For instance, words such as but, because, so, and, as well as however, can work better.
The Conclusion
The last paragraph of your non-chronological reports ought to summarise your main points. The conclusion provides a sense of closure to the audience. Just like other conclusions in other forms of writing, you are limited with the kind of information you include here. For one, no new information, facts, or evidence that has not been discussed in the report is supposed to be introduced in the concluding paragraph.  It would negate the purpose of the conclusion thereby confusing the audience even more. The sentence that you close within these paragraphs ought to leave an immediate impression on the audience and long-lasting thoughts in their minds.
Citations and Referencing
Just like other academic papers, any information that you use when writing non-chronological reports must follow the right format of citation and reference. Use the right format of writing your report and reference it accordingly. About the format, you are also supposed to create a list of all the sources as you follow the guidelines provides. Ensure that this list falls on a stand alone page.
Sometimes non-chronological reports may require you to include this section. This is where you put the supplementary information that would not fit within the boy of your report. Here, you put tables, charts, graphs and any pictures you might have. The information in the appendices often enhances a clear and better understanding of the report.  The information here should also make sense independently, and as such, you should label them accordingly to enhance clarity.
The Purpose
All non-chronological reports describe the way things are and give the audience an understanding of the things in question. They classify the information into different categories, for instance, climate or appearance. They employ a logical structure instead of a temporal one, and that is why they are referred to as non chronological reports. Since they provide precise details, they have to be objective, but the can also biased when there is a selection of information to be included in them.  When in a learning context, non chronological reportsare combined with other types of text. They are found in areas of curriculum,especially in geography and sciences.
The Audience
In most cases, children are supposed to pay attention to, speak, read and write explanations for different audiences. As such, they must consider the varying languages features as well as the structure of the text to fit the audience and the purpose.
Generic Structure
The structure of non-chronological reports mostly is an opening, general classification or a description of a phenomenon. This should be in terms of quality, parts and their functions, habits or uses.
The Knowledge of the Writer
Your knowledge as a writer is crucial to the process of writing non-chronological reports.  Here, you ought to plan the headings in form of notes, use different resources for evidence and information, and select facts from sources to keep the reader interested and to use everything accordingly. As a writer, you need to have excellent writing skill to know how to engage the audience from the start. You need to know what to use in the title to grab the audience's attention. It can be a question or anything that captures the attention of the reader in the desired way.
When writing non-chronological reports, you ought to maintain clarity as a write to avoiding muddling the reader. You have to use the introduction what you intend to write about, establish a perspective to the audience, and lure them into your work. You ought to be able to use tables, figures, diagrams, pictures, and other resources to bring meaning to the report and use the information to make your non-chronological reports effective.Your report writing skill should help you to formulate a conclusion that creates the relationship between the subject and the evidence you have presented. Even though they are called non c hronological reports, they have to be factual. As such, you can use anything, add comments, or use questions to keep the reader engaged.
Editing and Proofreading
The process of writing non-chronological reports is not yet complete without editing and proofreading. You have to fine-tune your work to the required standards. The paper must be formatted in the required style and should be free from any mistakes in grammar, spelling, punctuation, and typos. If you want to achieve progression in your non chronological reports, ensure you speak and listen before reading to increase the ability to evaluate any text.Finally, ensure your report is clear and neat.
Recent Posts
Writing an essay on a book
Case studies: everything you need to know
Tips to help you make your essay longer
Writing sociology essays: Sociology essay tips and topics to consider
The best way to formulate an interesting research paper introduction
Recent Comments
December 2019
November 2019
October 2019
September 2019
August 2019
February 2019
January 2019
December 2018
November 2018
October 2018
September 2018
August 2018
Abstract Writing
Annotated Bibliography
application essay
Argumentative Essays
Article Writing
assignment writing
book review
business plan
business proposal
chicago style format
Citing A Research Paper
Classification Essay
communication skills
coursework writing
critical thinking paper
Descriptive Essay
Descriptive Essay Topics
Dissertation Proposal Writing
Dissertation writing
Essay Editing
Essay on leadership
Essay Writing
essay writing skills
exam preparation
Homework writing
Journal Writing
literature review
movie review
Online Writing
Online Writing Services
paper writing
persuasive writing
philosophy paper
poem writing
Presentation writing
psychology paper
Report Writing
research design
research methods
research paper
review writing
Scholarship essay
sociology essay
speech writing
thematic essays
thesis paper
Thesis paper writing
thesis writing
thesis writing services
Uncategorized
Writing guide
Find out why teachers and school leaders love PlanBee
📚 Cross-Curricular Topics
✂️ Design & Technology
♻️ Education for Social Responsibility
🌍 Geography
⛪️ Religious Education
🎉 Special Days
🦸‍♀️ Special People
🏫 Whole School CURRICULUM PACKS
Vision and Principles
Our Curriculum Offer
Whole School Curriculum Packs
Become a Whole School Member
Free Sample Packs
Free Mini-Schemes
Learn at Home
Objective Checker
How does it work?
Special Offers
BECOME A MEMBER 🧡

Non-chronological reports
What is a non-chronological report.
A non-chronological report is a non-fiction text that is not written in time order. They are written to give information on a particular subject or event, without actually referring to the order in which things happen. Non-chronological reports are often referred to as information texts as they give factual information about the topic or event.
Instructions are not an example of a non-chronological report since it would be impossible to follow them correctly were they not in the correct order. Similarly, explanation texts are also presented in time order so are not non-chronological reports.
Below is an example of a non-chronological report taking from our Lost in the Rainforest Non-Chronological Reports scheme for Year 3.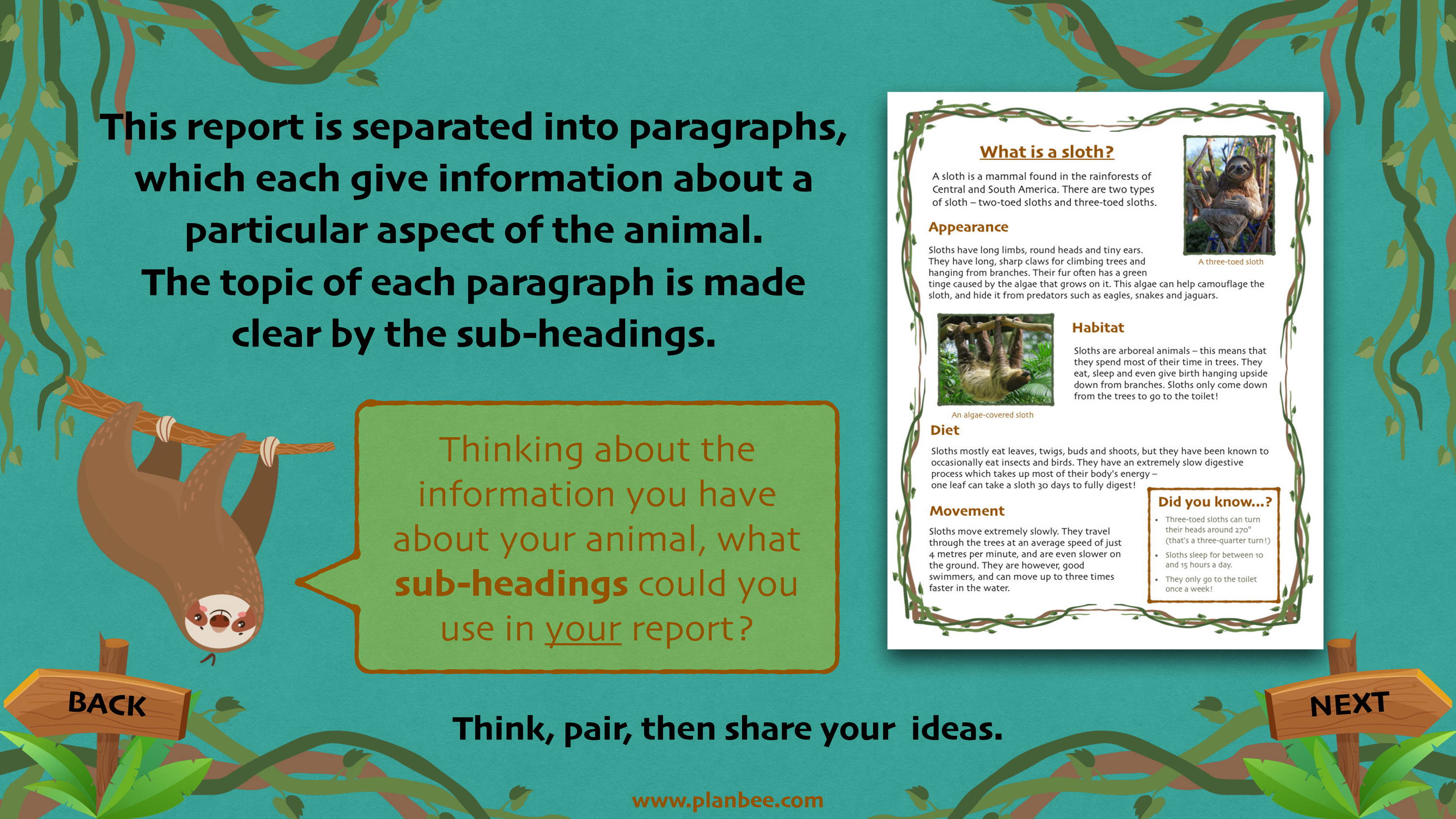 What are the features of a non-chronological report?
Here are the key features of non-chronologicl reports. Not all non-chronological reports will contain every single feature listed below but they will include some of them.
1. A heading - The heading should be nice and big so it catches the readers eye. It should make it very clear to the reader what the non-chronological report is about. Sometimes, the heading can take the form of a question which then the non-chronological report answers.
2. An introductory paragraph - This paragraph gives an overview of the topic the non-chronological report is about. It is found just below the heading and before the main body of the report.
3. Subheadings - Non-chronological reports are laid out in pargraphs. Each paragraph focusses on a different aspect of the topic of the report. So that the reader knows what each paragraph is about, subheadings are used as signposts. They enable the reader to quickly find the part of the non-chronological report they are interested in finding out about. These subheadings can, like the heading, also take the form of questions.
4. Paragraphs - Non-chronological reports are organised into paragraphs. Each paragraph focusses on a different aspect of the subject being discussed.
5. Technical vocabulary - Non-chronological reports often contain topic specific vocabulary. These may not be known to the reader and are thus either explained within the report itself or are sometimes listed in the glossary found at the back of the information book. Children need to be taught this topic-specific vocabulary explicitly so that they can use it with confidence in their non-chronological report writing.
6. Images with captions - These could be photographs, illustrations or diagrams with labels. The images have captions. The captions help the reader to understand what the image is showing.
7. Written in the third person - Non-chronological reports are written in the third person and have a formal tone.
8. Formal language - The purpose of this type of writing is to give facts rather than opinions. Therefore, non-chronological reports use formal language.
9. Present tense - Non-chronological reports are normally written in the present tense unless they are writing about an event that has happened in the past.
Here at PlanBee, we have created this FREE Features of Non-Chronological Reports Poster for you to download and use in your classroom: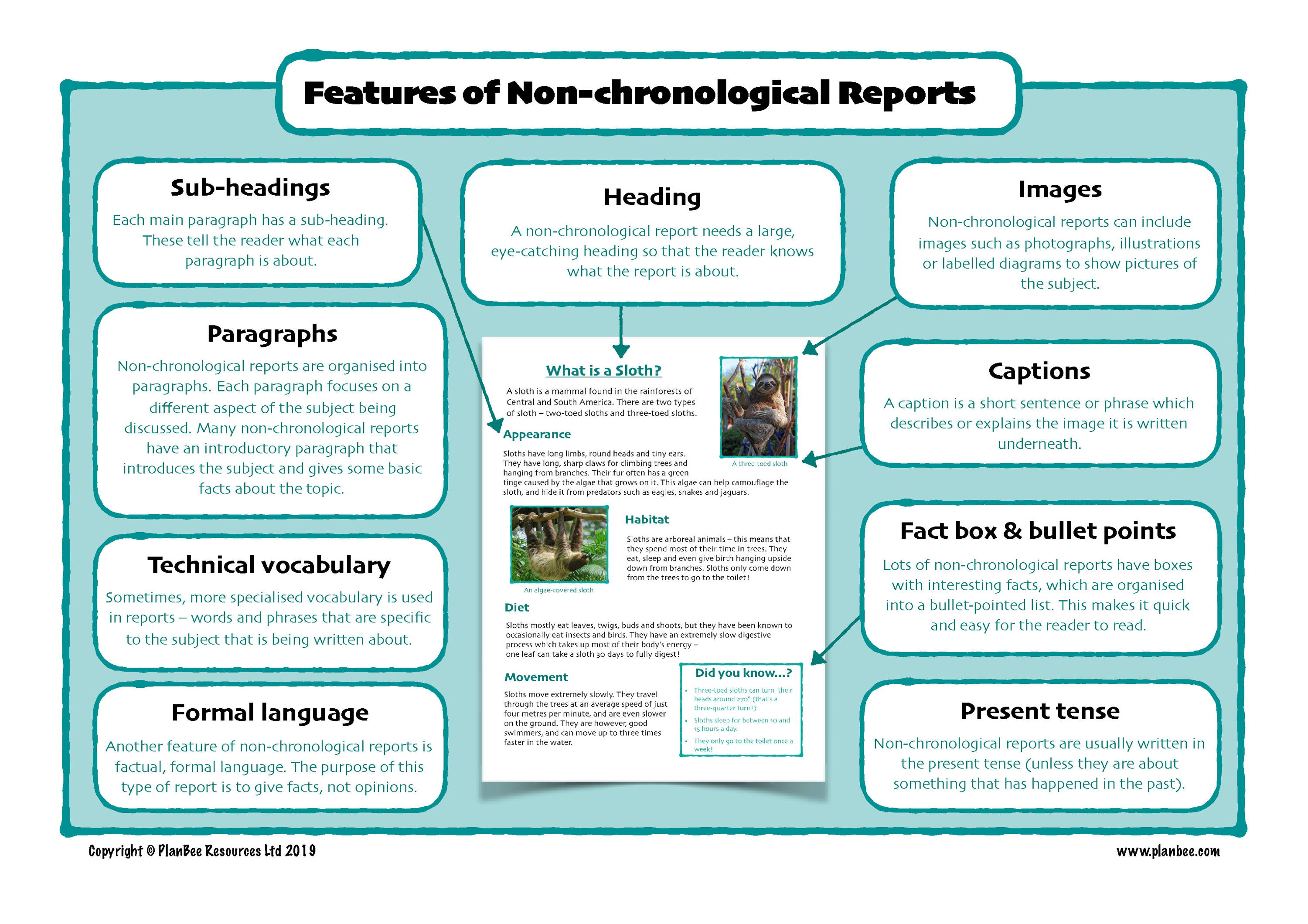 How are children taught about non-chronological reports?
Here are the stages children will typically go through when learning to write a non-chronological report:
Stage 1 - Reading and Analysing
The beginning of a unit on non-chronological reports will usually involve reading a range of high quality examples of the text type. Children will identify features that are common to non-chronological reports (see above) and will draw up a list of success criteria for good non-chronological reports. At this stage of the teaching sequence, children will often be required to compare non-chronological reports. Using a bad example (often written by the teacher); children can then see why the key features of non-chronological reports are needed.
Teachers will often share a WAGOLL (What A Good One Looks Like) with the children at this stage in order to identify the key features of the text type. We have a teaching Wiki on WAGOLL to help: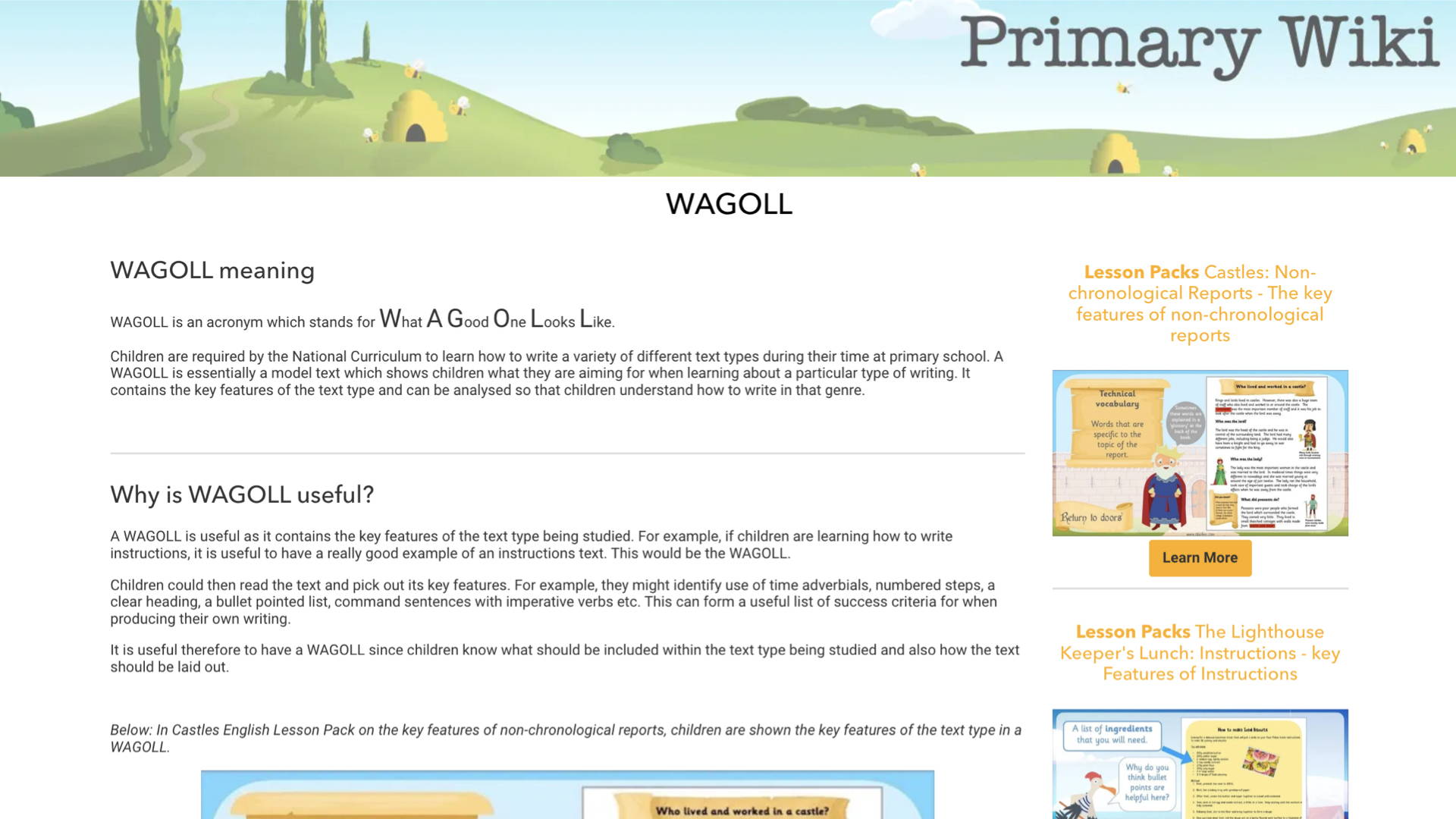 Stage 2 - Research
The next stage children will often be involved with is researching using information texts. For children to be able to write a quality non-chronological report on a topic, they will obviously need to know lots about that topic. Therefore, children will need to use a range of texts on the topic to become experts in it. Note taking, bullet pointing and answering comprhension questions using non-chronological reports could all happen at this stage. The topic precific vocabulary needed will also need to be understood by the children.
Stage 3 - Sentence level work
By this point, the children will have a good understanding of the key features of non-chronological reports and will have researched the topic so that they can write with confidence about it. In this next stage, children will normally focus on a sentence level objective that the class is working on. For example, in Year 4 children might practice using fronted adverbials in their factual sentences while in year 2, work on using conjunctions might take place. They will then apply this sentence level work to their writing at length later in the unit.
Stage 4 - Planning and drafting  
Children will then typically use a planner of some description to plan out the paragraphs they will be writing in their non-chronological report. They will think about what the heading, subeadings and content of each paragraph will be. Once this has taken place, children will use their plan to draft their non-chronological report. They will have access to word banks, sentence starters and their research undertaken previosuly to help them.
Stage 5 - Editing
Once children have drafted their non-chronological report, they will then typically be involved with editing and impoving their writing. A really useful way of doing this is through the use of editing stations. There is a very useful teaching Wiki and a FREE pack full of word banks, posters and other resources that you can download. The links to these are here: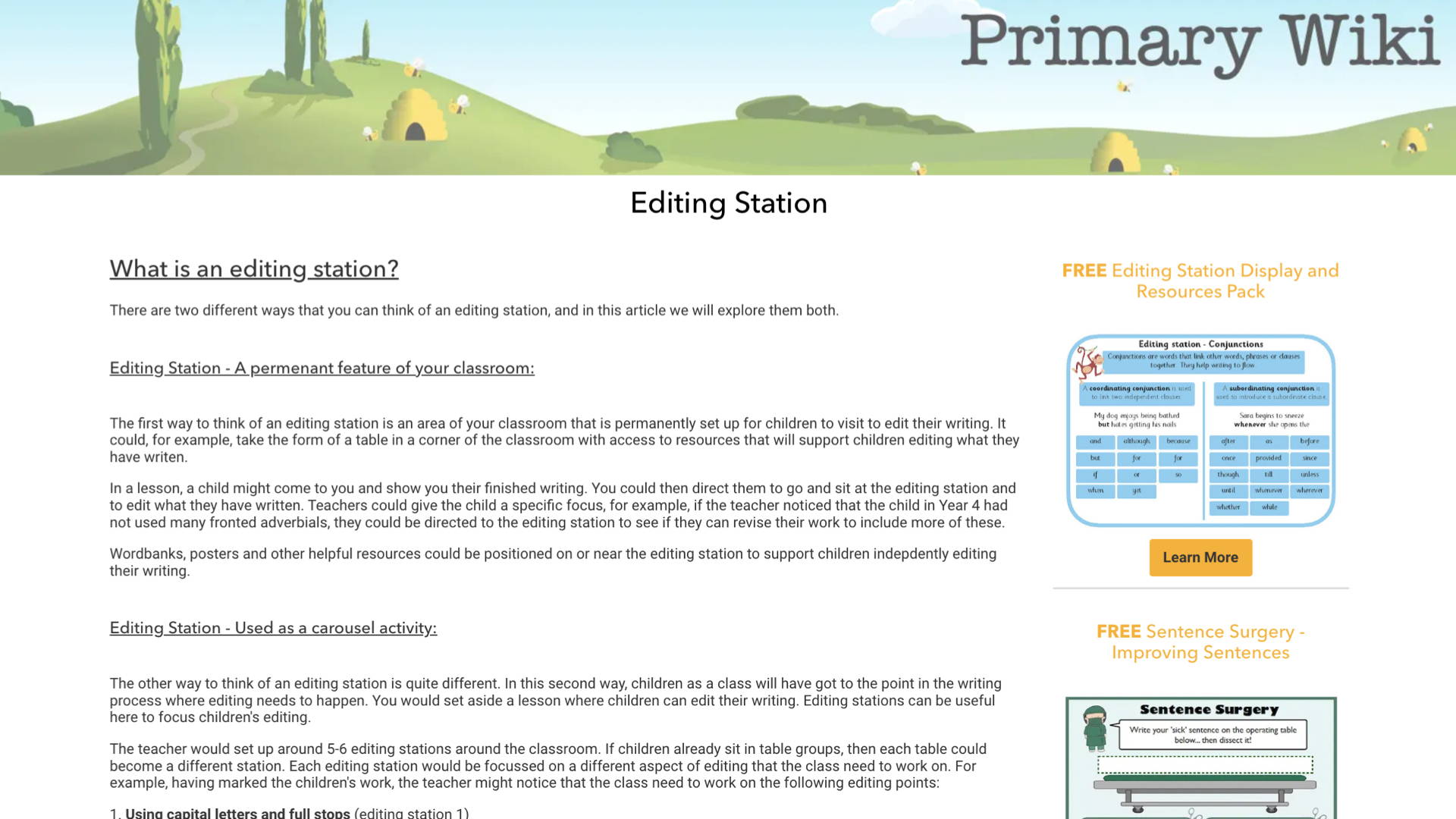 Stage 6 - Presentation and evaluation
The final stage of the writing process will be children writing up their non-chronological report. They may do this on special paper and have more creative freedom over the layout and presentation. Children will then evaluate their own and each others' writing in relation to the success criteria drawn up in the first stage of the unit (see stage 1 - research). This writing will often be mounted and displayed as a celebration of children's achievements.
Resources to support the teaching of non-chronological reports
Here at PlanBee, we have a huge range of materials that you can use to support your teaching of non-chronological reports: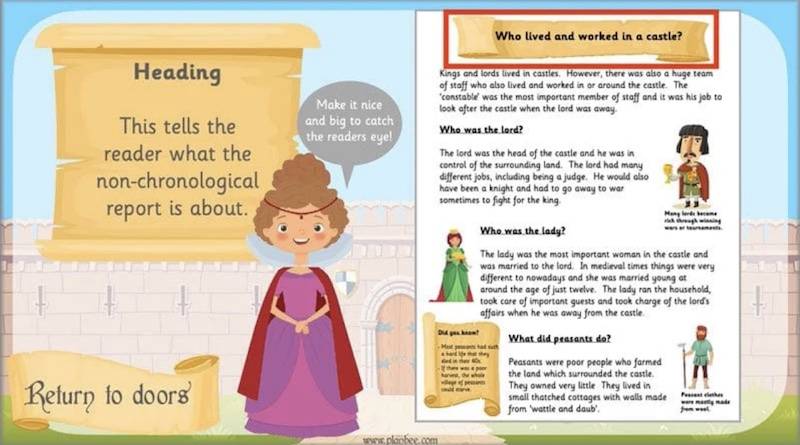 Non-chronological reports Year 2
Children in Year 2 will write simple information texts related to a topic they are learning about with headings and factual sentences. They may be provided with a frame to support them writing in paragraphs with subheadings.
Non-chronological reports KS2
As children progress through KS2, their non chronological reports will become more sophisticated and show a greater use of the key features of this text type. In Year 3, the use of the key features may still need to be heavily scaffolded by the teacher but as children progress, their use of these will become more independent.
LESSON PACK Castles - Non-chronological reports (Year 2)
LESSON PACK Lost in the Rainforest - Non-chronological reports (Year 3)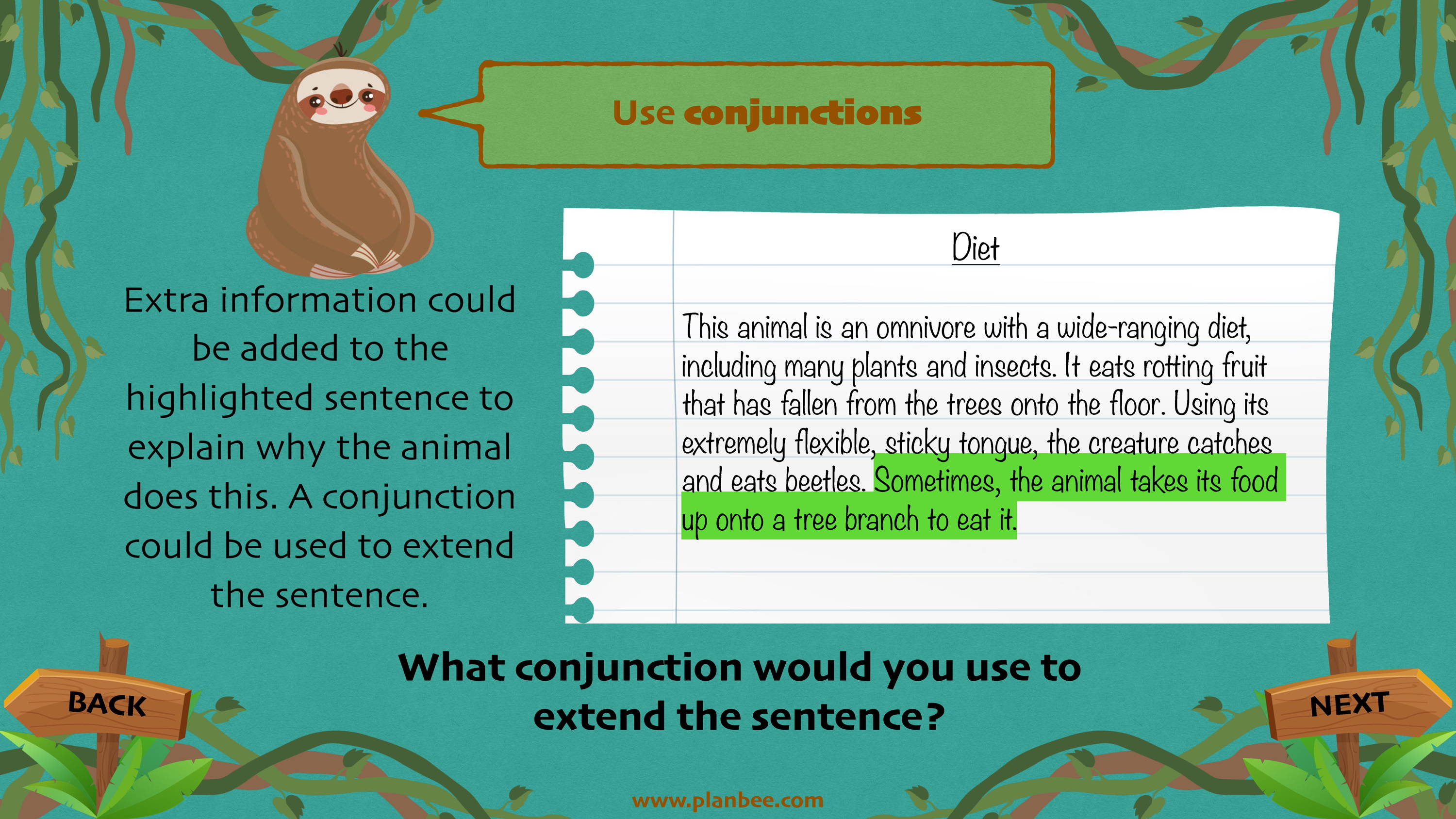 FREE Features of a Non-Chronological Report Poster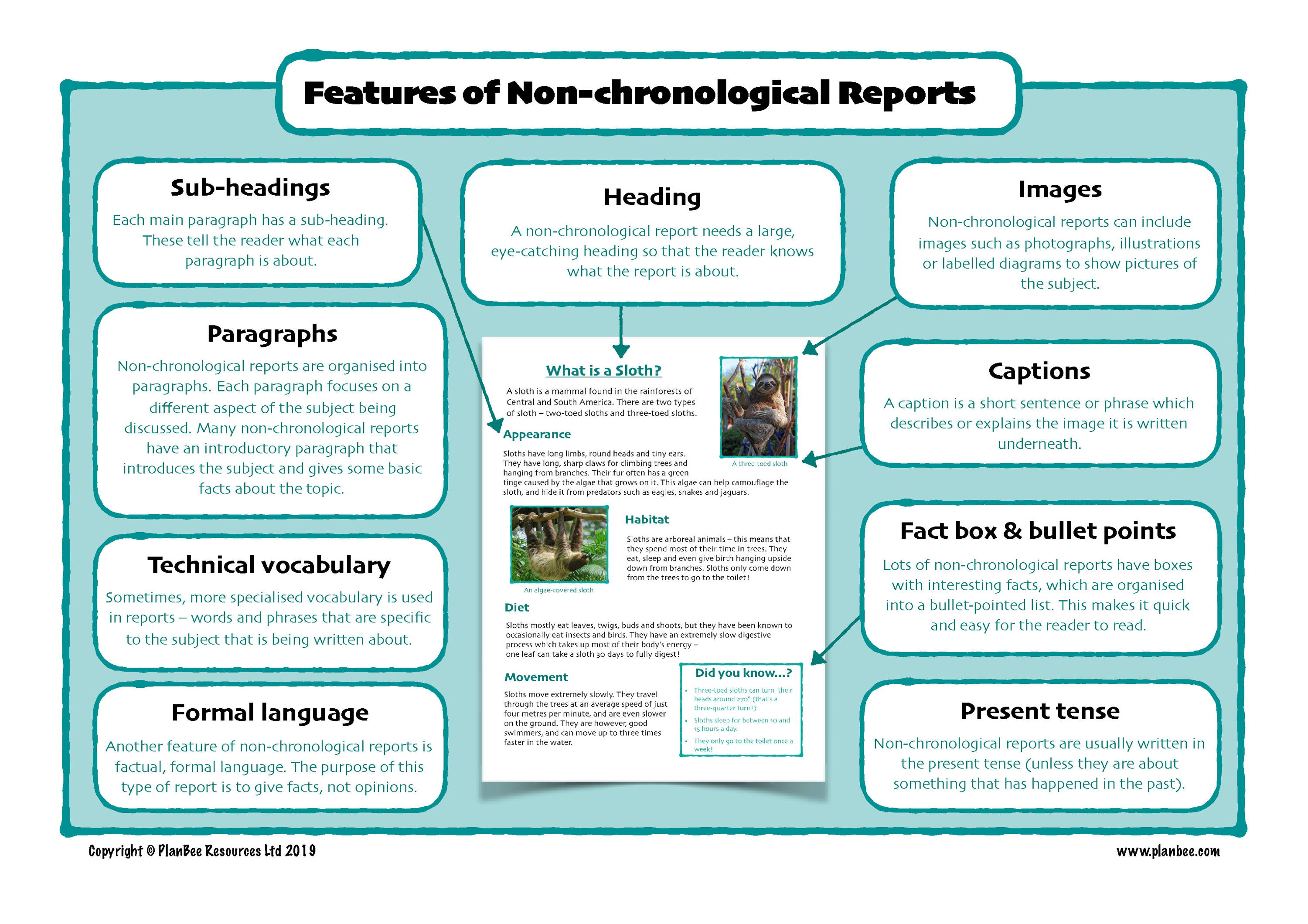 FREE Editing Station Poster Pack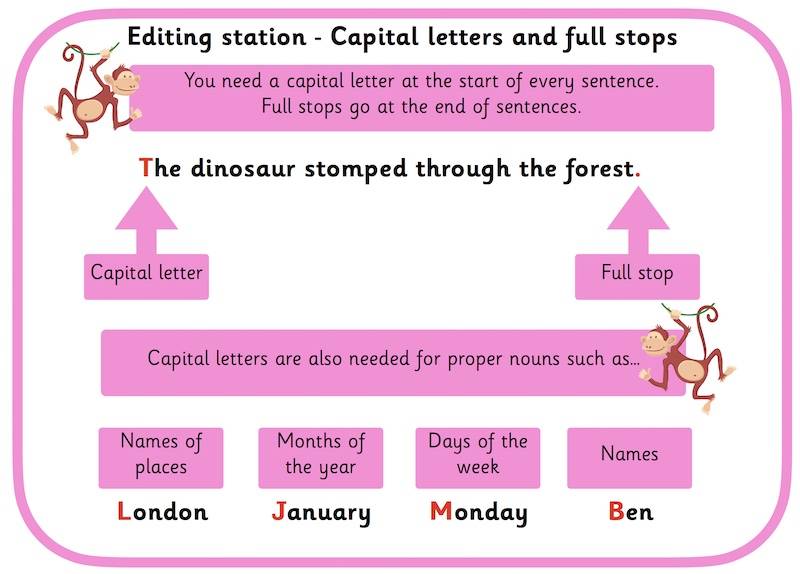 Added to your cart:
What's Your Email?
Let customers speak for us
Good ideas, lots of different stuff
We used them in advent jars at our children's group called Transformers for children who want to make a difference in the world
These certificates are well set-out, colourful and are worded perfectly for our year-end Prize-Giving.
Thank you for taking the time to leave us a review, Wendy! We hope that you and the children enjoy the Prize-Giving :-)
Very clear and useful map
Thanks, Ruth!
Excellent start to a topic on the ocean. Lovely slides and pupil activities! detailed planning.
Thank you for taking the time to leave us a review, Lynn! It's great to hear that you have found these resources useful :-)
Writing a non-chronological report
Watch: how to write a report.
Reports are informative pieces of writing that give information to the reader about a certain topic. For example: space, the bald eagle, Scotland, flags of the world or anything else you're interested in.
Watch this short clip to learn about what makes a clear and informative report.
This video can not be played
To play this video you need to enable JavaScript in your browser.
Learn how to write a clear and informative report.
Report rules
All the information must be about the same topic.
You should provide the audience with lots of facts and evidence rather than personal opinions.
Reports must be set out clearly with a title, introduction, paragraphs, subheadings and images . (Subheadings are little titles for each paragraph, or group of paragraphs, to explain what they are about.)
They should be written in a formal tone (like how you would speak to your head teacher).
They should be written in the present tense (as if the actions are happening now).
Using formal language
The purpose of your writing, as well as your audience, will help you decide whether to use a formal or informal style of language.
In an informative report, formal language is used and may include the following features:
A serious tone
Language that is clear and to the point
Specialist vocabulary for the subject
No slang or contractions ( there is instead of there's )
Complex sentences
For example
Formal: 'We must go to the library and study.'
Informal: 'We've got to head to the library and hit the books!'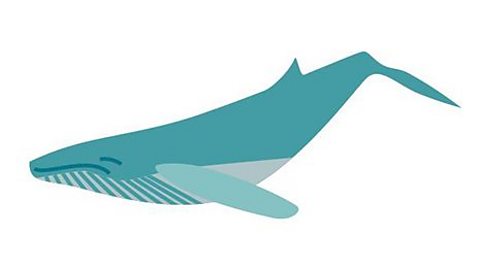 Now fill in the 'Badger Report Planning Sheet'.
In each box write notes about what you will write in each paragraph. Notes do not have to be full sentences. Use the questions in each box to help you.
Either print the sheet out or copy the subheadings down on paper and write your notes under each one.
Remember: A report should contain facts not your opinions. You may think badgers are the cutest animals in the world but that's an opinion so it should not be included.
You can re-watch the video as many times as you want to get all the information you need.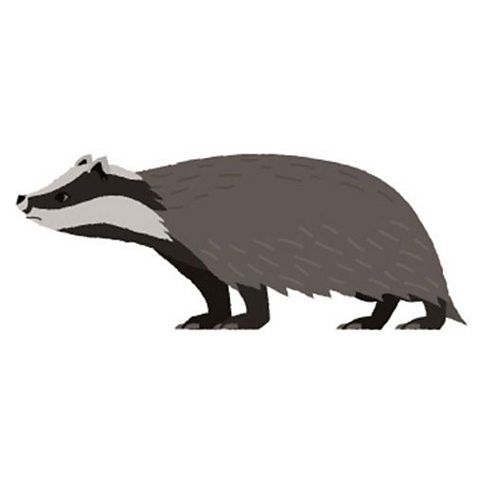 Exploring persuasive writing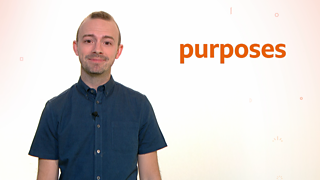 Writing to inform: Maps, charts and presentations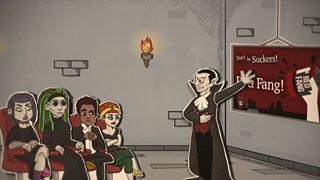 Biographies and autobiographies