We use cookies to enhance our website for you. Proceed if you agree to this policy or learn more about it.
Essay Database >
Essays Samples >
Essay Types >
Creative Writing Example
World War 2 Creative Writings Samples For Students
13 samples of this type
While studying in college, you will certainly need to compose a lot of Creative Writings on World War 2. Lucky you if linking words together and transforming them into meaningful text comes naturally to you; if it's not the case, you can save the day by finding an already written World War 2 Creative Writing example and using it as a template to follow.
This is when you will definitely find WowEssays' free samples collection extremely helpful as it contains numerous professionally written works on most various World War 2 Creative Writings topics. Ideally, you should be able to find a piece that meets your requirements and use it as a template to build your own Creative Writing. Alternatively, our skilled essay writers can deliver you a unique World War 2 Creative Writing model crafted from scratch according to your custom instructions.
Creative Writing On Agamemnon 3.0
Literature:, free creative writing on women during world war ii, women during world war ii, good creative writing on kenya economics analysis.
Don't waste your time searching for a sample.
Get your creative writing done by professional writers!
Just from $10/page
Historical Country Analysis: 1920s French Empire Creative Writing Example
The second world war and labor in the united states: free sample creative writing to follow, example of creative writing on sinclair maclaroy adams' time away from appleby college, terrorism creative writing, sample creative writing on understanding terrorism, romantic comedy films syllabus creative writing, description, free fantasy and childrens/adolescents needs creative writing example.
C. S. Lewis' "The Lion, the Witch, and the Wardrobe"
Good Example Of Creative Writing On While Discussing The Underlying Topic Some Of The Question That Arises Includes
Introduction, free creative writing on charisma, example of creative writing on harry potter - monsters and difference.
Password recovery email has been sent to [email protected]
Use your new password to log in
You are not register!
By clicking Register, you agree to our Terms of Service and that you have read our Privacy Policy .
Now you can download documents directly to your device!
Check your email! An email with your password has already been sent to you! Now you can download documents directly to your device.
or Use the QR code to Save this Paper to Your Phone
The sample is NOT original!
Short on a deadline?
Don't waste time. Get help with 11% off using code - GETWOWED
No, thanks! I'm fine with missing my deadline

Facebook @Dashwood Banbury Academy
Twitter @DashwoodAcademy
Professional Growth
Values & Ethos
Aspirations Academies Trust
Our Safeguarding Team
PTFA – Parent Teacher Friends Association
Term Dates 2023-2024
Term Dates 2024-2025
School Meals
Breakfast Club
After School Club
Useful Links
Supporting Your Child's Safety Online
Ofsted Parent View
Reception Handbook
Prospectus – Moving Into Reception
Compliments From Our Visitors
Dashwood School Map
Our Curriculum
Remote Education Provision
Curriculum Statement
Early Years Curriculum
Key Stage 1 Curriculum
Key Stage 2 Curriculum
Reading Lists
Forest School
PE and School Sport
Pupil Leadership
Careers Encounters
SMSC & British Values
Aspirations Families
Safeguarding Children in Banbury
The Choices Programme at Dashwood
Cultural Capital at Dashwood
Extra Curricular Activities
Year 1 Holly and Hazel
Year 2 Maple and Redwood
Year 3 Ash and Silver Birch
Year 4 Aspen and Rowan
Year 5 Beech and Sycamore
Year 6 Chestnut and Oak
Nursery Virtual Visit
Early Years Classes
Nursery Information
Nursery Cherry
Nursery Plum
Reception Information
Reception Peach and Pear
Early Learning Goals
Early Years Pupil Premium
Additional links to support your child
Useful links for parents
OFSTED: GOOD
Statutory Information
School Performance Tables
Vision, Values and Mission
Pupil Premium
Sports Premium
COVID-19 Catch-up Premium Report
Annual Reports and Accounts
What is GDPR?
Latest News
Announcements
Whole School Newsletters
Letters to Parents
Community Information
Out of School Activities
Senses of World War II by Year 6
This term, Year 6 have been learning about World War II focusing on the life of a child at that time. In literacy, they have been using their senses to imagine what life was like living through the Blitz and how it would have felt to have to find shelter in an Anderson Shelter. Here, Year 6 pupils are proud to share their creative writing pieces:
It all started when I was having dinner – sausages and mash – I heard the worst sound of my life. I went outside and saw dark shadows coming towards the city. I thought nothing of it but then I noticed how strange everything was – people were running and a siren went off. My Mum grabbed me and took me towards the Anderson Shelter. In the blink of an eye, a bomb dropped on my house. The worst bit was the sound – it whirled around in my ear; the loudest thing I had ever heard. Then it all went silent. Five seconds later a bomb hit the factory down the street. The smell was deadly; smoke made you cough and made it hard to breathe. I crouched down in the steel structure, squished in with my family on the bench. All we had was a few bits of food. We tucked under the blanket; it was so itchy and nagged at my goose bumped skin. I was so scared that I didn't care about the pain but it was so wet and damp beneath my feet.
Noises attacked my brain. I didn't know what to think. Fire was burning people's houses – screaming was everywhere, you couldn't block it out. I could hear people begging for help, it was hard to leave people who needed help but if you left, you could have died.
I opened the door to see the street demolished, burning away homes. Destroyed.
The next day I heard that some people were sent to the underground shelter to sleep but if a bomb went off when you were down there, the sound would echo for ages. It would be terrifying; you would always be thinking a train was coming but we were told the trains were stopped. The danger of the tunnels was that if a bomb burst a pipe it could flood the tunnels and you could be drowned.
Cautiously, I held my breath, crouched down and took a step into the eerie arched structure; this was a place where any laughter was silenced. The freezing air pinched at my goose bumped skin. The cold grass beneath my feet, made my bones shiver.
At teatime, I heard the blaring, unnerving sound. I knew what I had to do: I went upstairs to get my brother Tom. I grabbed my gas mask and put it on dashed down stairs into the bunker. Devastatingly, when I heard the wail of the sirens, they were followed by the screams of terrified people.
Nervously, I stepped into the creepy dull structure; it was like a prison. The smell was horrid – the stench of damp mixed with mouldy veg filled my nostrils as I lowered my body down inside the terrifying space. Bad smells of burning and smoke.
Noises shook my head- sirens, the screaming packs of voices as the door slammed behind me.
It started like any normal evening, me and my family were eating dinner. Out of nowhere darkness came and I started to get scared because night is the worst. When the fierce, piercing, whirring wail of the air-raid sirens invaded the heavens, we knew the key was to get safe.
At seven-thirty, as I climbed into bed, as my brother, Jake, was searching for his teddy 'Pluto'. Outside I could sense that people were nervous, their feet banging the cobbled streets. I leapt out of bed, peering out of the window, I saw the darkness but smoke was filling the air – gobbling the houses down with roaring flames like a furious dragon.
Anxiously, I took a deep-breath then put on my gas-mask. I ducked down and stepped into the eerie, domed structure; this is a place where laughter does not exist. The piercing air clipped my scabbed skin, the feel of ice penetrating my skin underneath my feet made my bones shiver.
The noisomness of the dankness, coupled with a blanket of smoke, filled my snout. As I dropped down inside, the smell of thick smoke and burning penetrated my throat. Wistfully, this smell and me had become too well known to each other.
Cacophonies occupy my head – sirens, the shrieks of my neighbours – all enhancing my senses making me more distraught. Slamming the metal door at the rear of my back, all of the sounds I heard before were, for a moment, silenced.
With my heart heavy with sadness, I stared at the etal shelter – densely lit by a flickering candle on a decrepit shelf. Itchy blankets concealed the benches that sat on either side. Enemy planes searched the skies outside – their glow shining through the cracks in the door. A blue checked pillow lay on one of the benches – an attempt to make it feel homely. However, nothing could take this nightmare away.
Formal Speech
Listen to a WWII formal speech about food rationing by Cameron here:
The focus was to write a persuasive speech using formal language and presented in formal tone.
Pupils also imagine what life was like for an evacuee living through the war, sending letters home to their families:
Dear mother, I really miss you. When I was put on the train I did not expect I would not see you for weeks. When I got off the train a lady took me to her house. There was a field behind it which had strange animals that I had never seen before. The lady told me they were called 'farm animals'. Then she told me her name was Mrs Pots. I was scared of the animals at first but when I got close to them, I saw they were not dangerous. My school is ok but I really miss my friends. I hope you're ok.
Love Hudson
Related news
Year 3 & 4 hold a teddy bears' picnic for ridings care home residents, is your child eligible for a free nursery place find out here, gardening club plant in people's park.
We use cookies to analyse usage of the website. Collecting this data allows us to make the website work as well as possible.
Find out more
TOP CATEGORIES
AS and A Level
University Degree
International Baccalaureate
Uncategorised
5 Star Essays
Study Tools
Study Guides
Meet the Team
International History, 1945-1991
Creative Writing - War.
Creative Writing - War
We all heard the disquieting crunch, off in the far distance. For a few seconds, we remained still, sinking deeper into the mud, anticipating another sound to calm our nerves. Instead, a fraudulent silence followed. General Loft's reaction was delayed; his hand shot up immediately as he remembered his position. Hurriedly, he waved us down. For a second he starred hard into the dense green jungle, trying to pierce through it with his eyes. Ours were focused on his right hand, awaiting further instructions. His eyes widened, with fear and urgency he turned to face us. His mouth opened, but all we could hear was a neat and tidy screech, travelling through the sharp leaves. Blood exploded out of Loft's neck as the bullet made impact. His fall to the ground was slow; it seemed to suck out all the sound around us. As the general's body splattered into the swamp, the monstrous crackle of machine gun fire roared around us. Chests began bursting around me, blood and dirt spitting everywhere. A few men tried to run, but they were consumed by a grenade's unleashed inferno. The medic seemed to be dodging bullets for a while, until a mass of them, entered his right cheek. There were shouts of 'run', 'take cover', each with a sense of unease and terror. The bullets were not moving through the air, they were simply atmospheric. I decided it would be hopeless to try and escape, it was equally foolish to attempt to fight. I slid down onto my back, and closed my eyes. As the thunderous noise raged on, I prayed to God to spare my life.
I had joined the British Army in late 1941, without much enthusiasm. My father encouraged me to sign up after our home in Coventry, was flattened during the Blitz in 1940. He had fought in the First World War, but was sent back from the Western Front after a shell landed in his trench, blowing his leg off and killing his First Sergeant;
This is a preview of the whole essay
'At least one Atherton should be apart of a Great British victory' he would say. Two years my senior, my brother Michael was not seen by my father to be 'that' Atherton. He complained he was too much like my mother, who was German born. When the bombing raids began, the local community disowned my family because of this. In the eyes of my father, by helping my nation defeat the enemy, it would put things right. So I put my dreams of becoming a doctor aside, and decided to join the war effort. My mother was too frightened to come to the door, so the only goodbye I received were a few obtuse words, from my father as I walked away;
'Give the Geris a good bullocking, for your old man'. Much to my father's dismay, I would not be joining my fellow countrymen in Europe, but instead joining the war in the Far East. I was placed in 'Quick Arrow', a ground troop regiment of the British army. Our group had earned its name because of the speed and accuracy we had shown on training operations. On the 21 st December, after three months of training in Southampton, we were sent to a large British base in Singapore. The war had begun for me, against the Japanese Empire.
One day prior to our ambush in the jungle, we had been marching along the Bepong River, in the south of Malaya. Quick Arrow had been assigned there to resist Japanese forces, attempting a ground offences against the large base in Singapore, via Malaya. The allies were confident that if the Japanese were to attack the base, it would be by sea, not by land. Therefore, only a few other British Regiments were located in Malaya. We had been marching along the very same river for the last month. Back and forth, with no sign of the enemy. By now, even the most frightened of men wanted to fight. Troops would fire a few rounds into the air, to let out their frustration. Many suffered severe foot cramp and blisters. Our faces became dominated with mosquito bites. We had even come to the point, that we were sick and tired of the beautiful surroundings. We passed the rice farming community, as we did every day. We looked at them with baffled faces that day. They offered us their usual greetings, nodding and smiling at us. But their gestures were more anxious then usual. They seemed to have increased in number too. The eyes of four Malayan men, wearing sarongs, followed us as we walked. Staring at us with suspicious expressions. We thought nothing of it and carried on with our walk. After all, there were bound to be a few Malayans that were unhappy with our presence.
We arrived back at our base later than usual that night. Our 'base' was simply a few huts that we had occupied in a local village. That particular night was cool. Silent too. Two local children sat beside me at the fire. I showed them the music box my mother gave me. A fairy would rotated on a yellow base, as the music plucked out. The children's laughs showed me how special the toy was. They scampered off as General Loft came out of his quarter's to address us;
'I just received a call from the Singapore. We'll be moving into the jungle tomorrow, so get some sleep and I'll see you boys in the morning'. There wasn't a guarantee of coming into combat with the enemy, but at least it was a change of scenery. I couldn't wait to go into the jungle.
I had been lying in the muddy ditch for two hours. The shock and fear to what had just happened had kept me there.
My eyes rolled around, the pure smell of the jungle had been contaminated by the smell of death. A leather boot stomped directly in front of my eyes. It belonged to a short man. He pulled me up roughly and starred directly into my eyes. Another man stood next to him, two others in searching for useful artillery. All were wearing Malayan sarongs. They looked looking at me in disgust. I remember thinking to myself, 'Oh my God, these Nips are going to kill me!' I was thrown onto a truck, carrying four other British troops who had been captured. It was on its way to a Japanese base. The jungle provided an excellent division between us; a marvellous camouflage for them. I wasn't naïve in thinking that these Japs pitied me. They hadn't killed me, because they desired to execute all of us, one by one at their headquarters. As the truck staggered along the bumpy road, the Japanese officer guarding us spoke.
'You coward, you no fight'. Our heads remained faced down, we didn't know whom he was addressing, and we didn't want to know. He swiftly got up from his crouched position, ran over to me and struck my shoulder with the side of his hand;
'You no fight, you like baby'. His words were fierce as he continued to mock me. After spitting on my shoes, he returned to his position on the truck, and with a dry throat he laughed as he watched over us. His laughter was dry, it echoed throughout the jungle. I gazed up at him, and then busted out into tears. They had blindfolded us for the last few miles of the journey. With my hands tied firmly behind my back, I was flung against a tough wall. They removed my blindfold, but left my hands as they were. The room was dark, but the walls appeared to be metallic. It was a cell. This base had been here for sometime. A crack in the wall, which allowed a small amount of light in. I was able to count the days because I this. On the third day I was fed. A plate of lentils and rice was dropped four feet away from me, much of it spilling on the floor. My hands were not untied.
The first few months in captivity I spent sobbing and shouting. I hurled myself against the door on occasions. Nobody came to shut me up, only to take me to the toilet. Then, left me in silence, alone;
'You bastard Nips, come and fight me.' I would curse like this for a while, with no response. This reduced me to tears. I cried myself to sleep most nights, pleading for someone to come, until I fell asleep. Then, they would come;
'You Brits, you all fucking babies' they screamed as they beat me. I always had trouble falling asleep those first few months. The unbearable moans of other prisoners rang throughout the night. cogd gdr segdgdw orgd gdk ingd fogd gd.
'Mummy, I want my Mummy!' One morning, I crawled over to the crack in the wall and looked out for the first time. I could see four men on the ground, dead. Their bodies were rotting; the circling flies said they had been dead for some time. They were placed outside my cell for a reason. If the Japs were going to kill me, they would have done it by now. I realised I wouldn't be executed; I would just be in this cell, for a very long time.
After the first few months, I got over my troubles. The beating still occurred, but not as often. I still had to crawl for my food. But I was used to it; after all, I had forgotten how to walk. It must have been after few years, that I experience my most pleasant moment as a prisoner. It was a sunny day; the light beamed through the crack and painted my face gold. I watched the dust particles dance on the yellow ray, it was bliss. I smiled. Weber oppressed dazzle's rationalisation hypothesis.
I remained a prisoner of the Japanese army for the next four years. American soldiers freed me, and 34 other prisoners in 1946. The Japanese took the base the British Base at Singapore in February 1941. They took 80,000 prisoners of war. They had succeeded, through a ground offensive.
Document Details
Word Count 1730
Page Count 3
Level AS and A Level
Subject History
Related Essays
Creative Writing - Joey.
Creative Writing - A Shadow In Life.
Creative Writing - Crossing the Frontier
Creative writing - The Fresh prince of New Jersey.
Creative Writing Club – members' area
² navigation, world war ii.
Write a story about World War II at home or at the front. You can use the app or print out a storymaker. Download a printable Dunkirk writing frame: dunkirk_storymaker.pdf or download the Home front writing frame: home_front_storymaker .pdf
Write your own story – Dunkirk
Resources to print – world war ii.
First World War postcard published by 'The Cairo Postcard Trust' (© Lyn Edmonds)
We received entries from all over the world – Britain, Ireland, France, India, Pakistan, Serbia, Australia and New Zealand – and were struck by the multiple viewpoints and the wide range of styles, but also by the focus on the stories of individual people, which brought the wider history to life.
Congratulations to our winners! We hope you enjoy reading their work. Click on the PDF page next to the citations below to open the short story or poem. Here you can read all the shortlisted entries . Copyright remains with the authors.
11-18 category
Winner: 'heat' by constance cottrell.
Runners up: 'The Long Road East' by William Bowden-Ritchie and 'Welcome to East Africa' by Charlotte Lee
Highly Commended (in alphabetical order)
'Lest We Forget' by Matthew Gittleson.  The central idea of this story, that the actions of humans on the battlefield seem inexplicable and contrary to nature, is very well expressed. Using a tree as the voice of the author allows us to step back from the human experience and become more objective. The action is placed in the East African campaign and the writer picks out the extraordinary valour of the colonial soldiers who fought for the British and German empires.
'Long Live War' by Ishaabyha Tripathi.  As a piece of creative writing this entry focusses on one simple idea and uses this to epitomise the writer's experience of the war away from the Western Front, where the majority of troops on both sides were colonial, and many of them – as described – not English speakers. The entry also manages to convey something of the contradictions of war, along the lines of 'Oh What  A Lovely War', where soldiers become ironic and fatalistic about their situation. This is all the more poignant in the choice of writer, who cannot appreciate the irony due solely to lack of knowledge of the language.
Over 18 category
Winner: 'buried letters' by helen parker-drabble.
An audio version of 'Buried Letters'
Right click here to download it as an MP3 file
Runners-up: 'The Princess Beatrice' by Antony Dunford and 'The Cheecha' by Peter Susa
'The Syrian' by Patty Lafferty.   The simple idea that history is repeating itself in Syria is well expressed. The poem uses short lines and vivid images to take the reader through the experience of waking up after being wounded in war. The historical context is clear and the references to T E Lawrence and Feisal place the action in its time.
Our competition originally had three age categories – '10 and under', '11-18′ and 'Over 18′. Unfortunately in the '10 and under' category we received no entries which complied with the rules so we took the decision to transfer the value of the prizes to the other categories, and were therefore able to offer book tokens to two runners-up as well as the winning entry.
Literacy Shed Plus
Literacy Shed Store
Work With Us
The Literacy Shed Blog
Book of the week
VocabularyNinja
History Workshops
From our family to yours
Skip to main content
Skip to footer
WWII Research & Writing Center
Search this Site
Recent articles.
Is Access to the WWII Individual Deceased Personnel Files (IDPFs) Getting Easier & Faster? November 27, 2023
2024 Speaking Engagements November 22, 2023
Honoring Our Heroes Programs November 15, 2023
Veterans Day Military Class in Wilmette, IL November 7, 2023
Ancestral Healing Group Zoom Meetings Scheduled September 16, 2023
Honoring Our Heroes Program August 28, 2023
Article Archive
Article categories, world war ii writing prompts, wwii writing – military memories writing prompt day 31.
May 31, 2016 by Jennifer Holik Leave a Comment
Have you taken time to record the stories of your World War II ancestors and families? One way to get started is to use the Military Memories Writing Prompts to jump start your research and writing.  as we explore life on the U.S. home front, women in service, and the lives of all veterans.
These prompts were written with the World War II era in mind, but most can be used for any war. They were originally used in May 2014 and are not grouped by category. Since May 2014 I expanded these 31 prompts into over 500. Are you looking for more writing prompts to help you tell the stories of war from a U.S. or European perspective? See my Stories from the World War II Battlefield Volume 3: Writing the Stories of War , for over 500 writing prompts for U.S. and European writing.
Prompt 31: Soldier Stories. As we conclude Military Memories, I have two prompts for you today. 1. I am grateful for the service of my ancestors because …….. and 2. I am grateful for the service of today's soldiers because ………
Please share your prompts and responses on your blog and tag them with #militarymemories.
Do you need help learning how to do World War II research or need to hire a researcher to help you? Please feel free to contact me for more details.
© 2016 Jennifer Holik
WWII Writing – Military Memories Writing Prompt Day 30
May 30, 2016 by Jennifer Holik Leave a Comment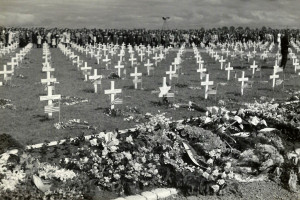 Prompt 30: Remembrance. Today is Memorial Day. How do you honor those in your family who died in military service on this day? Do you have any stories or photographs of Memorial Days from years past? Particularly after the war when families would visit cemeteries more often?
WWII Writing – Military Memories Writing Prompt Day 29
May 29, 2016 by Jennifer Holik Leave a Comment
Prompt 29:  After The War.  Write about life after war. What did your ancestor come home to when his or her service ended? Marriage? A job? Family? College? Did he or she enlist to serve again?
WWII Writing – Military Memories Writing Prompt Day 28
May 28, 2016 by Jennifer Holik Leave a Comment
WWII Writing – Military Memories Writing Prompt Day 27
May 27, 2016 by Jennifer Holik Leave a Comment
WWII Writing – Military Memories Writing Prompt Day 26
May 26, 2016 by Jennifer Holik Leave a Comment
Prompt 26: After The War.  How did the WWII era affect your family from then until now? Did someone lose a spouse and remarry? Were there blended families? Did the patriotism and desire to join the military become instilled in every generation that followed?
WWII Writing – Military Memories Writing Prompt Day 25
May 25, 2016 by Jennifer Holik Leave a Comment
Prompt 25: The Home Front. Think about the clothing, shoe, and hair styles of the war days. How did they change from before the war to after the war? Do you have photographs or stories in your family about how this aspect of their lives changed?
WWII Writing – Military Memories Writing Prompt Day 24
May 24, 2016 by Jennifer Holik Leave a Comment
Prompt 24: Communication. Do you have any letters, diaries, photographs, or post cards from your military ancestor? Write about their service using these items.
Go to page 1
Go to page 2
Go to page 3
Go to page 4
Go to Next Page »
Entries feed
Comments feed
WordPress.org
Privacy Overview