Key Elements of a Cover Letter
The cover letter is usually the first item an employer reads from you. Your letter should immediately indicate what position you are applying for and then give information that demonstrates why you should be considered for the position. Do not repeat all of the information contained in your resume. Instead, highlight or elaborate on resume items that are directly applicable to the position for which you are applying. The following information should be included in your cover letter.
Information about you
Begin your cover letter with your contact information. It should be in block style, on the left margin of your paper, towards the top. Name Current home address Telephone number
Include a date as you would do with any business letter.
Contact Person's Name, Title, Employer, and Address
Including a specific name can get your letter and resume to the hiring manager more quickly and can be an effective personal touch. If you are applying for an advertised position that does not give a name to contact, call the company and ask for the department manager's name.
Choose the appropriate way to address the contact person. For example: Dear Mr. Johns (if a man's name is the contact) Dear Ms. Smith (if a woman's name is the contact) Dear Prospective Employer (if there is no contact name)  
Opening Paragraph
In the opening paragraph tell how you learned about the position. You may, for example, know of a job through: a classified advertisement an unsolicited mailing the Internet personal referrals
Middle Paragraph
This paragraph gives a summary of your background and critical skills (hard skills) that make you qualified for the position.
Second Middle Paragraph
This paragraph can be used to demonstrate your persuasive skills (soft skills).
Contact Information and Closing
At the end of the letter talk about your availability for the job, where you can be contacted, and when you are going to contact the hiring person for an appointment to discuss your application. If you have no contact name you may simply want to indicate your anticipation for a response in this part of the letter. Thank the person to whom you are writing for his/her time and consideration of your application.
Other Considerations:
Paper and Printing
Use white or ivory (20-25 lb.), 8 ½ x 11 bond paper printed on one side only.
Use the same paper for resume, cover letter, and envelopes if possible.
Make sure that there is no shadowing or dirty marks from your printer on the papers.
Error Prevention
Follow instructions in employment ads or recruitment directions.
Proofread! Look for spelling and formatting errors. Make sure recipient's name, company name, and title are correctly spelled in the letter and on the envelope.
Proofread again!
Have another person proofread your letter and resume.
Be sure there are no errors of fact.
Sign in blue or black ink.
Keep a copy of the cover letter and resume for your records.
Follow up with a phone call, about five days after expected delivery.
Layout and Design
Follow standard cover letter format.
Keep the cover letter to one page.
Set margins at 1 ½".
Use a simple, easy to read font style, 10-14 point. (Times, Courier, or Helvetica)
Use boldface, italics, all-caps and underlining, but don't overdo it.
Planning and Tone
Tailor each cover letter to one specific position.
Use industry jargon specific to your career field.
Identify the employer's key words and use them.
Make all statements positive. Check the tone by asking yourself if each sentence leaves a positive impression.
Show originality but not cuteness.
Use action verbs and phrases .
Sound determined and confident not desperate.
Organize context in a reasonable and logical order.
Use correct grammar.
Keep sentences short.
Keep paragraphs short.
Use short words and simple language.
Make every word count.
Punctuate using commas, dashes, and periods.
Focus on the employer's need for a worker, rather than your need for a job.
Tell how your skills and personal qualities match the employer's needs.
Focus on what you can do for the employer and how you contribute to the organization.
Show you have researched the company double check those facts.
Be specific avoid general statements.
A strong subject line for your cover letter
Learn to choose an effective subject line.
A first impression is often a lasting impression. But how do you make a strong impression on your first attempt? Well, when applying for a job, a simple way is to use a great subject line in your cover letter. This not only adds weight to the letter but also increases your chance of being noticed and shortlisted. The tips below explain how a good subject line can make your job application more effective.
Make the most of the subject line
Do not leave the subject line on your cover letter blank. It is a small space, but one that can make a huge difference—provided you use the right words. So, rather than write only the job code, try to squeeze in as much info as possible. Only, remember to keep it short. A good example of this would be, 'Experienced Research Fellow Applying for the Position of Librarian (Job #123)'.
Keep it short and simple
Stick to the basics and do not try anything fancy here. A brief and to-the-point subject line is the key to success. Avoid using any informal words or salutations and keep the humour away. Remember that the employer has very little time to scan through letters. Should he find something inappropriate in your subject line, he might just brush aside your entire application.
Use the right keywords
Nowadays, many employers use an applicant tracking system (ATS). The ATS scans CVs and cover letters for specific keywords. Insert the right keywords in your subject line to ensure that your application reaches the next round of (human) short-listing. For instance, you could write, 'Experienced Teacher for Third-Grade Teaching Position."
Finally, in your hurry to send out multiple job applications, do not make an error in the subject line. Proofread and crosscheck to ensure that your subject line is perfect. If you are applying for two jobs simultaneously, the biggest blunder would be to mix up the subject lines of the two cover letters! This could lead to your application being rejected at both places without your CV even being considered. So, be very careful.
Writing a great email subject line
Comments are closed.
Application
Cover letter
Uncategorized
Search Search Please fill out this field.
Career Planning
Finding a Job
Email Subject Lines for Job Applications and Resumes
Why the Subject Line Is Important
Tips for writing an effective email subject line, email subject line examples.
Sample Email For a Job Application
Frequently Asked Questions (FAQs)
How important is an email subject line? When you're job searching, it might mean the difference between getting the interview—and getting stuck in a spam folder.
These days, you will likely conduct much of your job search via email. But employers receive thousands of emails a day, and often, whether or not an email gets opened depends entirely on its subject line.
To make sure your emails are read, you need a clear, professional subject line.
Campaign Monitor reports that one of the best ways to get your email message opened is to improve your subject line. That's especially important when you're emailing a resume to apply for a job.
Key Takeaways
A good subject line can help ensure that your job application reaches the right person and doesn't get caught in a spam folder.
Choose a subject line that's short and specific, e.g., "Marketing Coordinator – Jane Smith." 
Proofread your email subject line and send yourself a test email to make sure your formatting holds up.
The subject line (along with the name or email address of the sender) is the first thing people see while scanning their inboxes. Because emails can contain viruses, as well as irrelevant information, busy people rarely open all their email.
The decision to open—or delete—an email is based mainly on the subject line and sender. Since the subject line makes your first impression, you want to be sure that your writing is clear and error-free.
If you leave the subject line blank, your email may end up marked as spam or deleted.
Since recipients may not be familiar with your name, the subject line is also an opportunity to introduce yourself. This is the first step to making a strong first impression so that your resume is opened and read.
Keep it professional. This goes for both your subject line and your email address. The subject line shouldn't include any informal words or phrases like "Hey" or "What's Up." Use only professional, polite language. Make sure that your email address is appropriately professional—cutiepie123@email.com could make the hiring manager wonder how serious a contribution you would make to their company.
Note why you are writing. You need to make sure that your subject line will be of interest in order to get your email read. Make it relevant by including keywords related to your reason for writing.
When you're networking, use your subject line to state why you are contacting the person. You might be asking for information, or requesting a meeting, advice, or referral. If someone recommended the contact, definitely include their name. Networking emails can be the most difficult to get noticed because the person emailing isn't seeking to solve a specific problem or fill a position.
Your subject line is your opportunity to grab their attention and make them want to know more about you.
Include the job title. In an email applying for a job, use the job title as the subject line, so the employer knows the position you're interested in. That helps busy hiring managers who are recruiting for multiple positions see at a glance which job you are applying for. Mentioning the job title is also helpful in case there is an automated filter that categorizes the hiring manager's email. With the right subject line, you'll be sure that your application is placed in the appropriate folder to be seen in a timely manner.
You can include your name as well, or "referred by" if someone recommended that you apply. In your follow-up correspondence (particularly a thank-you email after an interview), "Thank You" can precede the title of the job.
Follow the instructions. The job posting may specify what to include in the subject line of your message. If it does, be sure to follow the directions.
Keep it short and specific. The more specific you can make your subject line, the easier it will be for the recipient to categorize your email quickly and respond appropriately. Be as succinct as possible, because lengthy subject lines may be cut off, and could lose the most important information.
Many people check their email on mobile devices that display only 25 to 30 characters of the subject line. You'll have much more space if they are reading on a computer, and when they open the email, they will see the whole subject.
Use the first few words to get to the point and leave the extra information like your credentials and experience for the end.
Campaign Monitor suggests optimizing your subject line length to between 41 characters (portrait view on an iPhone) to 70 characters for Gmail. Mailchimp advises keeping your subject line to no more than nine words and a maximum of 60 characters. Bottom line, it's best to keep your subject line short. 
Proofread and edit your message. When editing your email before sending it, also be sure to proofread your subject line. Your subject line is the first thing the hiring manager will see. Be sure it makes a good impression. 
For inspiration, here are several examples of clear, to-the-point subject lines:
Administrative Assistant Job - Your Name
Job Inquiry - Your Name
Managing Director Position
Job Posting #321: District Sales Manager
Communications Director Position - Your Name
Application for Sales Associate
Public Health Associate Position - Your Name, MPH
Inquiry - Your Name
Social Media Expert Seeking New Opportunity
Marketing Director Looking for Next Role - 10 years experience
Research Assistant Resume
Referral - Your Name
Referred by FirstName LastName
Informational Interview Request - XYZ College Student
Thank You - Job Title Interview
Meeting Follow Up - Subject of Meeting
Meeting Request - Your Name
Sample Email Message For a Job Application
Subject: Referred by Lara Barrett
Dear Mr. Klass, 
I'm writing regarding the open content marketing role at 3L Logistics. My former colleague, and good friend, Lara Barrett, recommended that I contact you directly about this position. Lara and I worked together for three years at ABC Software company, so she can attest to my marketing know-how. I'd welcome an opportunity to discuss how my skills could benefit 3L Logistics and what you have in mind for this role.
Let me tell you a little bit about me: In my position as a marketing specialist at ABC Software, I helped to develop a content strategy for the release of ABC's next-gen software product, which covered both the Americas and EMEA regions. This work on the marketing funnel helped create 25% more opportunities for the sales team.
Prior to ABC Software, I was a communications manager at TechTom, another software maker. In this role, I developed a thought-leadership blog series that got picked up by mainstream publications and helped secure TechTom's role in the community as a reputable source of insight. Lara tells me that you're looking to pursue similar goals at 3L Logistics, and I'd love to share some of the best practices I discovered while working on this project at TechTom.
I think my mix of communications and marketing skills would be an asset to 3L Logistics. I would appreciate an opportunity to meet and discuss the role and how I can help. Thank you very much for your consideration. 
Sincerely, 
Jana Brand (555) 555-5555 jana.brand@brand.com  
How should I apply for a job via email?
When applying for a job via email, be sure to follow the employer's instructions. They should tell you whether to send your resume and cover letter as attachments or in the body of the email, for example. Also, always include a cover letter even if not specified—it can't hurt, and it might help you make a good impression. 
What should I include in an email job application?
Include your resume, cover letter, and any other materials requested by the employer. Make sure your email job application contains all the required information, including your name, contact details, and the title of the job for which you're applying.
What's the best way to apply for jobs?
A good job search strategy is a multipronged effort. Search for jobs online, tap your professional network for referrals and references, and reach out to employers via LinkedIn and other social media. 
Campaign Monitor. " Ultimate Email Marketing Benchmarks for 2022: By Industry and Day ."
Campaign Monitor. " How To Determine the Best Length for Your Email Subject Lines ."
Mailchimp. " Best Practices for Email Subject Lines ." 
By clicking "Accept All Cookies", you agree to the storing of cookies on your device to enhance site navigation, analyze site usage, and assist in our marketing efforts.
How to write a Cover Letter – Guide with Examples
Not every job application requires a cover letter, but every job application can benefit from one.
Along with a customised CV , which should include a strong personal profile, the cover letter lets you add specific information that puts you right at the heart of the job you are applying for. That means it's really important to get it right.
Writing a winning cover letter is a skill. If you're unsure what to include, our guide will help you:
What is a cover letter and why is it still important?
How to research and plan your cover letter.
The basic format of a good cover letter
How long should a cover letter be?
Address the hiring manager
Use the job description
How to market yourself in your cover letter
How to structure and write your cover letter, with examples
Use a 'cold' cover letter to approach a company you'd like to work for
How to send your cover letter
A cover or covering letter is a brief, single-page document that accompanies your CV when you apply for a job.
Its purpose is to introduce yourself and to highlight your key skills, particularly those that are relevant to the job you are applying for. It's your chance to showcase both your personality and suitability.
It's important to remember that the cover letter is independent of your CV – in other words, it shouldn't be just the same information presented differently. It needs to position you as the right person for the job by highlighting skills that you have that are essential for the role. For this reason, your cover letter should be tailored to every application.
Some recruiters will receive hundreds or even thousands of applications for a role, so your cover letter is your chance to stand out from the crowd and it's an essential component of the application process.
Download our cover letter template
"Failing to plan is planning to fail" is a saying attributed to Benjamin Franklin, and it's true. Planning is key to the success of any endeavour, and it's certainly true for your cover letter and your CV .
These are the important things you should research before you begin writing your cover letter:
Who will be receiving and reading your cover letter? This will likely depend on the size of the company doing the hiring – if it's a small organisation, it may well be the CEO or owner of the business. For a larger company, it will most likely be the hiring manager or the head of HR.
What skills and experience are listed in the job description? What skills do you have that this role calls for? Do you have other skills that you believe will be of benefit to the company and position? Put those in your cover letter and then detail why you think they're relevant and important.
The company and its culture. Any reputable company will have some form of online presence where you can do this research. If they don't have their own website (which is highly unlikely) then they will most certainly have some social presence: LinkedIn, Twitter, Facebook and Instagram are good places to check.
The company's competitors and market position. This information too can usually be found online. Some organisations have obvious competitors – Nike and Adidas, for example – but it won't always be this obvious. There are free trials available with tools such as Semrush , Ahrefs that can help you identify a company's competition.
The sector and any recent news or trends. Which sector or industry do they operate in? Do some online searches for news, using Google or any other search engine with a 'news' results tab.
The organisation's aims for the coming year and beyond. This information can be trickier to find. You could start on LinkedIn and search for key employees; those with CxO roles may well share goals, roadmaps and more on their profiles.
Building up a good body of information about both the company and its industry will help you tailor your cover letter for each company you apply to. It also shows your passion for the job and sector.
The basic format of a cover letter
Every cover letter you write should be tailored to the specific job role or company you're applying for, but there is a basic format to follow for every cover letter:
Paragraph one – The introduction
Paragraph two – The by-line
Paragraph three – Show your knowledge
Paragraph four – Conclusion
Brief, probably less than one side of A4 – 250-300 words maximum.
A cover letter is important but remember, it's an accompaniment to your CV , not your actual CV.
Address the hiring manager or recruiter
Just like your CV, every cover letter you submit should be written to match the job role you are applying for, and it should be comprehensive and, if possible, personalised:
Personalise it – find the name of the hiring manager or the person most likely to receive or read your application in the first instance. Addressing a named person shows that you're thorough and thoughtful in your approach. Sign off with "Yours sincerely".
If you don't have that information and can't specify a name – then start the letter with "Dear Sir or Madam" – but remember your grammar and sign off your letter with "Yours faithfully".
You should also avoid tired and clichéd buzzwords .
Use the job description to tailor your covering letter
This is possibly the most vital aspect of the cover letter. If you don't take the opportunity to state that you have the necessary skills and experience, you may as well not bother!
Detail your skills and provide examples of how you have used them in the past to succeed in your own goals and those of the company you were working for. Mirror some of the phrases used in the job requirements list.
You will most likely need to use different skills and examples for each cover letter, as each job role will require different skills and abilities.
Market yourself in your cover letter
A bit like your Personal Profile, your cover letter is your chance to sell yourself to the people doing the hiring. There are several good ways to sell yourself, and having done your research, they should be easy to include:
Demonstrate knowledge – of the role, the company, and the sector in which they operate
Outline your skills, qualifications and goals – any that are relevant to the role and company
Highlight your social and interpersonal skills – talk about the clubs and/or societies you are a member of, any volunteering you do – anything that shows your ideals and what you enjoy doing in your spare time
How to structure and write a cover letter
These days it's unusual for cover letters or CVs to be sent as physical copies, but digital correspondence should still be written in formal business language.
There are several ways to format a business letter, but these are the elements you must include:
Your address and contact details, including a telephone number (mobile or landline) and email address
The company's address
The opening greeting: Dear xyz
Here's how it might look:
[Date] [Your address line 1] [Address line 2] [Address line 3] [Your phone number and email] [Company name] [Company address line 1] [Company address line 2] Dear [Name or Sir or Madam ],
Cover letter paragraph 1: The introduction
The position you are interested in and why you are applying for it – a brief introductory passage that covers three things:
Why you're writing the letter
What job role you are applying for
How you found out about the job
Something like:
"I am writing to apply for the role of [job title] in response to an advert I saw on [name of job site]. Please find my CV attached."
Cover letter paragraph 2: The by-line
This paragraph should be all about you and detail the skills you possess that are relevant to the role, particularly those that have been identified in the job advert or description. Be careful not to reproduce your CV. Mirror phrases and skills that are mentioned in the job advert or description.
Find your perfect job
Your search did not match any jobs
Search suggestions:
Try more general keywords
Check your spelling
Replace abbreviations with the entire word
Cover letter paragraph 3: Show your knowledge
This is where you can demonstrate the research that you did before applying. Show that you know what sector they operate in and what they do, and demonstrate why you wish to work there, how you could make a difference, and how you align with the company's ideals, culture and core values.
In short: show that you're the perfect candidate!
Cover letter paragraph 4: Conclusion
Your cover letter, the masterpiece that it now is, should end with a clear call to action. You want to secure an interview for this position, so mention that and let them know when you're available for a callback or contact to arrange it. Don't be demanding, just be confident and clear. If you plan to follow up with a phone call, then let them know. If you're not comfortable doing this then end your letter with:
"I look forward to hearing from you."
Thank them for taking the time to read your letter, and sign off with:
"Yours sincerely [ or faithfully if you don't know their name ] , [Your Name]"
Use a covering letter as a speculative approach to a company you'd like to work for
Have you noticed a company that you'd really like to work for, but they're not currently advertising any open positions? In this case, a ' cold-contact cover letter ' makes a great speculative application letter. Here's what to include in that cover letter:
Address the letter formally – Try to get hold of the name of the hiring manager; check their website or call the main number and ask. If not, then address it as "Dear Sir or Madam". You could alternatively address it to the CEO or Managing Director – once they see it is a speculative application, they will probably pass it to the relevant person within the company.
Your reason for writing – As there is no vacancy that you are aware of, you should explain why you are writing and what attracted you to the company.
Mention any contacts – If a friend or acquaintance works at the company and has suggested or agreed that you should apply, then mention them by name and job title.
Detail your skills and experience – The body of the speculative application should highlight your skills and experiences and provide examples of how you have used them in previous jobs. Then state once more why you're interested in working for the company; talk about the sector or industry they operate in and show that you have done your research.
Say what you would like – Which area or department of the company are you interested in? Where would you like to work – sales, marketing, front-of-house, for example?
Conclusion – Close the cover letter by thanking them for their time and expressing your interest in hearing from them about any job vacancies that might arise.
Remember, each speculative cover letter should be unique.
Send your cover letter
Because you are almost always going to be sending your cover letter online, we recommend that you attach it to your email in a .pdf format. This way, any computer will be able to view the file, and all your formatting will be preserved.
If you need to send your cover letter as the actual body text of your email, your approach will need to be slightly different. First, make sure you format the subject line of your email like so:
Application for [Job Title] – [Your Name]
If you were given a reference number, include that in the subject line as well. Once you've done that, it's time to think about the layout of your letter. The paragraphs can be the same as an original cover letter, but you can remove the addresses, date and signature.
If you're applying for a job via a job board, you can sometimes afford to scale down your cover letter to its key components.
Check out this example cover letter:
Hi [Name], I am interested in applying for the current vacancy you have for a [job title]. In my current role as [role title] with [company name], I am responsible for [insert relevant experience relating to job advert] but am currently looking to make a step up into a more challenging role with a reputable company who can offer career growth. I am currently on a notice period of [notice period] and can interview immediately. Kind regards, [Name] [Phone number] [Email]
By following these covering letter guidelines and examples you'll be ahead of many other applicants applying for roles, and one step nearer to securing an interview.
Try to have fun with it – we wish you the best of luck!
Upload your CV
Related Career Advice articles
How to Write a Cover Letter in 2023 + Examples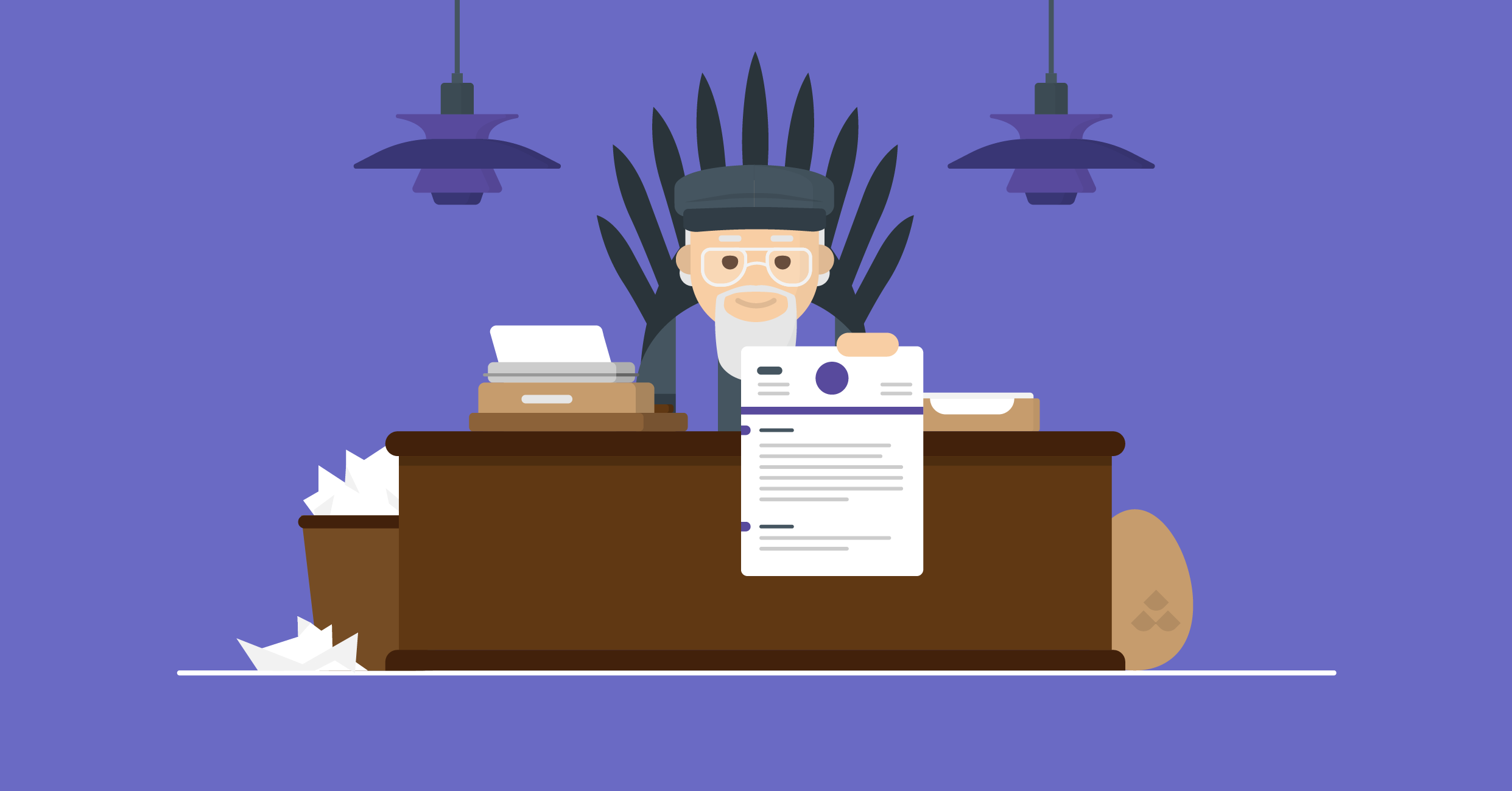 After weeks of heavy job search, you're almost there!
You've perfected your resume. 
You've short-listed the coolest jobs you want to apply for.
You've even had a friend train you for every single interview question out there.
But then, before you can send your application and call it a day, you remember that the job ad requires a cover letter.
Now you're stuck wondering how to write a cover letter ...
Don't panic! We've got you covered. Writing a cover letter is a lot simpler than you might think. 
In this guide, we're going to teach you how to write a cover letter that gets you the job you deserve.
What's a cover letter & why it's important for your job search
How to write a convincing cover letter that gets you the job (step-by-step!)
How to perfect your cover letter with the Novoresume free checklist
What excellent cover letter examples look like
New to cover letter writing? Give our resumes 101 video a watch before diving into the article!
So, let's get started with the basics!
What is a Cover Letter? (and Why It's Important)
A cover letter is a one-page document that you submit as part of your job application (alongside your CV or Resume). 
Its purpose is to introduce you and briefly summarize your professional background. On average, your cover letter should be from 250 to 400 words long .
A good cover letter can spark the HR manager's interest and get them to read your resume. 
A bad cover letter, on the other hand, might mean that your application is going directly to the paper shredder. So, to make sure this doesn't happen, it's essential to know how to write a convincing cover letter.
How does a good cover letter look, you might ask. Well, here's an example:
Keep in mind, though, that a cover letter is a supplement to your resume, not a replacement. Meaning, you don't just repeat whatever is mentioned in your resume.
If you're writing a cover letter for the first time, writing all this might seem pretty tough. After all, you're probably not a professional writer.
The thing is, though, you don't need to be creative, or even any good at writing. All you have to do is follow a tried-and-tested format:
Header - Input contact information
Greeting the hiring manager
Opening paragraph - Grab the reader's attention with 2-3 of your top achievements
Second paragraph - Explain why you're the perfect candidate for the job
Third paragraph - Explain why you're a good match for the company
Formal closing
Or, here's what this looks like in practice: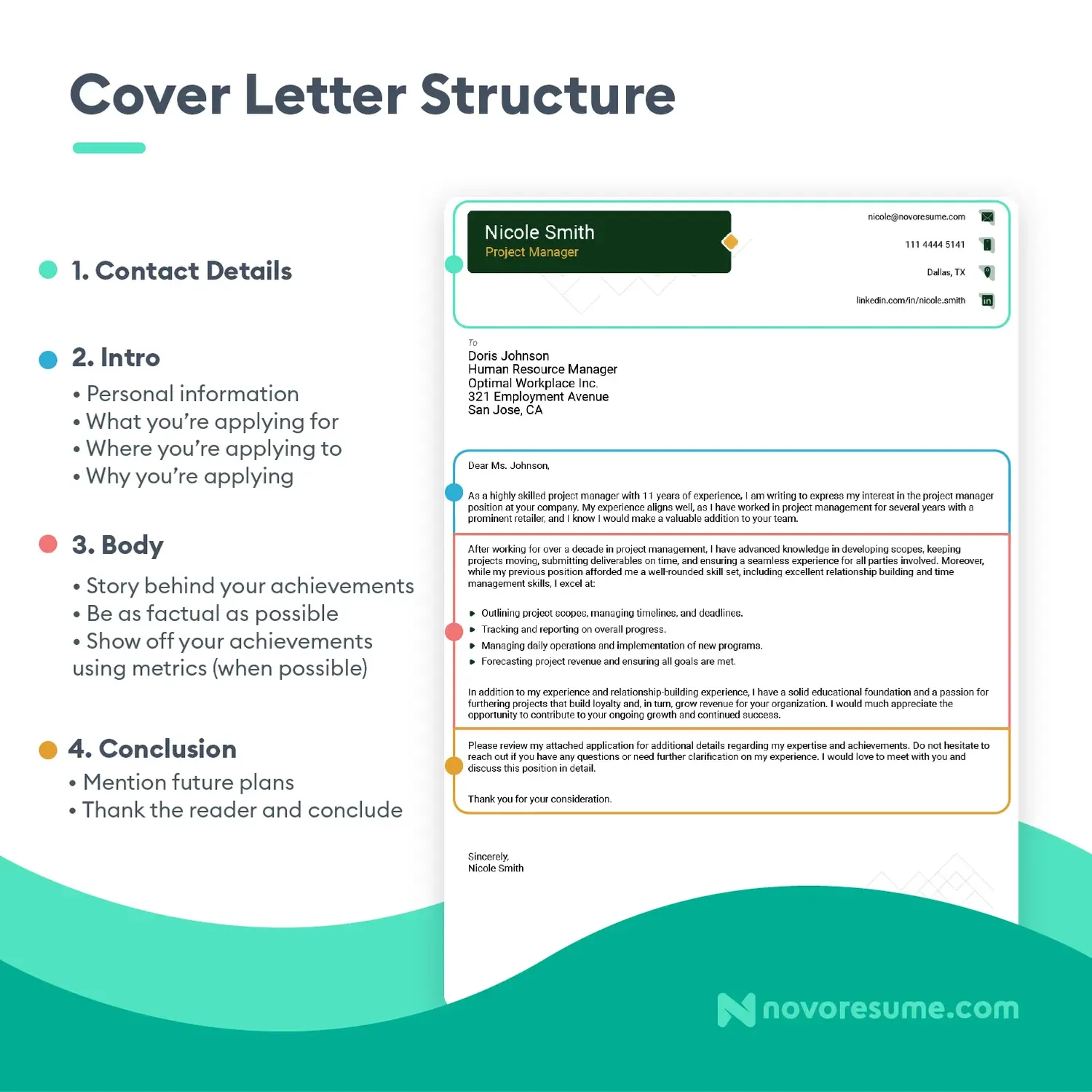 How to Write the Perfect Cover Letter (And Get Hired!)
Now that we've got the basics out of the way, we're going to guide you through the process of writing a cover letter step by step. 
Step #1 - Pick the Right Cover Letter Template
A good cover letter is all about leaving the right first impression.
So, what's a better way to leave a good impression than a well-formatted, visual template?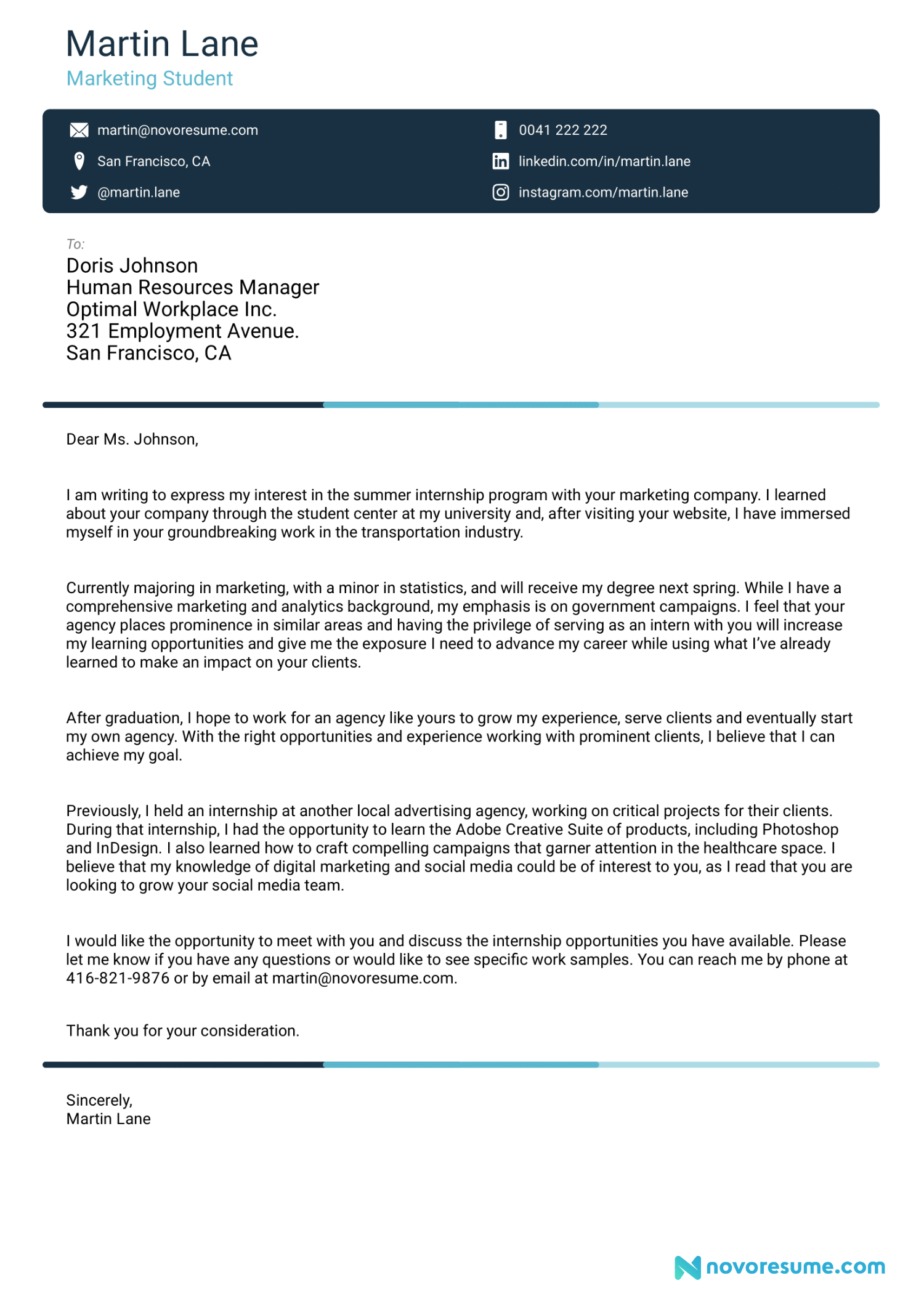 You can simply pick one of our hand-picked cover letter templates , and you'll be all set in a jiffy!
As a bonus, our AI will even give you suggestions on how to improve your cover letter on the go.
Step #2 - Start the Cover Letter with a Header
As with a resume, it's important to start your cover letter with a Contact Information section:
Here, you want to include all essential information, including:
Phone Number
Name of the hiring manager / their professional title
Name of the company you're applying to
In certain cases, you might also consider adding:
Social Media Profiles - Any type of profile that's relevant to your field. Social Profiles on websites like LinkedIn, GitHub (for developers), Medium (for writers), etc.
Personal Website - If you have a personal website that somehow adds value to your application, you can mention it. Let's say you're a professional writer. In that case, you'd want to link to your blog.
And here's what you shouldn't mention in your header:
Your Full Address 
Unprofessional Email - Make sure your email is presentable. It's pretty hard for a hiring manager to take you seriously if your email address is "[email protected]." Whenever applying for jobs, stick to the "[first name] + [last name] @ email provider.com" format.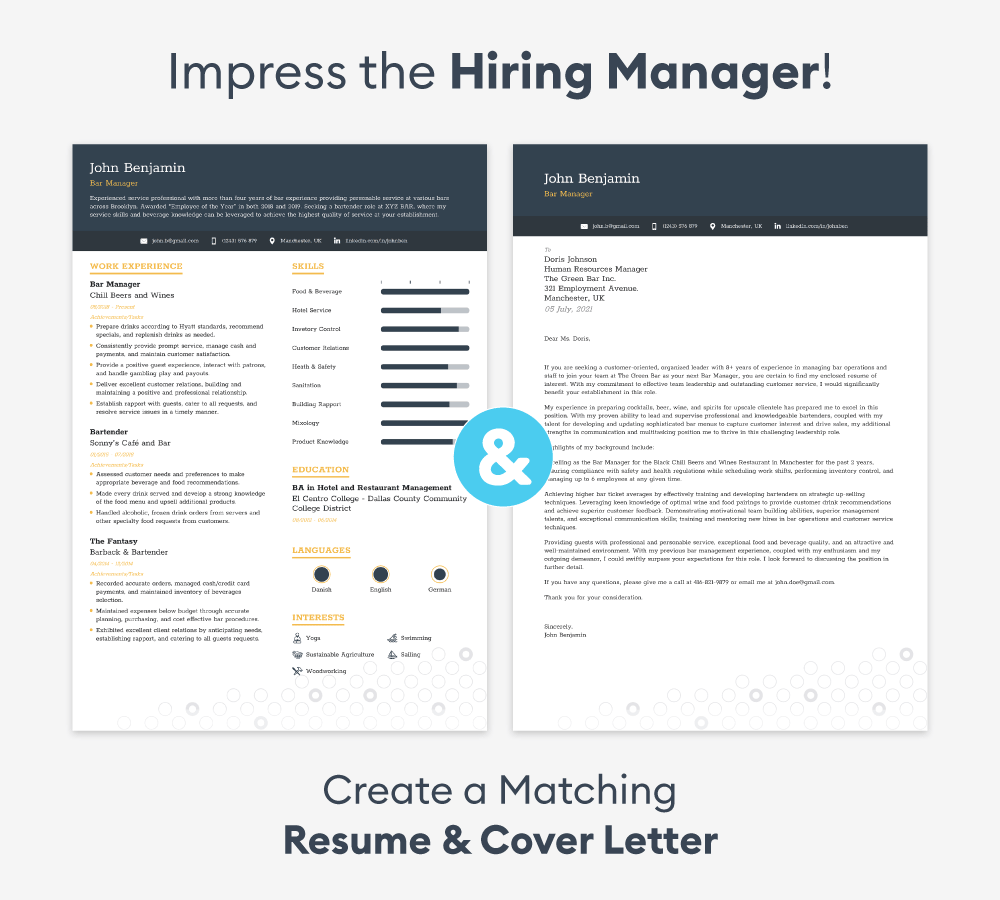 Step #3 - Greet the Hiring Manager
Once you've properly listed your contact information, you need to start writing the cover letter contents.
The first thing to do here is to address the cover letter to the hiring manager .
That's right, the hiring manager! Not the overly popular "Dear Sir or Madam." You want to show your future boss that you did your research and are really passionate about working with their team.
No one wants to hire a job seeker who just spams 20+ companies and hopes to get hired in any of them.
So, how do you find out who's the hiring manager? There are several ways to do this. 
The simplest option is to look up the head of the relevant department on LinkedIn. Let's say you're applying for the position of a Communication Specialist at Novoresume. The hiring manager is probably Head of Communications or Chief Communications Office.
So, you do a quick lookup on LinkedIn:

And voila! You have your hiring manager.
Or let's say you're applying for the position of a server. In that case, you'd be looking for the "restaurant manager."
If this doesn't work, you can also check out the "Team" page on the company website; there's a good chance you'll at least find the right person there.
Here are several other greetings you could use:
Dear [Department] Hiring Manager
Dear Hiring Manager
To whom it may concern
Dear [Department] Team
Step #4 - Write an Attention-Grabbing Introduction
First impressions matter, especially when it comes to your job search.
Recruiters get hundreds, sometimes even thousands, of applications. Chances are, they're not going to be reading every single cover letter end-to-end.
So, it's essential to catch their attention from the very first paragraph .
The #1 problem we see with most cover letter opening paragraphs is that they're usually extremely generic. Most of them look something like this..
Hey, my name is Jonathan and I'd like to work as a Sales Manager at XYZ Inc. I've worked as a sales manager at MadeUpCompany Inc. for 5+ years, so I believe that I'd be a good fit for the position.
See the issue here? This opening paragraph doesn't say pretty much anything except the fact that you've worked the job before.
Do you know who else has similar work experience? All the other applicants you're competing with.
Instead, you want to start off with 2-3 of your top achievements to really grab the reader's attention. Preferably, the achievements should be as relevant as possible to the position.
So now, let's make our previous example shine:
My name's Michael and I'd like to help XYZ Inc. hit and exceed their sales goals as a Sales Manager. I've worked with Company X, a fin-tech company, for 3+ years. As a Sales Representative, I generated an average of $30,000+ in sales per month (beating the KPIs by around 40%). I believe that my previous industry experience, as well as excellence in sales, makes me the right candidate for the job.
See the difference between the two examples? If you were the hiring manager, which sales manager would you hire, Jonathan or Michael?
Now that we've covered the introduction, let's talk about the body of your cover letter. This part is split into two paragraphs: the first is for explaining why you're the perfect person for the job, and the latter is for proving that you're a good fit for the company.
So, let's get started...
Step #5 - Explain why you're the perfect person for the job
This is where you show off your professional skills and convince the HR manager that you're a better fit for the job than all the other applicants.
But first things first - before you even write anything, you need to learn what the most important requirements for the role are. So, open up the job ad and identify which of the responsibilities are the most critical.
For the sake of the example, let's say you're applying for the position of a Facebook Advertiser. You scan the job ad and see that the top requirements are:
Experience managing a Facebook ad budget of $10,000+ / month
Some skills in advertising on other platforms (Google Search + Twitter)
Excellent copywriting skills
Now, in this section, you need to discuss how you fulfill these requirements. So, here's how that would look for our example:
In my previous role as a Facebook Marketing Expert at XYZ Inc. I handled customer acquisition through ads, managing a monthly Facebook ad budget of $20,000+ . As the sole digital marketer at the company, I managed the ad creation & management process end-to-end. Meaning, I created the ad copy , images, picked the targeting, ran optimization trials, and so on.
Other than Facebook advertising, I've also delved into other online PPC channels, including:
Are you a student applying for your first internship? You probably don't have a lot of work experience to show off in this section. Learn how to write an internship cover letter here.
Step #6 - Explain why you're a good fit for the company
Once you've written the last paragraph, you might be thinking - I'm a shoo-in for the job! What else do I need to write? I'll just wrap up the cover letter and hit that sweet SEND button.
Well, no. You're not quite there yet.
The HR manager doesn't only look at whether you'll be good at the job or not. They're looking for someone that's also a good fit for the company culture.
After all, employees that don't fit in are bound to quit, sooner or later. This ends up costing the company a ton of money, up to 50% of the employee's annual salary . 
Meaning, you also need to convince the HR manager that you're really passionate about working with them.
How do you do this? Well, as a start, you want to do some research about the company. You want to know things like:
What's the company's business model?
What's the company product or service? Have you used it?
What's the culture like? Will someone micro-manage your work, or will you have autonomy on how you get things done?
So, get to Googling. Chances are, you'll find all the information you need either on the company website or somewhere around the web.
Then, you need to figure out what you like about the company and turn that into text.
Let's say, for example, you're passionate about their product and you like the culture of innovation / independent work in the organization.
You'd write something like:
I've personally used the XYZ Smartphone, and I believe that it's the most innovative tech I've used in years. The features such as Made-Up-Feature #1 and Made-Up-Feature #2 were real game changers for the device. 
I really admire how Company XYZ thrives for excellence for all its product lines, creating market-leading tech. As someone that thrives in a self-driven environment, I truly believe that I and Company XYZ will be a great match.
What you don't want to do here is be super generic for the sake of having something to write. Most job seekers tend to mess this one up. Let's take a look at a very common example we tend to see (way too often):
I'd love to work for Company XYZ because of its culture of innovation. I believe that since I'm super creative, I'd be a good fit for the company. The company values of integrity and transparency really vibe with me.
See what's wrong here? The example doesn't really say anything about the company. "Culture of Innovation" is something most companies claim to have. 
The same goes for "values of integrity and transparency" - the writer just googled what the values for the organization are, and said that they like them.
Any hiring manager that reads this will see through the fluff.
So, make sure to do a lot of research and come up with good reasons why you're applying.
Step #7 - Wrap up with a call to action
Finally, it's time to finish up your cover letter and write the conclusion.
In the final paragraph, you want to:
Wrap up any points you couldn't in the previous paragraphs. Do you have anything left to say? Any other information that could help the hiring manager make their decision? Mention it here.
Thank the hiring manager for their time. It never hurts to be courteous, as long as you don't come off as too needy.
Finish the cover letter with a call to action. The very last sentence in your cover letter should be a call to action. You should ask the hiring manager to take some sort of action.
And now, let's turn this into a practical example:
So to wrap it all up, thanks for looking into my application. I hope I can help Company X make the most out of their Facebook marketing initiatives. I'd love to further discuss how my previous success at XYZ Inc. can help you achieve your facebook marketing goals.
Step #8 - Use the right formal closing
Once you're done with the final paragraph, all you have to do is write down a formal "goodbye" and you're good to go.
Feel free to use one of the most popular conclusions to a cover letter:
Best Regards,
Kind Regards,
And we're finally done! Before sending off the cover letter, make sure to proofread it with software like Grammarly, or maybe even get a friend to review it for you.
Does your cover letter heading include all essential information?
Professional email
Relevant Social Media Profiles
Do you address the right person? I.e. hiring manager in the company / your future direct supervisor
Does your introductory paragraph grab the reader's attention?
Did you mention 2-3 of your top achievements?
Did you use numbers and facts to back up your experience?
Do you successfully convey that you're the right pro for the job?
Did you identify the core requirements?
Did you successfully convey how your experiences help you fit the requirements perfectly?
Do you convince the hiring manager that you're passionate about the company you're applying to?
Did you identify the top 3 things that you like about the company?
Did you avoid generic reasons for explaining your interest in the company?
Did you finalize the conclusion with a call to action?
Did you use the right formal closure for the cover letter?
5+ Cover Letter Examples
Need some inspiration? Read on to learn about some of the best cover letter examples we've seen (for different fields).
College Student Cover Letter Example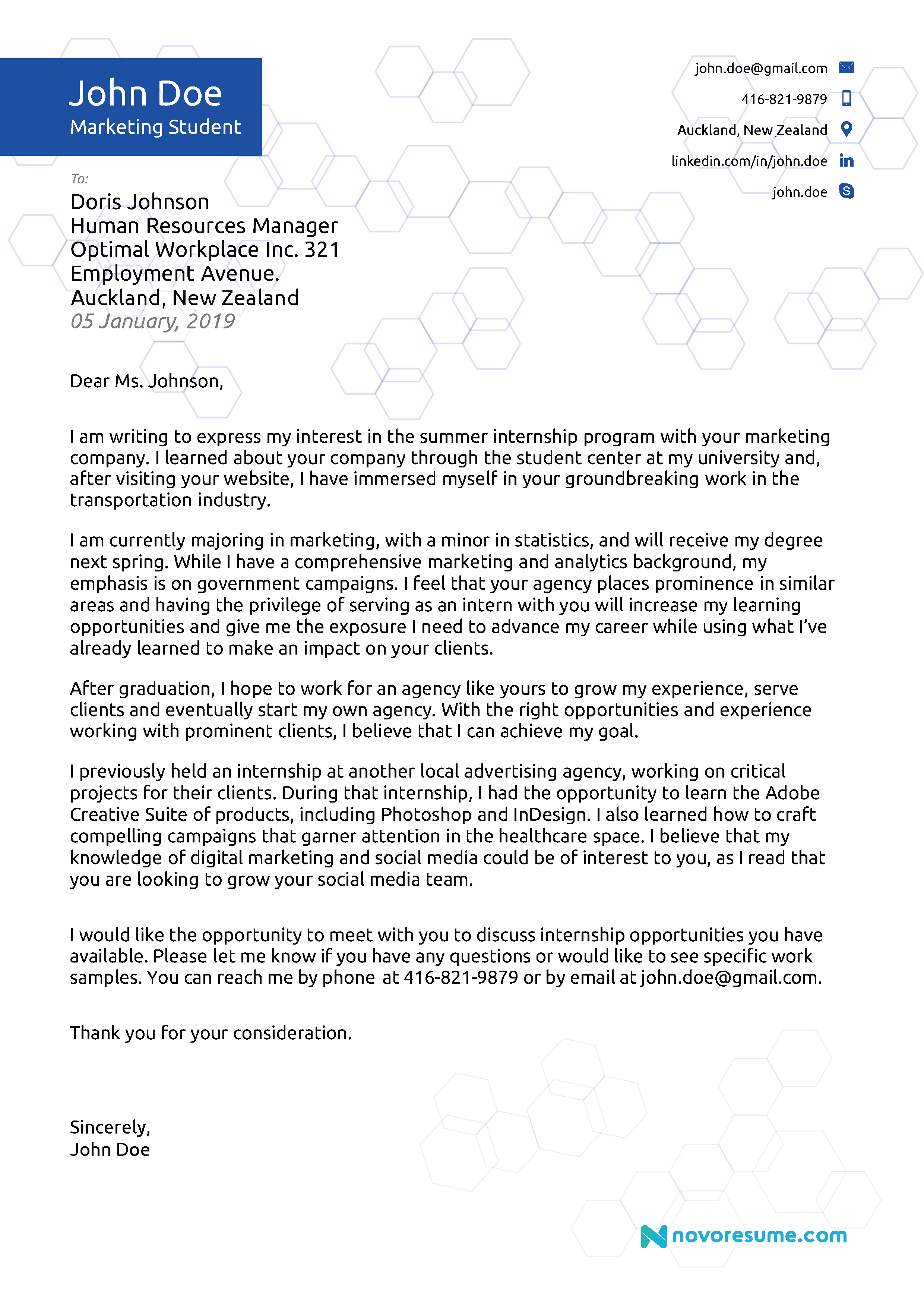 Middle Management Cover Letter Example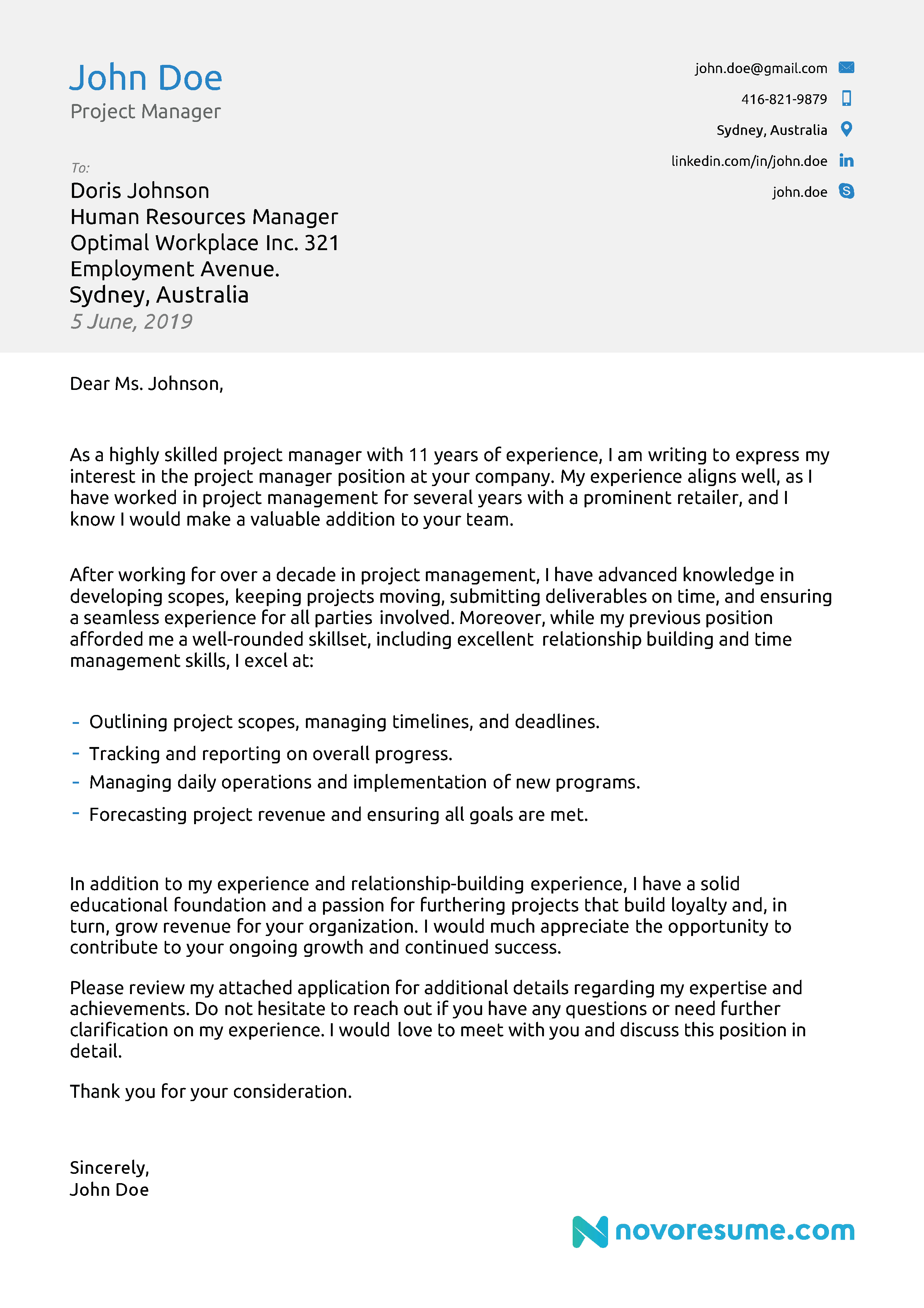 Career Change Cover Letter Example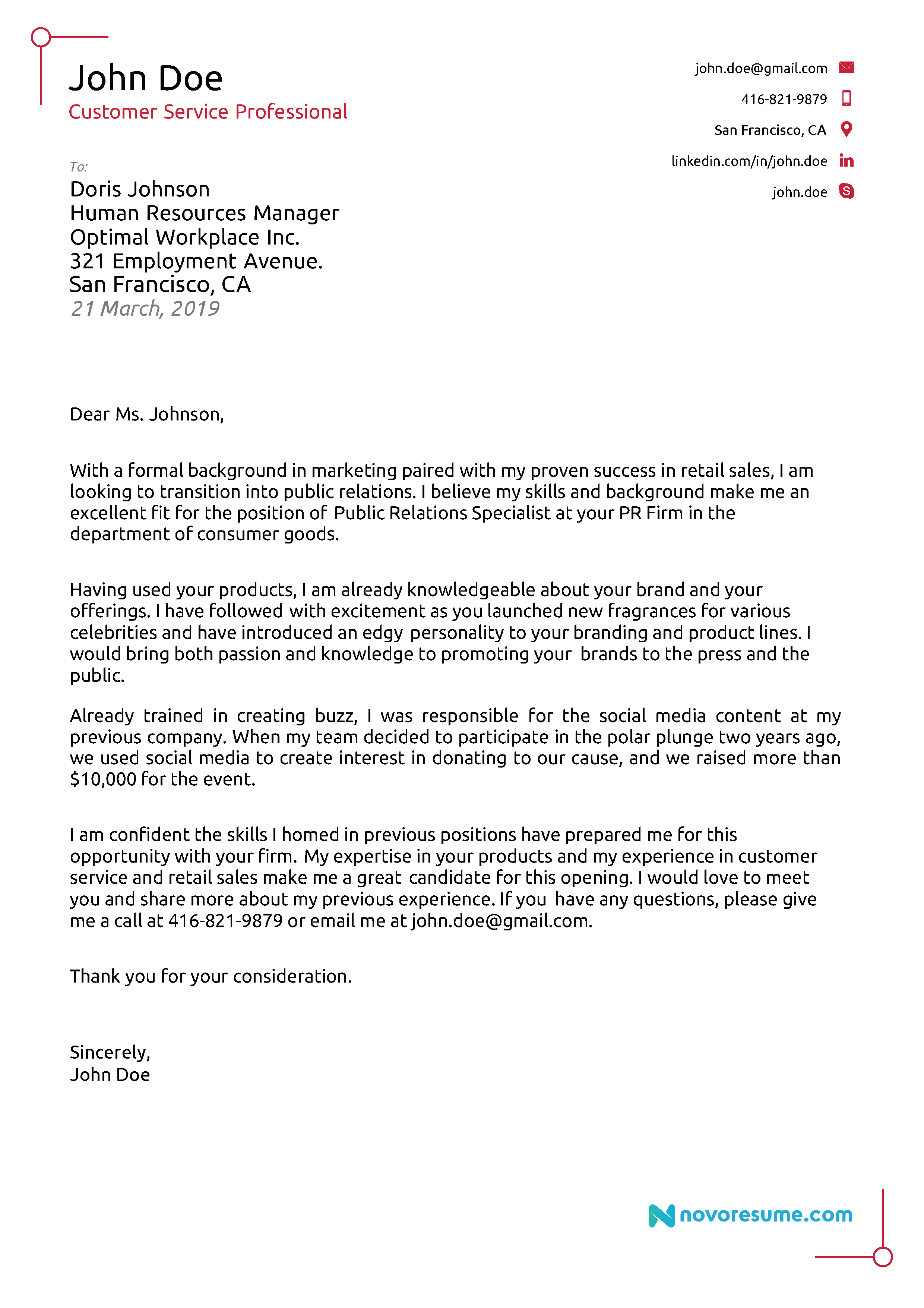 Management Cover Letter Example
Senior Executive Cover Letter Example
Want to discover more examples AND learn what makes them stand out? Check out our guide to cover letter examples .
Next Steps in Your Job Search - Creating a Killer Resume
Your cover letter is only as good as your resume. If either one is weak, your entire application is for naught. 
After all, a cover letter is just an introduction. Imagine going through all this effort to leave an amazing first impression, but flopping at the end because of a mediocre resume.
...But don't you worry, we've got you covered on that end, too.
If you want to learn more about Resumes & CVs, we have a dedicated FREE guide for that. Check out our complete guide on how to make a resume , as well as how to write a CV - our experts will teach you everything you need to know in order to land your dream job.
Or, if you're already an expert, just pick one of our resume templates and get started.
Key Takeaways
Now that we've walked you through all the steps of writing a cover letter, let's summarize everything we've learned:
A cover letter is a 250 - 400 word document that convinces the hiring manager of your competence
A cover letter goes in your job application alongside your resume
Your introduction to the cover letter should grab the hiring manager's attention and keep it all the way until the conclusion
There are 2 main topics you need to include in your cover letter: why you're the perfect candidate for the job & why you're passionate about working in the company you're applying to
Most of the content of your cover letter should be factual , without any fluff or generalizations
At Novorésumé, we're committed to helping you get the job you deserve, every step of the way! Follow our blog to stay up to date with the industry-leading advice. Or, check out some of our top guides…
How to Write a Motivational Letter
How to Write a Resume with No Work Experience
Most Common Interview Questions and Answers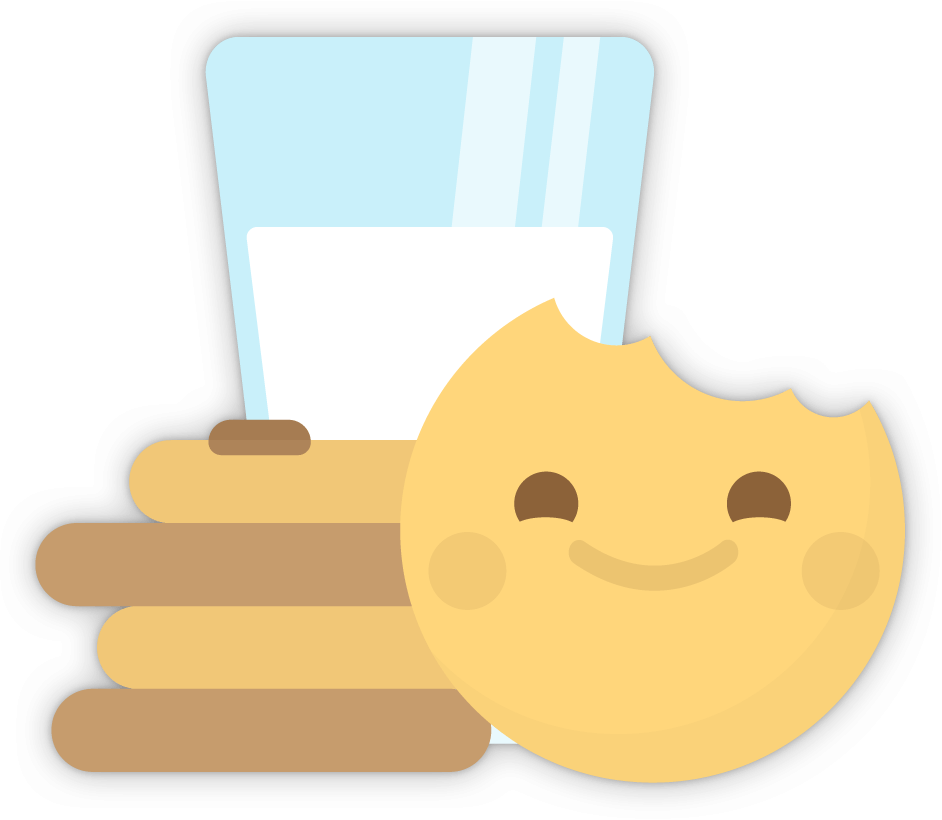 To provide a safer experience, the best content and great communication, we use cookies. Learn how we use them for non-authenticated users.
You control your data
We and our partners use cookies to provide you with our services and, depending on your settings, gather analytics and marketing data. Find more information on our Cookie Policy . Tap "Cookie Settings" to set preferences. To accept all cookies, click "Accept All".
Cookie settings
Click on the types of cookies below to learn more about them and customize your experience on our Site. You may freely give, refuse or withdraw your consent. Keep in mind that disabling cookies may affect your experience on the Site. For more information, please visit our Cookies Policy and Privacy Policy .
Choose type of cookies to accept
These cookies allow us to analyze our performance to offer you a better experience of creating resumes and cover letters. Analytics related cookies used on our Site are not used by Us for the purpose of identifying who you are or to send you targeted advertising. For example, we may use cookies/tracking technologies for analytics related purposes to determine the number of visitors to our Site, identify how visitors move around the Site and, in particular, which pages they visit. This allows us to improve our Site and our services.
These cookies give you access to a customized experience of our products. Personalization cookies are also used to deliver content, including ads, relevant to your interests on our Site and third-party sites based on how you interact with our advertisements or content as well as track the content you access (including video viewing). We may also collect password information from you when you log in, as well as computer and/or connection information. During some visits, we may use software tools to measure and collect session information, including page response times, download errors, time spent on certain pages and page interaction information.
These cookies are placed by third-party companies to deliver targeted content based on relevant topics that are of interest to you. And allow you to better interact with social media platforms such as Facebook.
These cookies are essential for the Site's performance and for you to be able to use its features. For example, essential cookies include: cookies dropped to provide the service, maintain your account, provide builder access, payment pages, create IDs for your documents and store your consents.
To see a detailed list of cookies, click here .
This site uses cookies to ensure you get the best experience on our website. To learn more visit our Privacy Policy

Cover Letter
How to Send an Email Cover Letter (Samples & Tips)
How to Send an Email Cover Letter (Samples & Tips)
As seen in:
If you're applying for a job via email instead of using job boards, you've got a golden opportunity to get remembered by the hiring manager. But t o make it happen, you need the best email cover letter out there. And you are going to have one.
Read on, and I'll show you:
An email cover letter sample that will help you land that interview.
A tried-and-true email cover letter format that showcases your most valuable strengths.
How to write an email cover letter to get any job you want.
Little known hacks for sending your cover letter email for greatest impact.
First, have a look at this universal, simple email cover letter sample. What do you think makes it so special?
Email Cover Letter Sample
Create your cover letter now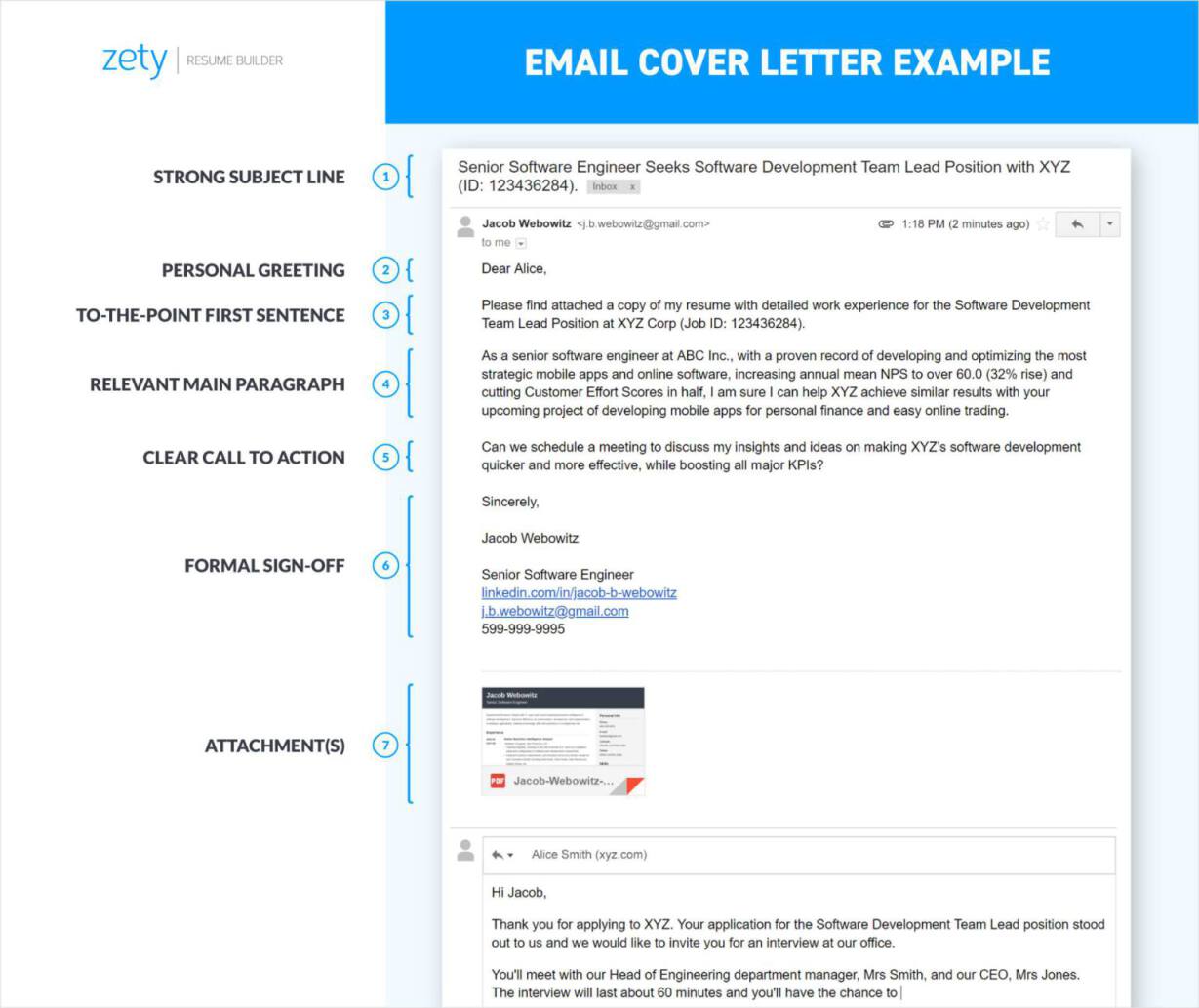 I'll tell you one thing, Jacob can expect the callback anytime!
An email cover letter is a short message explaining why you're submitting your resume and how your expertise makes you the right candidate. It adds a personal touch to your application. A cover letter email is shorter than a standard letter and sent in the body of an email itself.
As you can see above, you should format your email cover letter just as any other semi-formal email. Use a standard, elegant font and double spacing between paragraphs. At the bottom, include your contact information, just as you'd do in the footer of any professional email you send.
Writing a regular cover letter to attach to your resume email? Learn how to make the most of it from our complete cover letter writing guide: How to Write a Cover Letter for Any Job Application . For more tips on formatting your cover letter, see: Cover Letter Formatting Guide
One last thing before we go on:
Email Cover Letter—Body or Attachment?
Either. But not both. My suggestion is—if you're applying by email, you're risking that your message will reach the hiring manager in a hurry, so don't make them open TWO attachments. Write your cover letter in your email body and enclose only your resume.
Open Your Email Cover Letter with a Strong Subject Line
It won't matter if your achievements are breathtakingly impressive or your skills fit all requirements of the job you're trying to land…
If no one opens your job application email cover letter. And guess what? That depends only on the subject line.
Make the most of it. In the subject line for an email cover letter, include:
Who you are,
That you're applying for a job,
The position,
The company name,
Job ID (if applicable).
Like the candidate from our sample, Jacob did:
Sample Email Cover Letter Subject Line
Senior Software Engineer [1] Seeks [2] Software Development Team Lead [3] Position with XYZ [4] (ID: 123436284) [5] .
Pro Tip: The only instance when all of the above is of no consequence? When the employer demands all applicants to use the same subject line, for example, "Application for Position XYZ - [Your Name]." If so—you have to play by their rules.
How Long Should Your Cover Letter Email Subject Be?
As long as it needs to be in order to include all of the above info and as short as possible. Need an exact figure? Number of email subject characters displayed varies across devices and operating systems :
For desktop email applications it's within the range of 46 (Yahoo Mail) to 70 (Gmail).
Mobile email clients? From 30 characters (Android; portrait) to 64 characters (iPhone; landscape).
To stay on the safe side, begin your subject line with the name of your position. It's sure to stay within the narrowest, 30-character range, and the hiring manager will immediately know what vacancy the message is about.
Need more detailed information on how to apply for a job via email? Don't know how to find your hiring manager's email address? Here's a guide that will show you tons of useful tips and tricks: Job Application Email: How, When, Who to Send Your Resume To
When making a resume in our builder, drag & drop bullet points, skills, and auto-fill the boring stuff. Spell check? Check . Start building a professional resume template here for free .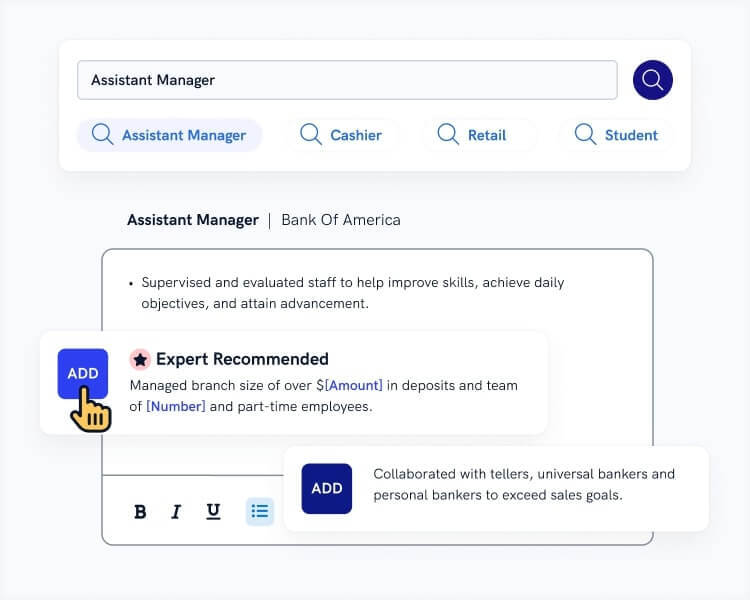 When you're done, our online resume builder will score your resume and our resume checker will tell you exactly how to make it better.
Use a Proper Greeting to Show Your Professionalism in an Email Cover Letter
The best way to start your cover letter email is with "Dear" + the hiring manager's name. Personalization will make the hiring manager feel like they're reading something made specifically for them.
Don't know the name of your hiring manager? Do some research! Tailored email cover letters are noticed better.
Double check the job ad.
Check LinkedIn. Job offers on LinkedIn often identify the one who did the posting.
Check the company website. Try to find the head of the department on the company's staff page.
Ask friends. You can use LinkedIn to check if you've got contacts at the company. A Facebook shout-out may work too.
Call. If all else fails, call the receptionist and ask who the contact person is.
Pro Tip: Tried all of the above to no avail? Go with "Dear [Team Name] Hiring Manager," or "Dear [Team Name] Hiring Team," for instance: "Dear Customer Service Hiring Manager" or "Dear Project Management Hiring Team." The two greetings you have to avoid are: "To Whom It May Concern," and "Dear Sir or Madam."
For more details on how to address your email cover letter, see this handy guide: How to Address a Cover Letter to the Right Person
Write a Short and Catchy First Sentence of the Cover Letter Email
Sending your cover letter in an email instead of using job boards is an excellent strategy for escaping the resume black hole . But there's one downside. While hiring managers book specific time slots for reviewing resumes and cover letters they got through their online recruitment systems, your email, as I said before, might reach them in a rush. For instance, heading out to a meeting or dealing with an urgent problem.
In an email cover letter, don't make the hiring manager read between the lines of some fancy storytelling. Be as straightforward as possible.
Now, see how the first sentence of an example email cover letter should look:
Email Cover Letter Example: First Sentence
Attached you will find my resume with detailed work experience for the position of [XYZ].
And that'll do.
For more tips on writing a short and snappy cover letter, see this guide: Short Cover Letter Examples for a Speedy Job Application
Make the Main Paragraph of Your Cover Letter Email Relevant
You're not applying for a job. You're applying for this job. For the hiring manager, it doesn't matter how great your career has been so far. What matters is how you can help the company with their upcoming tasks and challenges.
Show that in your email cover letter body:
Read the job description carefully, identify what your responsibilities will be.
Then, research the company online, try to find out what projects they're running or plan to launch in the future.
Outline your professional achievements that can translate into success in your prospective role.
Highlight what you have to offer.
Remember Jacob, the candidate from our sample?
The company he's applying to, XYZ Corp., is looking for a Software Development Team Lead to supervise the development of new mobile apps.
That's what his tailored, brief email cover letter reads:
Sample Email Cover Letter Body
As a senior software engineer at ABC Inc., with a proven record of developing and optimizing the most strategic mobile apps and online software, increasing annual mean NPS to over 60.0 (32% rise) and cutting Customer Effort Scores in half [your achievements most relevant to the job you're trying to land] , I am sure I can help XYZ achieve similar results [an offer to leverage your experience to the benefit of your future employer] with your upcoming project of developing mobile apps for personal finance and easy online trading [knowledge of your employer's plans and your responsibilities] .
Pro Tip: I can't stress this enough—an email cover letter has to be shorter than one you would include as an attachment. How short exactly? Your go-to word count should be 150, tops .
In need of some extra tips for your cover letter? Check out: 35+ Easy Cover Letter Tips You Can Use Today
Use a Call to Action to End Your Cover Letter Email
So the hiring manager knows you're a great candidate. Job done?
Not quite. Take an extra step. Reiterate your value in the call to action:
Ask the hiring manager to reach out to you and meet in person.
Once again, focus on what you have to offer .
Again, let's have a look at the call to action from our cover letter email sample:
Sample Email Cover Letter—Call to Action
Can we schedule a meeting [asking them to reach out to you] to discuss my insights and ideas on making XYZ's software development quicker and more effective, while boosting all major KPI s [restating your offer] ?
Pro Tip: The two worst things you can do in your email cover letter closing are coming off as needy ( I'm sure I'd make a great employee, just give me a shot!) or generic ( Thank you for your time and consideration ).
For more ideas on strong and compelling ways to finish your cover letter, go here: How to End a Cover Letter the Right Way
Include a Formal Sign-Off
Once you've written your email cover letter for a resume, you just need to put a formal greeting at the very end. Write "sincerely" and follow it with your full name.
If you're not a fan of the well-worn, "sincerely," feel free to use any of the following synonyms:
Sample email cover letter sign-offs:
Best regards,
Kind regards,
With best regards.
Pro Tip: Under your sign-off, put the necessary contact information, such as your LinkedIn profile, email address, and telephone number. To save yourself the effort of adding them every time you send an email covering letter, you can include them automatically in the footer of your email. You can also include a digital copy of your handwritten signature. It will add a nice, professional touch.
Remember About Attachments
So you've just written your perfect email cover letter. Now you're basically guaranteed to land that interview, right?
Wrong. Let me just quote what one recruiter wrote in her LinkedIn article:
Don't think I need to explain further, do I?
Pro Tip : If you have forgotten to attach a resume to your email cover letter, don't resend the whole message, just shoot a quick follow-up email with your resume attached. Would rather avoid this nightmare scenario? Attach all the necessary documents before you start writing a cover letter email.
And it is fine to say " Please find attached my resume " (though there are alternatives).
It makes all the more sense to write that because Gmail will see the word attached/attachment, check if you have in fact attached anything, and prompt you if you haven't!
One last thing to keep in mind... Choose a professional resume file name :
"[Your first and last names]-resume-[the company name]," for example: John-Smith-resume-Intel NOT My-resume-124 .
Plus, a great cover letter that matches your resume will give you an advantage over other candidates. You can write it in our cover letter builder here. Here's what it may look like: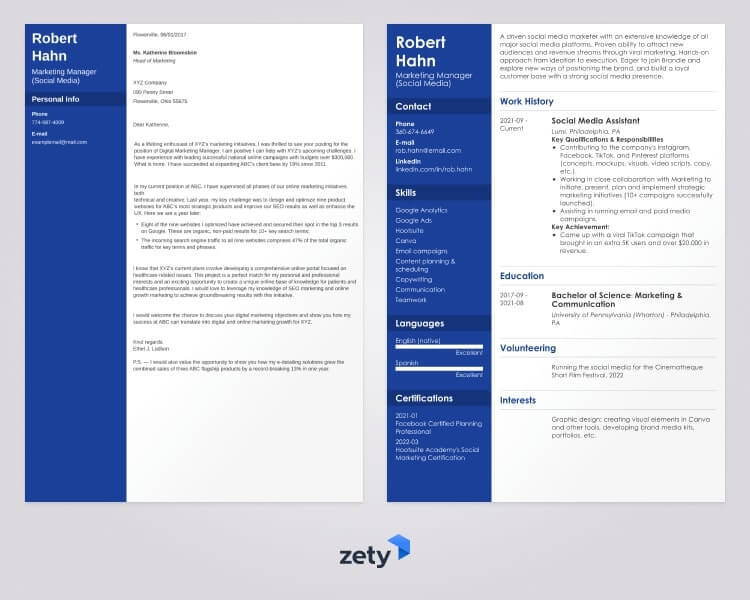 See more cover letter templates and start writing.
Key Takeaway
To write a perfect cover letter email for a job application, follow these steps:
Use our email cover letter template.
Apply a clear, strong subject line.
Open with a proper greeting—address the hiring manager by their name.
In the first sentence, explain why you're writing and what position you're targeting.
Write a brief main paragraph that outlines your most relevant experience and achievements.
Close with a call to action—ask to schedule a meeting and reiterate your offer.
Sign-off with a "sincerely" synonym and your full name.
Put your contact details in the footer.
Don't forget to attach a resume to your cover letter email!
And, for the final piece of advice:
Keep it short.
Got any additional questions about writing and sending a cover letter email? Want to share your experience with applying by a direct email message? Give me a shout in the comments. I can't wait to hear out your thoughts. Let's chat!
About Zety's Editorial Process
This article has been reviewed by our editorial team to make sure it follows Zety's editorial guidelines . We're committed to sharing our expertise and giving you trustworthy career advice tailored to your needs. High-quality content is what brings over 40 million readers to our site every year. But we don't stop there. Our team conducts original research to understand the job market better, and we pride ourselves on being quoted by top universities and prime media outlets from around the world.
Don't miss out on exclusive stories that will supercharge your career!
Get a weekly dose of inspiration delivered to your inbox
Similar articles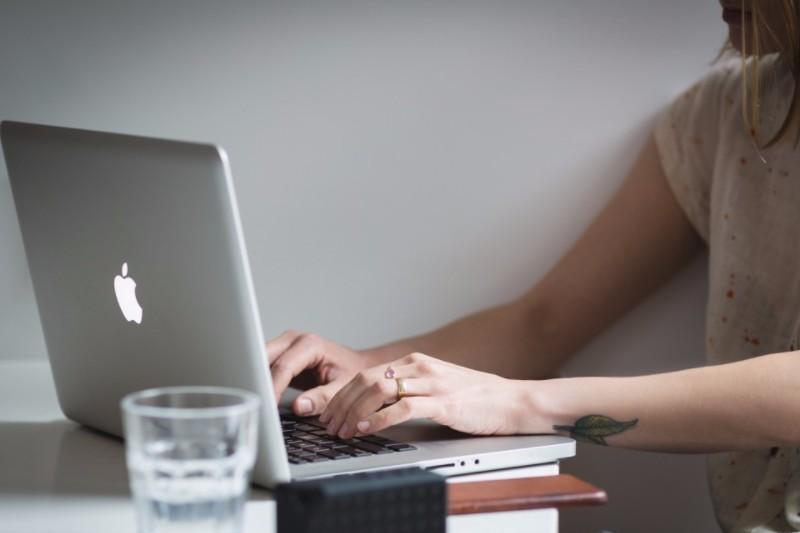 Are Cover Letters Necessary in 2023? Do You Need One?
Your resume is perfect and ready to be sent. But what about your cover letter? Is a cover letter necessary? We have the answer!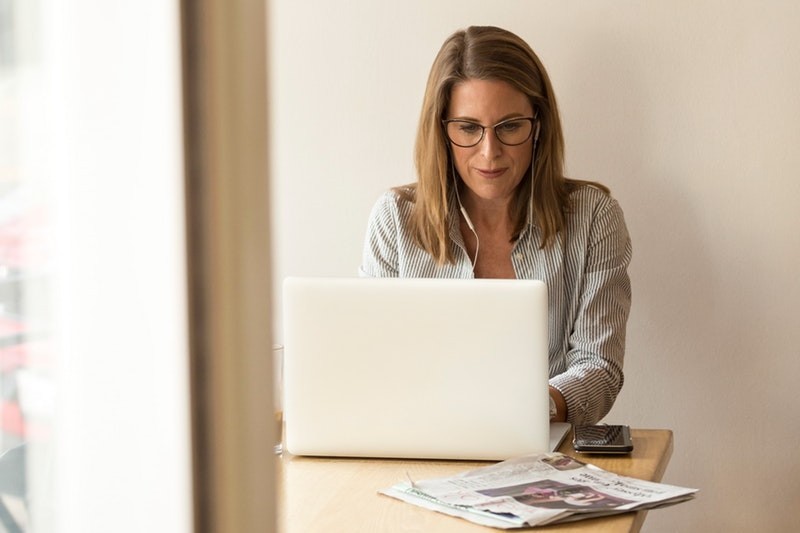 Cover Letter Spacing & Margins (Double Space or Not?)
You've written a great cover letter. But will the hiring team disqualify you if you flub your cover letter spacing? No, but use our guide to make sure you don't look sloppy.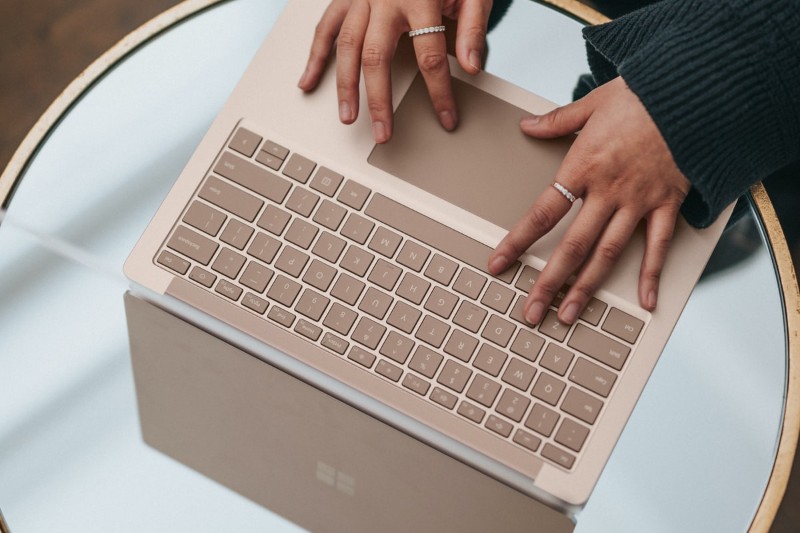 How to Write a Formal Cover Letter: Examples, Format & Guide
Your cover letter needs to look professional so hiring managers don't dismiss you. Use this formal cover letter guide and sample to show your skills in a business-friendly way.