Career Advice
Cover Letters
Web Developer Cover Letter
A web developer cover letter should outline what makes you the right candidate for the job and showcase your background and skills in web development. It should convey your enthusiasm for the role and include a brief overview of your education, professional experience, and top achievements.
Web Developer — Free Cover Letter Template
Download our free web developer cover letter template in MS Word format.
Web Developer Cover Letter Example:
[Full name]
[Physical address]
[Email address]
[Contact number]
[Company name]
Re: Application for the position of web developer
Dear [Recipient's Name] ,
I am writing in application for the web developer position at [company name] as advertised in [where you found the job posting] . My training and experience in the field of programming and web design along with my ability to [mention at least two skills that are listed in the job requirements] make me the perfect candidate for the job. I know that I would be a valuable addition to the team at [company name] .
I have a [qualification] from [educational institution] and have more than [number of years] of experience as a web developer. I have extensive knowledge of [list web development programming languages and specific coding and programming tasks] and outstanding [add key skills that align with the job requirements] .
In my most recent role at [previous employer] , I achieved [describe an accomplishment and strengthen it with a percentage, if possible] , which improved [mention the effect this accomplishment had on the company in question] .
I am excited to be applying to [company] and for the opportunity to [describe how your skills and expertise would benefit the company] . I truly admire [mention notable milestones or characteristics you appreciate about the company] and would feel privileged to a member of the team at [company name] .
Please find attached my resume and [mention any other documents that were requested, if applicable] . Feel free to contact me directly should you require anything further.
Thank you for your time and consideration. I look forward to hearing from you.
[Your full name]
How to Write a Web Developer Cover Letter:
A step-by-step guide to writing the perfect web developer cover letter.
Address your letter.
Address the hiring manager directly..
Address your letter directly to the hiring manager, recruiter, employee, or whoever the person is that put out the job posting.
Avoid generic greetings.
If a contact name is supplied or if it is possible to find out a name, avoid using a general greeting such as "To whom it may concern" or "Dear Sir/Madam." Use the relevant title before the person's last name — for example, "Dr. Blake" or "Mr. Lee."
Start with an introduction.
Keep your introduction brief..
In no more than three sentences , tell the person why you are writing and what position you are applying for.
Indicate that you meet the stated job requirements.
Your writing should reflect the exact job title and you should briefly highlight key job advertisement requirements that you meet, for example, evaluating code and analyzing technical requirements.
Mention that feel you are the best fit for the job.
Use one sentence to clearly state that you feel you are a great candidate for the web developer position.
Outline your experience and skills.
Briefly discuss your qualifications..
Refer back to the job advertisement and directly address the stated requirements. Write a few sentences on your qualifications and training as a web developer and where you studied.
Web developers are typically expected to have a Bachelor's degree in computer science or a related field.
Highlight your years of experience.
Indicate how many years you've worked as a web developer and where you worked. Keep this to a single sentence as you will be discussing your exact duties and work experience further on.
Match your core skills to those mentioned in the job ad.
Start by matching prominently featured duties and responsibilities mentioned in the job ad with core skills and competencies from your resume. For example, if the job ad requires knowledge of a specific programming language such as JavaScript, mention the extent of your proficiency in that language.
Offer some insight into other relevant skills to give the hiring manager or recruiter a better idea of your abilities. Mention things like your experience in application development and testing, responsive design, and more.
Discuss your most recent job.
In a few sentences , talk about your most recent role. Revisit the job description to ensure that you align your responsibilities with the key competencies they require.
This might include successfully developing a web application that optimized user experience, designing custom features as per client requirements, etc.
Showcase your accomplishments.
Highlight your biggest achievements in your previous job..
Discuss your biggest accomplishments in your previous job, for example, developing database architecture and server scripting, optimizing user interfaces, and more.
Add metrics to your job achievement descriptions.
If possible, include metrics to emphasize the impact of your achievements on the projects assigned to you, for example, leading a team that designed an e-commerce website that increased the company's sales by 37 percent. The more specific you are, the better.
Celebrate the organization.
Mention a few things you know about the company..
Do a bit of research and mention two or three specific things that show your enthusiasm and admiration for the company, for example, their reputation, notable milestones, and company culture.
Reinforce that you would be a perfect fit for the job by mentioning desirable character traits, such as being a detail-oriented problem-solver with excellent interpersonal skills. Let them know that you are eager and excited to join their team.
Highlight the reasons why you want to work there.
Discuss why being a web developer at their organization appeals to you. Typically, this would include mention of their area of specialization and how you envisage adding value to their products or services.
End with a call to action.
Mention that you would like to hear from them..
Refer the reader to your attached resume and any additional documents that may have been requested. Invite them to have a look at your website or portfolio that showcases a range of your web development projects.
Encourage them to contact you via phone or email should they need additional information and let them know that you look forward to hearing from them.
Close your letter by thanking the reader and signing off.
Offer your thanks for their time and consideration. End your letter by adding "sincerely" or an acceptable synonym and sign off with your full name.
Similar Cover Letters:
Front-end developer .
Java developer .
Software developer .
Software engineer .
UX designer .
Common Cover Letter Mistakes
How do you write a web developer cover letter?
Address your letter .
Start with an introduction .
Outline your experience and skills .
Showcase your accomplishments .
Celebrate the organization .
End with a call to action .
How long should a web developer cover letter be?
A web developer cover letter should not be longer than one page. It should contain a brief introduction, two or three paragraphs that outline your education and experience along with specific examples of your capabilities, and end with a brief closing paragraph.
What should be included in a web developer cover letter?
A web developer cover letter should include your personal details and a brief overview of your education, experience, competencies, and achievements.
Related Articles:
Web developer job description, how to write a cover letter [a complete guide], hire web designers, how to find web developers, web designer cover letter.
Professional Web Developer Cover Letter Example for 2023
Read for inspiration or use it as a base to improve your own Web Developer cover letter. Just replace personal information, company application data and achievements with your own.

Read a real web developer cover letter example
What to write a web developer cover letter, pair your cover letter with a web developer resume that beats luck, key takeaways.
Web developer cover letters are the opportunity you may be missing out on to make a good first impression on recruiters.
As we all know, the demand for professionals in this competitive field is on the rise.
It comes as no surprise that the requirements for web developers (in 2022) are even more particular regarding skills and qualifications.
Not only this, but recruiters are searching for web developers who would be an ideal fit in the company culture.
Here's your chance to let hiring managers know that you are the candidate that they are looking for - with Enhancv's step-by-step guide to writing web developer cover letters.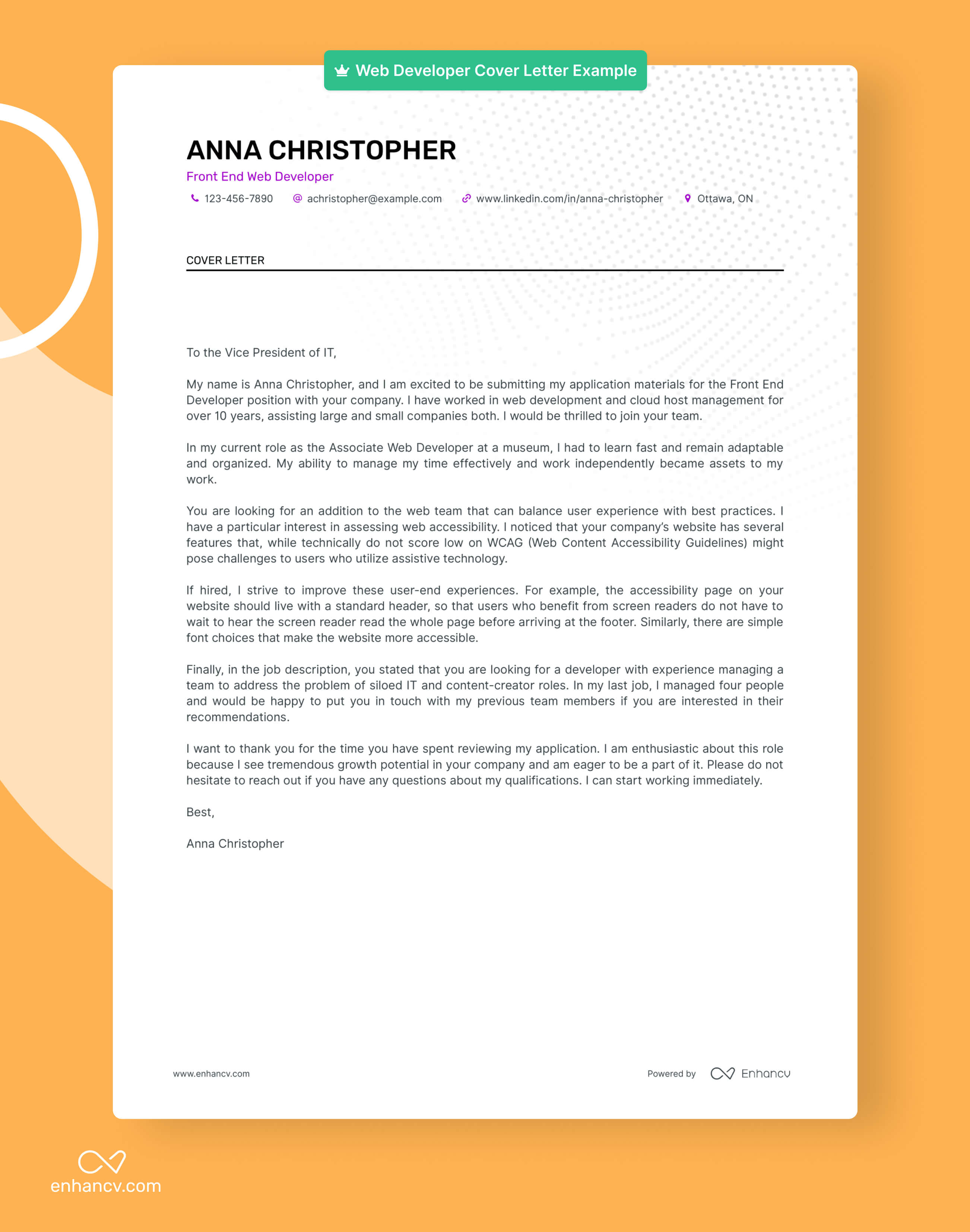 You never get a second chance to make a first impression.
That's one of the main reasons why you should curate your web developer cover letter as personalized (user) experience for recruiters.
Still not convinced that you need a cover letter to go along with your job application? Find out why they are your winning strategy to get your dream job in 2022 and beyond.
Your web developer cover letter's different sections should include:
salutation and introduction;
skills that make you a great web developer;
research into the company;
ending with a call to action.
To make your cover letter even better, add some brief and catchy professional storytelling with a balanced hint of enthusiasm.
Interested in finding out more details about storytelling and cover letters? Then check out our detailed article on how to tell a story in your cover letter .
There's so much more about the structure you don't want to miss out on, so let's go!
Choose the right salutation
Your web developer cover letter's intent is to prove you are the candidate for the job (and also personable).
That's why you need to pay attention to the slightest details - starting off with the salutation.
This should reflect upon your knowledge of the person you're writing to.
Whether that's:
Dear Mr/Ms/Mrs [Last Name],
Dear [First and Last Name],
Or, perhaps, the more vague (but still appropriate) cover letter salutations:
Dear [name of team or department you're applying for a position in],
Dear [company name] Recruiter,
To the [name of the team you are applying for a position in] Department,
Dear [hiring manager, recruiter, or name of point of contact],
The only mistake you can make here is to address recruiters with the clichéd "Dear Sir or Madam".
Want to see more options about how to start off your cover letter? Read our in-depth guide on what's the best way to address a cover letter .
Craft a strong introduction
What is all the fuss about the introduction of your web developer cover letter?
Well, those first few (and brief) sentences are the magnet that reel in your readers - enticing them to find out more.
The web developer cover letter introduction should showcase your enthusiasm and commitment towards the given role and company.
And also answer why you are applying.
While writing the introduction, you can:
Fill it with web developer technical terms. Use the job advert as a reference for the technical skills that are sought out. A good idea here would be to include numbers, as well as your years of field experience.
Highlight your accomplishments. The introduction could also pinpoint your biggest accomplishments. When writing about them, remember to use all relevant technical skills you used to build/maintain websites.
Whatever approach you decide to take for the introduction, remember not to go into too much detail.
Emphasizing on your web developer skills in your cover letter
When writing a web developer cover letter, use the skills segment to highlight that you meet the technical description of the role.
It may vary if you are applying for a front-end, back-end, or webmaster role.
To pass any recruiters' applicant tracking systems (ATS), use the job requirements as a reference to write about your most relevant skills (and experience).
Your skills section should hence highlight your qualifications, accomplishments, and years of experience within a systematic framework.
So you can think about your experience with the following:
User interface /responsive design;
Coding (e.g. HTML, PHP, or XML for front-end developers; Python, JavaScript, or Ruby for back-end developers);
Testing and troubleshooting;
Technical SEO.
Describe situations around your experience with these skills, and always focus on results and numbers.
Don't just tell – but show you understand the given technology.
This would go to prove to recruiters that you are an excellent fit for the role.
If you don't happen to have any experience as a web developer, you still have a good shot. Check out our complete guide on what you should include in your cover letter .
Top soft skills for web developers
Client care - within your work as a web developer, you'd have to collaborate with different associates (e.g. stakeholders, designers, and clients) to achieve results. Your ability to show respect and an understanding of their thoughts would be vital.
Patience - this essential skill would show that you are resilient when facing challenges; that you don't let emotions affect you and rather have a calm and systematic approach to problem-solving.
Visual thinking - as a web developer, you need to be able to visualize how your clients' ideas should look within the digital space. They may present you with unclear instructions, but you need to have a bit of imagination to help them get the website they need/want.
Show that you did your research before applying
Towards the end of your writing, it's a good idea to remind recruiters that you are diligent within all aspects of your work - especially your web developer cover letter.
This is the section to show them that you've done your homework about the company/organization.
Seize the moment to congratulate them on any recent recognitions or awards they might have won.
You can even talk about their impressive portfolio - with a focus on projects you really like.
Or, if you want to follow a different train of thought, you can write about how you'd imagine developing within the role.
This would highlight that you're not only familiar with their line of work, but have the ambition to grow beyond what's expected.
The final call to action
The closing words of your cover letter are a chance to go full circle.
Within the previous sections, you've proven to recruiters why they should select you and what your technical and soft skills are.
Now it's time for action!
Use these final couple of sentences to suggest what should follow - with your availability for an interview or your willingness to work within the team.
You can even make recruiters' lives easier by including your contact details and any relevant links to your work.
Check out our guide for more advice on ending your cover letter .
Your web developer cover letter is only as good as your resume.
Have you considered what the design should be for both documents?
We have two detailed guides about the formats of cover letters and resumes to help you out.
The thing to remember about writing both documents is to take your time, be consistent, and pay attention to the details.
Because your resume and cover letter are part of your job-winning strategy in 2022.
Use your web developer cover letter to make a good impression on recruiters with achievements, qualifications, and professional storytelling
Take your readers on a structured journey with intent - always remember that by the end of your cover letter, recruiters need to know why they should choose you
When talking about your experience or skills, always remember to show the key outcomes and illustrate them with numbers
Your cover letter should end with a call to action - think about what your preferable next steps would be and suggest them. It's up to you to get that dream job
If you include a link to your portfolio towards the end of your web developer cover letter, this would further highlight your technical skills and creativity. It would also ensure that recruiters are actually looking at your work.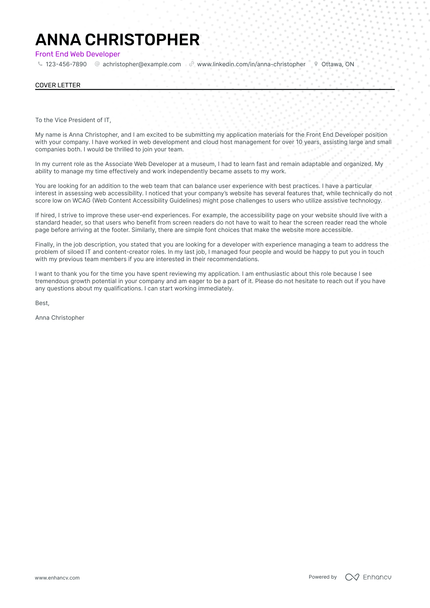 Cover letter examples by industry
Computer Science
Computer Engineer
Senior Software Engineer
It Director
Computer Technician
Data Science Intern
Desktop Support
Devops Engineer
Software Tester
Project Engineer
Program Analyst
Software Engineer Intern
Entry Level Software Engineer
Network Engineer
Data Mining
Android Developer
Quality Engineer
It Specialist
Etl Developer
System Administrator
Java Developer
Entry Level Network Engineer
Front End Developer
Software Architect
Python Developer
Informatica
Sql Developer
Wordpress Developer
Junior Data Scientist
Microservices
Big Data Engineer
Golang Developer
Network Security Engineer
Data Analyst
Data Engineer
Data Scientist
Director of Engineering
Director of Software Development
Director Of Software Engineering
Entry Level IT
Javascript Developer
Full Stack Developer
Junior Java Developer
Php Developer
Salesforce Admin
Software Engineer
Software Developer
Game Developer
QA Engineer
Salesforce Developer
Data Analyst Intern
Software Engineering Intern
Solutions Architect
System Analyst
Cover letters helped people get noticed
Updated for today's recruitment standards
Worried your cover letter design is past the expiration date? We'll help you craft a new one that leaves an impression and beats luck.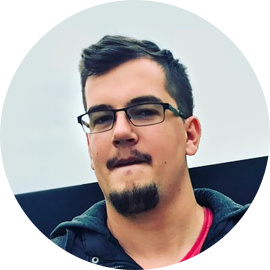 Daniel Pietersen
Senior customer support engineer.
" Enhancv gave me a sense of relief and a feeling of confidence when passing it along to a potential employer. "
Daniel Pietersen on using Enhancv
Check out more winning cover letter examples for inspiration
Learn from people who have succeeded in their job hunt.
Hvac Cover Letter
Financial Advisor Cover Letter
Nanny Cover Letter
Resident Assistant Cover Letter
Program Manager Cover Letter
Police Officer Cover Letter
Math Teacher Cover Letter
School Bus Driver Cover Letter
Therapist Cover Letter
School Counselor Cover Letter
Dental Hygienist Cover Letter
Loan Processor Cover Letter
Pair your cover letter with a matching resume for guaranteed success
If you want to leave a long-lasting impression, pair your cover letter with an equally good resume.
Check out our Web Developer resume examples or hire an expert to help you.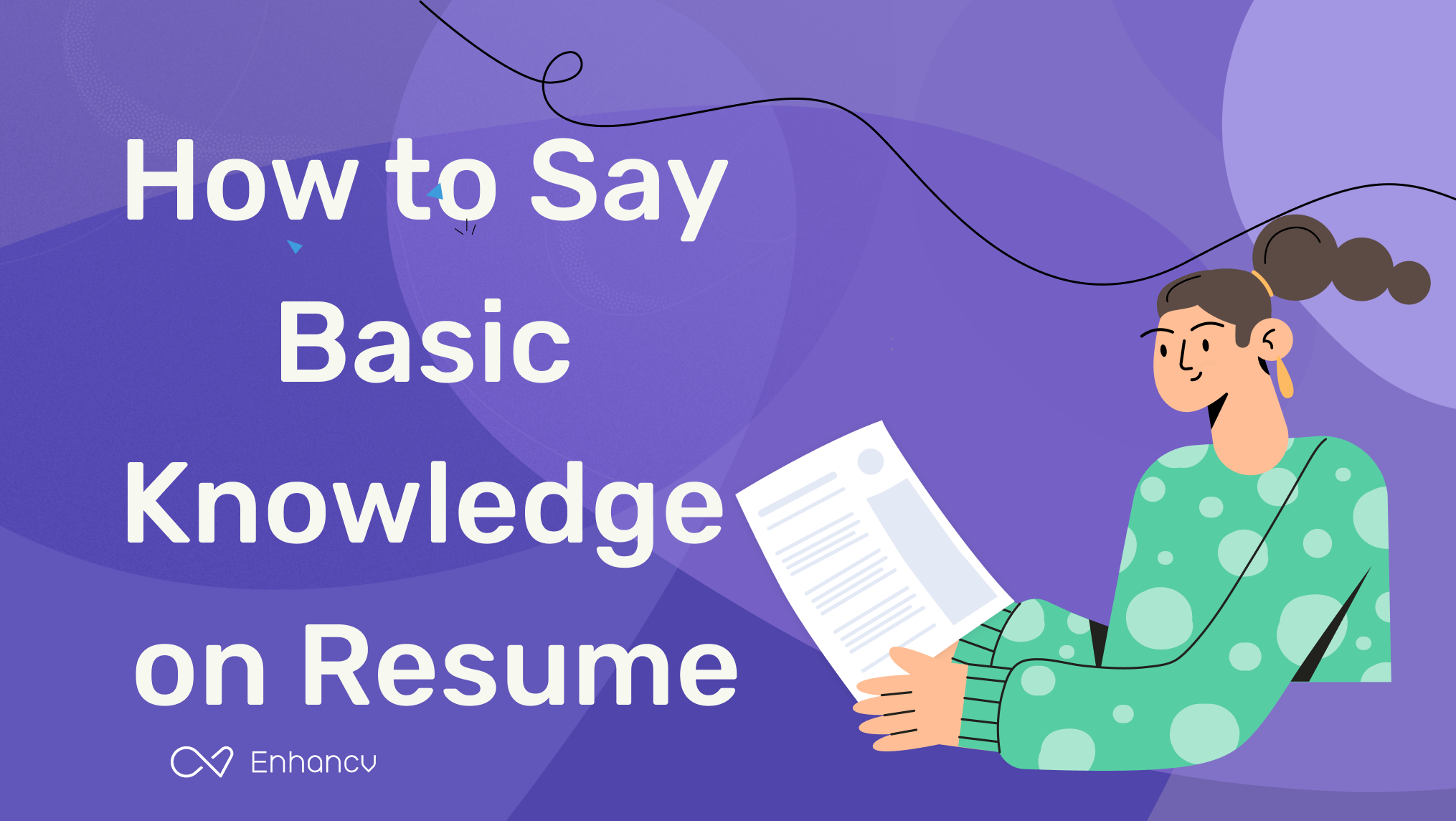 Effectively Showcasing Basic Knowledge on Your Resume

What Game of Thrones needs: an HR department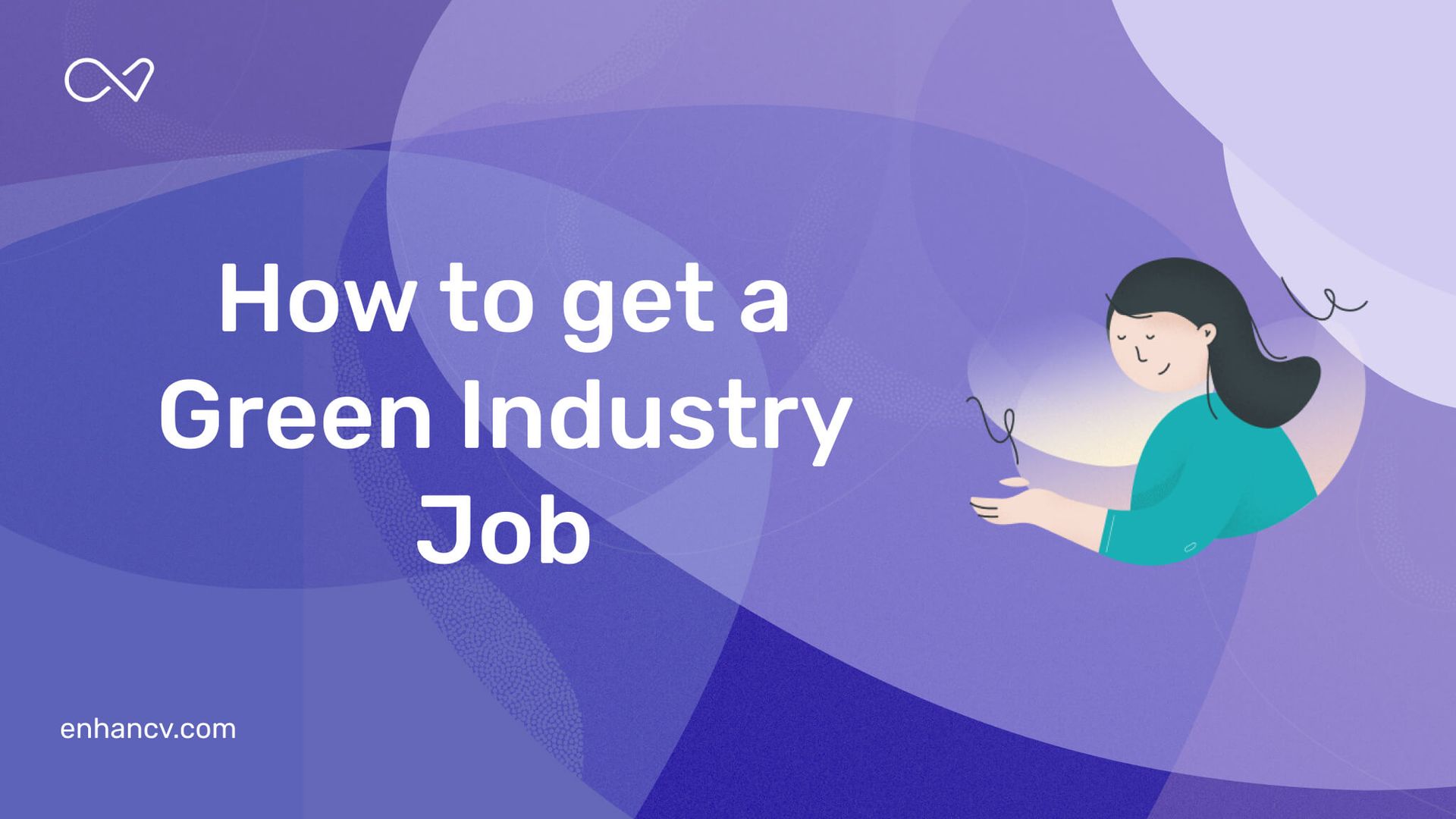 How to Get a Green Industry Job – Essential Skills and 20+ Green Careers (with salaries)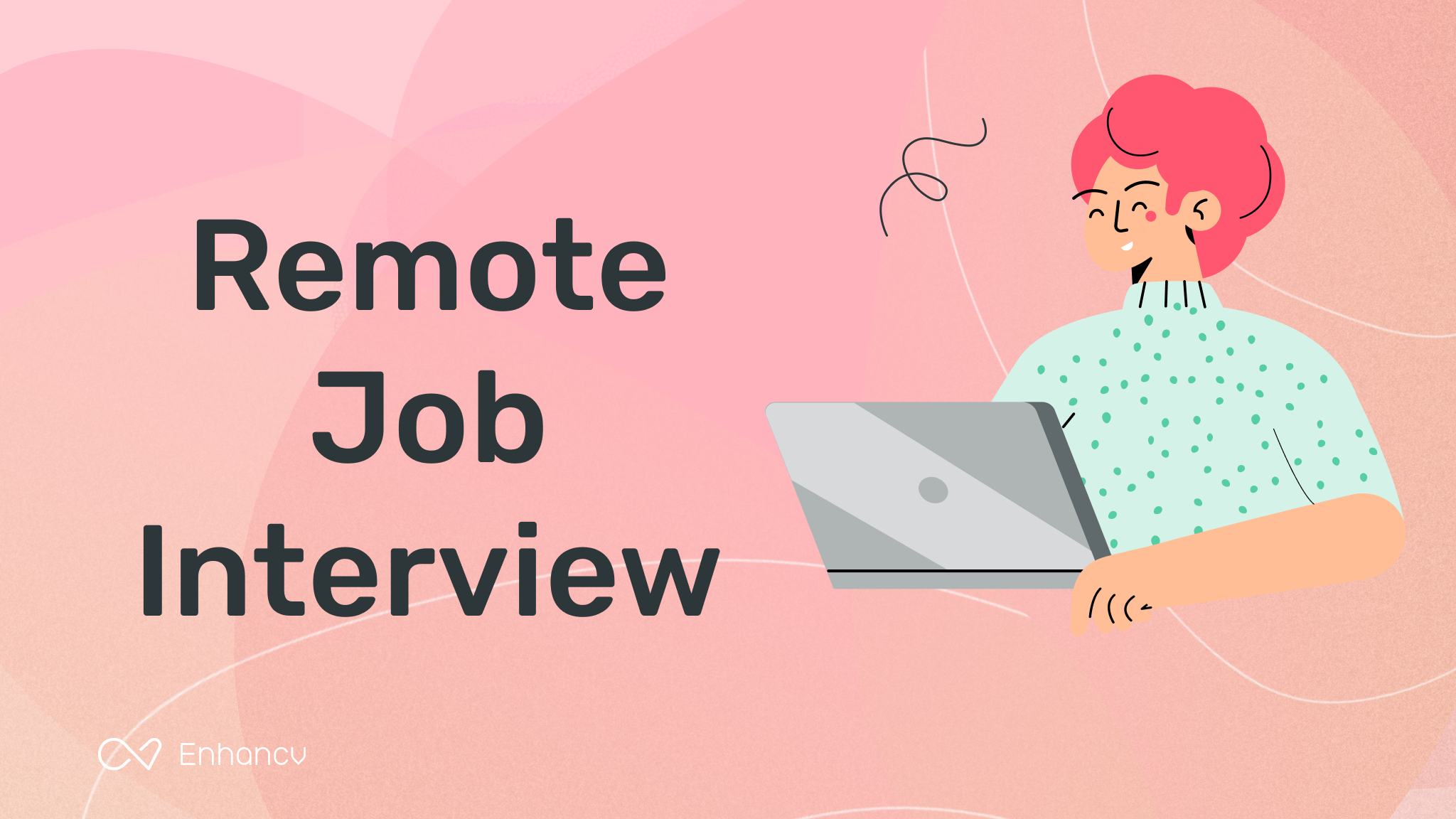 How to Nail Your Remote Job Interview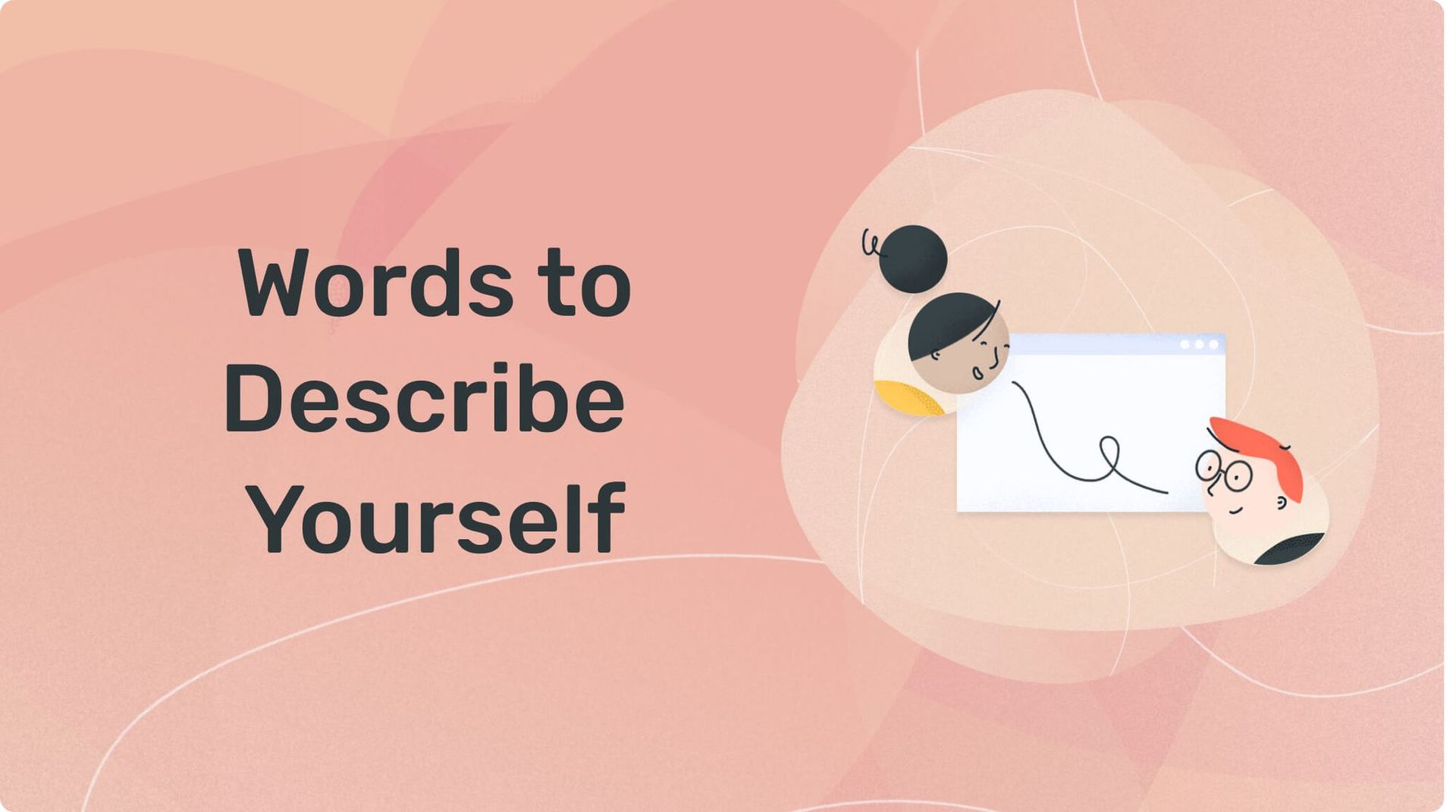 The Best Words to Describe Yourself on a Resume

Joey's dating resume trending on BuzzFeed
Create Resume
Terms of Service
Privacy Policy
HTML Sitemap
Resume Examples
Resume Templates
Resume Formats
Resume Checker
Resume Skills
How to Write a Resume
Modern Resume Templates
Simple Resume Templates
Cover Letter Builder
Cover Letter Examples
Cover Letter Templates
Cover Letter Formats
How to Write a Cover Letter
Resume Guides
Cover Letter Guides
Job Interview Guides
Job Interview Questions
Career Resources
Meet our customers
Career resources
English (UK)
French (FR)
Swedish (SE)
© 2023 . All rights reserved.
Made with love by people who care.
PDFelement for Windows
PDFelement for Mac
PDFelement on Mac App Store
PDF Reader for Windows
PDFelement for iPhone/iPad
Get from App Store
PDFelement for Android
Get from App Google Play
InstaScan - PDF Scanner for iPhone
Document Cloud
PDFelement Pro DC
PDFelement SDK
Educational Users
Personal Users
Convert PDF
Compress PDF
Organize PDF
Professional Users
Protect PDF
Extract PDF Data
AI-Powered PDF Tool
eSign PDFs Legally
Pricing Pricing
Mac Software
OCR PDF Tips
Sign PDF Tips
Edit PDF like Word
PDF Converter Tips
PDF Compressor Tips
Why PDFelement
Industry Solution
Customer Stories
PDF Software Comparison
Contact Support
PDFelement for iOS
InstaScan for iPhone
Explore More
Reviews See what our users say.
Free PDF Templates Edit, print, and customize free templates.
PDF Knowledge PDF-related information you need.
Download Center Download the most powerful and simple PDF tools.
Download Download Buy Now Buy Now
Web Developer Cover Letter Sample
Since the invention of the Worldwide Web in the early 1990s, the internet has become central to our lives. People developing the services and applications for use on the net have become some of the most important people in the business. Jobs are highly competitive, so your web developer cover letter needs to stand out. Use the below cover letter web developer example as a starting point for writing your own cover letter for web developer roles.
# Web Developer Cover Letter Template
# Web Developer Cover Letter Sample
# Tips for Writing Web Developer Cover Letter
# How to Edit Web Developer Cover Letter Template
Web Developer Cover Letter Template
This is a free cover letter template for web developers. Free Download and customize it according to the sample text below.
Supported formats
Web developer cover letter sample (text).
Mary Marquis Address: xxxxxxxxx xxxxxxxxxx Tel: xxxxxxxxxxxxxxxxx Email: xxxxxxxx Linkedin: xxxxxxxxxxxxxxx
Dear Marcus,
I recently saw your job advertisement for the new web developer position at your company and believe I would be perfect for the role.
Since an early age I have had a strong interest in programming through playing Minecraft, this interest led me to create new worlds within the game and also develop a fan site for fans using HTML. I recently graduated with a First-Class honors degree in Wed Development from MidWestern University and have since then been working developing a new website for an ecommerce company.
I have a wide and working knowledge of all major programming languages including HTML, Java, PHP, Python, CHS, PHP and C++ and I have an expert knowledge of the best third-party platforms to achieve various different outcomes. Whether working with platforms like Wordpress or building bespoke new systems I have always been commended for my high quality and practical solutions.
Since the launch of the new ecommerce site the company has enjoyed a 15% increase in site speed and the new, simplified booking system I created has increased online orders by 25%. Now that this site is in the maintenance phase rather than development I am looking for new challenges for my skills.
Despite your company working in a field that is completely new to me I believe that my previous experience and skills will be of huge benefit to you and will help you achieve your goals. I admire how your current web site and services are already ahead of the curve, using the most up-to-date technology. Building on this is something that excites me massively, and your culture is one that I would like to become part of.
I believe we have much to discuss and I would love to provide more information on how I could fill your web developer position. I am available for a conversation at any time.
Thanks for your time.
Kind regards, Mary Marquis
Tips for Writing a Web Developer Cover Letter
The field of web development is fast becoming one of the most essential as more and more of our lives more online. Competition for these roles is also becoming more competitive so your cover letter for web developer roles needs to stand out. There are many different cover letter examples web developer available online but the above cover letter sample for web developer jobs is a great starting point. The below advice and tips with help you get the most out of the above sample web developer cover letter.
Keep your letter to the point and short. You should write no more than one-side of A4.
While your letter does need to be well-written the focus needs to be on your web developing and technical knowledge. Write using technical language and buzzwords that illustrate your knowledge of the field.
This is important! Research who the exact contact you need to send the cover letter too is and address the letter directly to them. Employers spend just eight seconds choosing whether to pursue a candidate or not. Not addressing the letter to them directly is a sure-fire way to get rejected.
One thing can help you succeed – proofreading. Make sure you look over your web developer cover letter in detail for typos and mistakes before sending it off. If it is possible, get someone else to read over it as well.
Start your web developer cover letter by briefly explaining why you are writing the letter and what you want to inform the employer of. Make them aware that you are great for the job.
Outline your past experience and skills to start drumming up employer interest in what you are offering. This candidate takes a different route by explaining their interest in programming from an early age before explaining their recent academic qualifications. They also outline their recent employment history. At the stage don't give away too much information as you want the employer to want to contact you for more information.
Expand on your skills and successes. The candidate explains their proficiency in the various programming languages and then explains some of the success their company's new site has enjoyed, using statistics. Again, don't give away too much information.
Employers aren't just looking for people with the right qualifications and experience, they are looking for the right personality fit for their company. Explain what you like about their work and company culture and how you can fit into that.
Close the letter by reminding them you are perfect for the role and they should get in touch with you to discuss things further. Leave them with no doubt you are keen and available to talk.
How to Edit Web Developer Cover Letter Template
A beautiful and strong PDF cover letter will help you land an interview successfully. To make a unique PDF cover letter for web developer, you can download the template first and edit it with Wondershare PDFelement - PDF Editor . This ultimate PDF editor can help you create and edit PDF documents with texts, images, font size, signature etc.
Step 1. Open the Web Developer Cover Letter Template
Step 2. Click on "Edit" and Enter Your Text as You Like
Step 3. Complete and Save Your Web Developer Cover Letter
Posted by Elise Williams to Updated: 2023-07-31 17:27:18
Recommend Articles
Tutor Cover Letter Sample - How to Write
Supply Chain Cover Letter Sample - How to Write
Property Management Cover Letter Sample - How to Write
Software Comparison
Birthday Wishes
Holiday Wishes
Business Tips
Cover Letter
Real Estate
Infographics
Mac How-Tos
Mac Comparison
macOS 10.14
Available for Windows, Mac, iOS, and Android.
Skip and Download Skip and Download

Front End Web Developer Cover Letter Example (Free Guide)
Create an front end web developer cover letter that lands you the interview with our free examples and writing tips. use and customize our template and land an interview today..
Are you a Front End Web Developer looking for your next career opportunity? Writing a cover letter can be a daunting task, but with our comprehensive guide, you'll be able to craft a letter that will help you stand out from the crowd and get the job you're looking for.
We will cover:
How to write a cover letter, no matter your industry or job title.
What to put on a cover letter to stand out.
The top skills employers from every industry want to see.
How to build a cover letter fast with our professional Cover Letter Builder .
What a cover letter template is, and why you should use it.
Related Cover Letter Examples
Windows Administrator Cover Letter Sample
CTO Cover Letter Sample
Computer Engineer Cover Letter Sample
Computer Repair Technician Cover Letter Sample
Cyber Security Analyst Cover Letter Sample
Cyber Security Engineer Cover Letter Sample
Android Developer Cover Letter Sample
Computer Scientist Cover Letter Sample
Front End Engineer Cover Letter Sample
Front End Web Developer Cover Letter Sample
Full Stack Developer Cover Letter Sample
CTO & Founder Cover Letter Sample
CTO & Co-Founder Cover Letter Sample
Dear Hiring Manager,
I am writing to express my interest in the Front End Web Developer position at [Company Name]. With over five years of experience in the industry, I am confident that I have the necessary skills and qualifications to be a successful addition to your team.
My background includes developing web applications, creating user interfaces, and coding with HTML, CSS, and JavaScript. I am experienced in creating high-performance, responsive websites from scratch, as well as maintaining and optimizing existing sites. I am also knowledgeable in the latest web technologies and frameworks, such as React, Angular, and Vue.js.
I am especially skilled in troubleshooting and debugging website issues, ensuring the highest quality user experience. I am highly organized, and I have a proven track record of meeting deadlines and delivering projects on time. Most importantly, I am passionate about web development and I strive to stay up-to-date on the latest trends and technologies.
I am confident that I can bring value to [Company Name] and I am excited to discuss my qualifications and experience in more detail. I have attached my resume for your review and I look forward to hearing from you.
Sincerely, [Your Name]
Why Do you Need a Front End Web Developer Cover Letter?
A Front End Web Developer cover letter is an important part of your job application and is an opportunity to explain why you are the right fit for the role. Here are some reasons why you need a Front End Web Developer cover letter:
To Showcase Your Skills: A cover letter allows you to showcase your skills and experience in an effective and concise manner. It is your chance to demonstrate your knowledge of web development and how it can benefit the company.
To Introduce Yourself: A cover letter is an opportunity to introduce yourself to the hiring manager and explain why you are the best candidate for the job. You can also include information about your background and qualifications that are relevant to the role.
To Stand Out: A cover letter can be a great way to stand out from other applicants and make your application stand out. By highlighting your strengths and emphasizing why you are the right fit for the role, you can increase your chances of being selected for an interview.
To Show Your Passion: A cover letter is an opportunity to show your passion for web development and convince the hiring manager that you are the right person for the job. You can also use the cover letter to explain why you are passionate about the role and why you think you are the best candidate.
A Few Important Rules To Keep In Mind
Start your cover letter by introducing yourself and briefly outlining your experience with Front End Web Development.
Explain why you are interested in the position and why you are the ideal candidate for the role.
Highlight the skills and knowledge that you possess that are relevant to the role.
Provide examples of work you have done in the past that demonstrate the skills you have.
Address any of the requirements of the role that you meet.
Include contact information in the letter.
Keep the cover letter concise and to the point.
Proofread the cover letter for errors.
End the letter with a professional closing.
What's The Best Structure For Front End Web Developer Cover Letters?
After creating an impressive Front End Web Developer resume , the next step is crafting a compelling cover letter to accompany your job applications. It's essential to remember that your cover letter should maintain a formal tone and follow a recommended structure. But what exactly does this structure entail, and what key elements should be included in a Front End Web Developer cover letter? Let's explore the guidelines and components that will make your cover letter stand out.
Key Components For Front End Web Developer Cover Letters:
Your contact information, including the date of writing
The recipient's details, such as the company's name and the name of the addressee
A professional greeting or salutation, like "Dear Mr. Levi,"
An attention-grabbing opening statement to captivate the reader's interest
A concise paragraph explaining why you are an excellent fit for the role
Another paragraph highlighting why the position aligns with your career goals and aspirations
A closing statement that reinforces your enthusiasm and suitability for the role
A complimentary closing, such as "Regards" or "Sincerely," followed by your name
An optional postscript (P.S.) to add a brief, impactful note or mention any additional relevant information.
Cover Letter Header
A header in a cover letter should typically include the following information:
Your Full Name: Begin with your first and last name, written in a clear and legible format.
Contact Information: Include your phone number, email address, and optionally, your mailing address. Providing multiple methods of contact ensures that the hiring manager can reach you easily.
Date: Add the date on which you are writing the cover letter. This helps establish the timeline of your application.
It's important to place the header at the top of the cover letter, aligning it to the left or center of the page. This ensures that the reader can quickly identify your contact details and know when the cover letter was written.
Cover Letter Greeting / Salutation
A greeting in a cover letter should contain the following elements:
Personalized Salutation: Address the hiring manager or the specific recipient of the cover letter by their name. If the name is not mentioned in the job posting or you are unsure about the recipient's name, it's acceptable to use a general salutation such as "Dear Hiring Manager" or "Dear [Company Name] Recruiting Team."
Professional Tone: Maintain a formal and respectful tone throughout the greeting. Avoid using overly casual language or informal expressions.
Correct Spelling and Title: Double-check the spelling of the recipient's name and ensure that you use the appropriate title (e.g., Mr., Ms., Dr., or Professor) if applicable. This shows attention to detail and professionalism.
For example, a suitable greeting could be "Dear Ms. Johnson," or "Dear Hiring Manager," depending on the information available. It's important to tailor the greeting to the specific recipient to create a personalized and professional tone for your cover letter.
Cover Letter Introduction
An introduction for a cover letter should capture the reader's attention and provide a brief overview of your background and interest in the position. Here's how an effective introduction should look:
Opening Statement: Start with a strong opening sentence that immediately grabs the reader's attention. Consider mentioning your enthusiasm for the job opportunity or any specific aspect of the company or organization that sparked your interest.
Brief Introduction: Provide a concise introduction of yourself and mention the specific position you are applying for. Include any relevant background information, such as your current role, educational background, or notable achievements that are directly related to the position.
Connection to the Company: Demonstrate your knowledge of the company or organization and establish a connection between your skills and experiences with their mission, values, or industry. Showcasing your understanding and alignment with their goals helps to emphasize your fit for the role.
Engaging Hook: Consider including a compelling sentence or two that highlights your unique selling points or key qualifications that make you stand out from other candidates. This can be a specific accomplishment, a relevant skill, or an experience that demonstrates your value as a potential employee.
Transition to the Body: Conclude the introduction by smoothly transitioning to the main body of the cover letter, where you will provide more detailed information about your qualifications, experiences, and how they align with the requirements of the position.
By following these guidelines, your cover letter introduction will make a strong first impression and set the stage for the rest of your application.
Cover Letter Body
As an experienced Front End Web Developer, I am excited to apply for the open position. With a degree in Web Development and over six years of experience in the field, I am confident that I can be a great asset to your team.
I have extensive experience in creating and maintaining high-quality web applications that meet the needs of users through a combination of coding, design, and usability. I have also worked on a wide variety of projects, from small, local business websites to complex, enterprise-level applications. My expertise includes the following:
HTML and CSS: I have extensive knowledge of HTML and CSS, including best practices for creating responsive web pages that adapt to different screen sizes and resolutions.
JavaScript: I have extensive knowledge of JavaScript, including libraries such as jQuery, React, and Angular.
Web Design: I have an eye for design and understand how to create visually appealing websites that are both user-friendly and meet the needs of the client.
Database Management: I have experience working with both SQL and NoSQL databases, such as MySQL and MongoDB.
Testing and Debugging: I have extensive experience testing and debugging web applications, ensuring that they are free of errors and perform as expected.
I am a highly motivated and organized individual, and I am always looking for ways to improve my skills and knowledge of web development. I thrive in a fast-paced environment and I am comfortable working with tight deadlines. I am confident that I can be a valuable asset to your team.
I am excited for the opportunity to discuss my qualifications further. Please do not hesitate to contact me if you have any questions or would like to schedule an interview. Thank you for your time and consideration.
Complimentary Close
The conclusion and signature of a cover letter provide a final opportunity to leave a positive impression and invite further action. Here's how the conclusion and signature of a cover letter should look:
Summary of Interest: In the conclusion paragraph, summarize your interest in the position and reiterate your enthusiasm for the opportunity to contribute to the organization or school. Emphasize the value you can bring to the role and briefly mention your key qualifications or unique selling points.
Appreciation and Gratitude: Express appreciation for the reader's time and consideration in reviewing your application. Thank them for the opportunity to be considered for the position and acknowledge any additional materials or documents you have included, such as references or a portfolio.
Call to Action: Conclude the cover letter with a clear call to action. Indicate your availability for an interview or express your interest in discussing the opportunity further. Encourage the reader to contact you to schedule a meeting or provide any additional information they may require.
Complimentary Closing: Choose a professional and appropriate complimentary closing to end your cover letter, such as "Sincerely," "Best Regards," or "Thank you." Ensure the closing reflects the overall tone and formality of the letter.
Signature: Below the complimentary closing, leave space for your handwritten signature. Sign your name in ink using a legible and professional style. If you are submitting a digital or typed cover letter, you can simply type your full name.
Typed Name: Beneath your signature, type your full name in a clear and readable font. This allows for easy identification and ensures clarity in case the handwritten signature is not clear.
Common Mistakes to Avoid When Writing a Front End Web Developer Cover Letter
When crafting a cover letter, it's essential to present yourself in the best possible light to potential employers. However, there are common mistakes that can hinder your chances of making a strong impression. By being aware of these pitfalls and avoiding them, you can ensure that your cover letter effectively highlights your qualifications and stands out from the competition. In this article, we will explore some of the most common mistakes to avoid when writing a cover letter, providing you with valuable insights and practical tips to help you create a compelling and impactful introduction that captures the attention of hiring managers. Whether you're a seasoned professional or just starting your career journey, understanding these mistakes will greatly enhance your chances of success in the job application process. So, let's dive in and discover how to steer clear of these common missteps and create a standout cover letter that gets you noticed by potential employers.
Not including a portfolio or list of relevant experience and projects.
Using a generic, unpersonalized cover letter.
Failing to mention specific technical skills and proficiencies.
Not tailoring the cover letter to the job description.
Including typos, grammatical errors, and other mistakes.
Lack of enthusiasm or passion for the role.
Using an unprofessional email address.
Not providing enough detail or information.
Focusing too much on yourself rather than the company.
Key Takeaways For a Front End Web Developer Cover Letter
Solid understanding of HTML, CSS, and JavaScript
Knowledge of modern web development tools and frameworks
Ability to work collaboratively with designers and other developers
Experience in cross-browser compatibility and responsive design
Proficiency in debugging and optimization techniques
Strong problem-solving and debugging skills
Excellent communication and teamwork skills