Manager Cover Letter Example + Tips
4.5/5 stars with 504 reviews
Your cover letter is one of the most important parts of a successful job search. To land the job you want, you need to be sure that your letter makes the right impression, convincing a hiring manager to take a closer look at your resume. The following free manager cover letter sample presents a good example of the proper organizational structure and language. Using it as a framework for showcasing your own skills and experience can help you take your letter to the next level.
Dear Mr. Jackson,
As a manager, I strive to add value to my company through effective organization and team motivation. I am highly interested in bringing my extensive managerial experience to work for you.
Your job posting indicates that you are looking for a goal-oriented manager to lead a midsize team. At my previous place of employment, I had the opportunity to supervise a department for over ten years. During my tenure, I implemented organizational changes within my department that improved workflow and raised efficiency, resulting in shorter turnaround times for projects.
In my capacity as a manager, I pride myself on my ability to build workplace relationships and motivate team members. I prioritize timely and effective feedback given in a constructive manner. I help my team to achieve their best and to take pride in their work.
I appreciate this opportunity to bring my qualifications to your attention. I would enjoy discussing them further with you in person.
Average Rating
What to include in a manager cover letter.
Now that you have reviewed the free manager cover letter sample, here are some tips to help you perfect your own letter. Following the four-paragraph template presented in the sample allows you to keep your writing clear and concise, while touching on the most important qualifications. Be sure to read the job posting carefully and let your letter show that you meet this employer's needs.
Industry Specific Skills to Include
Employers typically seek managers with a particular skillset. As shown in the free manager cover letter sample, your letter should note some of the following managerial skills.
● Highly organized: Your job will require you to keep track of multiple projects and employees at the same time. A good manager is efficient at creating and adhering to schedules and deadlines. ● Results-driven: A manager must always keep her or his eye on the goal and assess the ways in which any given project will ultimately affect it. ● Good motivator: As a supervisor, you will need to work closely with your team members as well as other departments. Your success will depend on the work your team members do. ● Calm under pressure: Managers are subject to a lot of stress on an ongoing basis. It is key to success that you remain calm and continue to work effectively even in high-pressure situations.
Related Skills
Email blasts and newsletters
Crash recoveries
Newsletter writing
Disaster Recovery Planning
Coverage interpretations
Discovery process
Managerial skills
Letter typing
Recovery efforts and assistance
Appropriate test coverage
More Resume Examples for the Next Step in Your Business Operations Career
Business Development Associate Resume
Business Management Resume
Enterprise Management Trainee Resume
General Manager Resume
ISO Management Representative Resume
Liaison Officer Resume
Manager Resume
Operations Manager Resume
PMO Analyst Resume
Risk Analyst Resume
Salon Manager Resume
Vendor Relationship Manager Resume
More Cover letter Examples for the Next Step in Your Business Operations Career
Business Owner Cover Letter
CEO Cover Letter
Business Development Manager Cover Letter
Executive Cover Letter
Executive Director Cover Letter
Operations Manager Cover Letter
Operations Supervisor Cover Letter
Owner Operator Cover Letter
Shift Manager Cover Letter
Vice President Cover Letter
More Cv Examples for the Next Step in Your Business Operations Career
Business Analyst CV
Business Controller CV
Director Of Operations & Writing Tips, Questions, And Salaries CV
Ecommerce QA Tester Resume CV
Advertisement

Team Manager Cover Letter Example (Free Guide)
Create an team manager cover letter that lands you the interview with our free examples and writing tips. use and customize our template and land an interview today..
Are you looking to apply for a job as a Team Manager? Use this guide to create an effective cover letter that will help you stand out from the competition. Here, you'll find tips and advice on how to write an engaging introduction, demonstrate your qualifications, and express your enthusiasm for the role. Follow these steps and your team manager cover letter will be sure to make a great impression.
We will cover:
How to write a cover letter, no matter your industry or job title.
What to put on a cover letter to stand out.
The top skills employers from every industry want to see.
How to build a cover letter fast with our professional Cover Letter Builder .
What a cover letter template is, and why you should use it.
Related Cover Letter Examples
Team manager cover letter sample.
Transcriber Cover Letter Sample
Administration Manager Cover Letter Sample
Department Manager Cover Letter Sample
Executive Administrator Cover Letter Sample
Business Advisor Cover Letter Sample
Business Owner Cover Letter Sample
CEO Cover Letter Sample
Director Of Human Resources Cover Letter Sample
CEO & Founder Cover Letter Sample
CEO & Co-Founder Cover Letter Sample
Chairman & Founder Cover Letter Sample
Chairman & Co-Founder Cover Letter Sample
Dear [Hiring Manager],
I am writing to apply for the Team Manager position advertised on [Job Board]. I am confident that my experience and qualifications make me an ideal candidate for this job.
I have been working in management and team leadership for the past [#] years. During this time, I have successfully managed teams ranging from [#] to [#] members, in both remote and in-person settings. My teams have consistently exceeded expectations, both in terms of team performance and individual contributions.
I have a strong track record in motivating and leading teams to deliver high-quality results. I am adept at fostering collaboration and communication among team members, and have a proven ability to manage complex projects and prioritize tasks. I am also highly organized and can ensure that deadlines are met and objectives achieved.
In addition, I am knowledgeable in a variety of tools and software, including [list software here]. I have a good understanding of how to use these tools to optimize team performance and productivity.
I am confident that I can bring my experience and skills to your team, and I am eager to contribute to your success. I am available for an interview at your convenience and I look forward to discussing this opportunity with you further.
Thank you for your time and consideration.
Sincerely, [Your Name]
Why Do you Need a Team Manager Cover Letter?
A Team Manager cover letter is an important document that can help you stand out from the competition when applying for a Team Manager position.
A Team Manager cover letter helps you to highlight your unique skills and experience that make you the ideal candidate for the job.
It also allows you to explain why you are passionate about the role and why you are the best person for it.
A Team Manager cover letter also provides an opportunity to showcase your communication and interpersonal skills, and to demonstrate your enthusiasm for the job.
Finally, a Team Manager cover letter allows you to express your interest in the role, and demonstrates your commitment to the position.
A Few Important Rules To Keep In Mind
Start your letter by introducing yourself and expressing enthusiasm for the role.
Highlight your experience that is most relevant to the role and explain why you feel you are the best fit.
Describe your prior successes as a team manager and how you have managed teams in the past.
Explain your ability to motivate and inspire teams to achieve desired results.
Highlight the key skills and qualifications that will make you an effective team manager.
Provide an example of a project you have managed in the past and how it was successful.
Explain your commitment to developing team members and creating a positive work environment.
Conclude your letter by expressing your interest in the role and reiterating your qualifications.
What's The Best Structure For Team Manager Cover Letters?
After creating an impressive Team Manager resume , the next step is crafting a compelling cover letter to accompany your job applications. It's essential to remember that your cover letter should maintain a formal tone and follow a recommended structure. But what exactly does this structure entail, and what key elements should be included in a Team Manager cover letter? Let's explore the guidelines and components that will make your cover letter stand out.
Key Components For Team Manager Cover Letters:
Your contact information, including the date of writing
The recipient's details, such as the company's name and the name of the addressee
A professional greeting or salutation, like "Dear Mr. Levi,"
An attention-grabbing opening statement to captivate the reader's interest
A concise paragraph explaining why you are an excellent fit for the role
Another paragraph highlighting why the position aligns with your career goals and aspirations
A closing statement that reinforces your enthusiasm and suitability for the role
A complimentary closing, such as "Regards" or "Sincerely," followed by your name
An optional postscript (P.S.) to add a brief, impactful note or mention any additional relevant information.
Cover Letter Header
A header in a cover letter should typically include the following information:
Your Full Name: Begin with your first and last name, written in a clear and legible format.
Contact Information: Include your phone number, email address, and optionally, your mailing address. Providing multiple methods of contact ensures that the hiring manager can reach you easily.
Date: Add the date on which you are writing the cover letter. This helps establish the timeline of your application.
It's important to place the header at the top of the cover letter, aligning it to the left or center of the page. This ensures that the reader can quickly identify your contact details and know when the cover letter was written.
Cover Letter Greeting / Salutation
A greeting in a cover letter should contain the following elements:
Personalized Salutation: Address the hiring manager or the specific recipient of the cover letter by their name. If the name is not mentioned in the job posting or you are unsure about the recipient's name, it's acceptable to use a general salutation such as "Dear Hiring Manager" or "Dear [Company Name] Recruiting Team."
Professional Tone: Maintain a formal and respectful tone throughout the greeting. Avoid using overly casual language or informal expressions.
Correct Spelling and Title: Double-check the spelling of the recipient's name and ensure that you use the appropriate title (e.g., Mr., Ms., Dr., or Professor) if applicable. This shows attention to detail and professionalism.
For example, a suitable greeting could be "Dear Ms. Johnson," or "Dear Hiring Manager," depending on the information available. It's important to tailor the greeting to the specific recipient to create a personalized and professional tone for your cover letter.
Cover Letter Introduction
An introduction for a cover letter should capture the reader's attention and provide a brief overview of your background and interest in the position. Here's how an effective introduction should look:
Opening Statement: Start with a strong opening sentence that immediately grabs the reader's attention. Consider mentioning your enthusiasm for the job opportunity or any specific aspect of the company or organization that sparked your interest.
Brief Introduction: Provide a concise introduction of yourself and mention the specific position you are applying for. Include any relevant background information, such as your current role, educational background, or notable achievements that are directly related to the position.
Connection to the Company: Demonstrate your knowledge of the company or organization and establish a connection between your skills and experiences with their mission, values, or industry. Showcasing your understanding and alignment with their goals helps to emphasize your fit for the role.
Engaging Hook: Consider including a compelling sentence or two that highlights your unique selling points or key qualifications that make you stand out from other candidates. This can be a specific accomplishment, a relevant skill, or an experience that demonstrates your value as a potential employee.
Transition to the Body: Conclude the introduction by smoothly transitioning to the main body of the cover letter, where you will provide more detailed information about your qualifications, experiences, and how they align with the requirements of the position.
By following these guidelines, your cover letter introduction will make a strong first impression and set the stage for the rest of your application.
Cover Letter Body
Dear [Name],
I am writing to express my interest in the position of Team Manager at [Company]. With over [x] years of experience in project management positions, I am confident I can bring valuable knowledge and expertise to the role and your organization.
I am a proven leader who is able to effectively manage large and complex projects. My expertise in team management and project management have enabled me to successfully lead teams and achieve project objectives. I have extensive experience with developing and implementing strategies for efficient team operations and managing team performance. I am also proficient in various software programs, including Microsoft Office Suite, and I have a strong knowledge of business processes and systems.
I am passionate about building successful teams and have a track record of success in leading teams to achieve project goals. I have a strong commitment to developing high-performing teams and possess excellent communication and problem-solving skills. I am also highly organized and have the ability to prioritize tasks and manage multiple projects at once.
I am confident that I am the ideal candidate for the Team Manager role at [Company], and I am excited for the opportunity to bring my expertise to the team. I am eager to discuss the position with you in more detail and to answer any questions you may have.
Thank you for your consideration.
[Your Name]
Complimentary Close
The conclusion and signature of a cover letter provide a final opportunity to leave a positive impression and invite further action. Here's how the conclusion and signature of a cover letter should look:
Summary of Interest: In the conclusion paragraph, summarize your interest in the position and reiterate your enthusiasm for the opportunity to contribute to the organization or school. Emphasize the value you can bring to the role and briefly mention your key qualifications or unique selling points.
Appreciation and Gratitude: Express appreciation for the reader's time and consideration in reviewing your application. Thank them for the opportunity to be considered for the position and acknowledge any additional materials or documents you have included, such as references or a portfolio.
Call to Action: Conclude the cover letter with a clear call to action. Indicate your availability for an interview or express your interest in discussing the opportunity further. Encourage the reader to contact you to schedule a meeting or provide any additional information they may require.
Complimentary Closing: Choose a professional and appropriate complimentary closing to end your cover letter, such as "Sincerely," "Best Regards," or "Thank you." Ensure the closing reflects the overall tone and formality of the letter.
Signature: Below the complimentary closing, leave space for your handwritten signature. Sign your name in ink using a legible and professional style. If you are submitting a digital or typed cover letter, you can simply type your full name.
Typed Name: Beneath your signature, type your full name in a clear and readable font. This allows for easy identification and ensures clarity in case the handwritten signature is not clear.
Common Mistakes to Avoid When Writing a Team Manager Cover Letter
When crafting a cover letter, it's essential to present yourself in the best possible light to potential employers. However, there are common mistakes that can hinder your chances of making a strong impression. By being aware of these pitfalls and avoiding them, you can ensure that your cover letter effectively highlights your qualifications and stands out from the competition. In this article, we will explore some of the most common mistakes to avoid when writing a cover letter, providing you with valuable insights and practical tips to help you create a compelling and impactful introduction that captures the attention of hiring managers. Whether you're a seasoned professional or just starting your career journey, understanding these mistakes will greatly enhance your chances of success in the job application process. So, let's dive in and discover how to steer clear of these common missteps and create a standout cover letter that gets you noticed by potential employers.
Not researching the company
Not tailoring the letter to the job
Not checking for typos and grammatical errors
Not providing concrete examples to support your claims
Not providing contact information
Including irrelevant information
Using informal language
Using overly flowery language
Making excuses for past performance
Being too brief
Failing to explain how you can help the team
Key Takeaways For a Team Manager Cover Letter
Highlight your experience managing teams and any relevant successes.
Demonstrate your knowledge of the team manager position and its key responsibilities.
Show your enthusiasm for the role and the company.
Provide specific examples that demonstrate your qualifications and suitability for the job.
Reference your past successes and how they can benefit the team.
Emphasize your ability to lead, motivate and develop team members.
Search Search Please fill out this field.
Career Planning
Finding a Job
Cover Letters
Cover Letter Examples for Management Jobs
What Employers Look for in a Cover Letter
What to include in your cover letter, cover letter sample, sending an email cover letter, more cover letter examples for management jobs, management resume examples.
Nick Correia / Getty Images
The goal of a cover letter is to show that you're a strong candidate and should be brought in for an interview. When you are writing cover letters for a management position, you'll want to clearly define your management skills and experience to help differentiate you from the competition. In particular, make sure your cover letter focuses on your leadership abilities , mentioning any accomplishments as a manager in previous roles.
Below is information on how to write a successful management-level cover letter. It includes an example, a template to download, and a list of management cover letters sorted by job type for inspiration in writing your own. 
Companies want to see evidence of what you have accomplished in your previous positions. It's important to highlight your credentials that are a close match for what the employer is seeking in the ideal candidate.
Experience and Qualifications
Your objective is to write a compelling cover letter that highlights your management and leadership experience, achievements, and qualifications. For management-level positions, they will be eager to see that you've led teams and projects successfully in the past. 
Quantifiable Achievements
Rather than stating a list of tasks that you did in previous positions, share specific and quantifiable examples of accomplishments .
For example, if you reduced employee turnover by 10%, share that statistic. If you're interviewing for a sales manager position and you've hired some of the company's top salespeople, mention it. When you've led a company to record-breaking growths and profitability, share as much of that information as you can without breaching confidentiality. 
Sharing specifics about accomplishments is far more compelling than simply saying you managed a team of 15 people, performing annual one-on-one reviews. 
What You Have to Offer
Along with detailing your past management experience, you can also touch on what you would be able to accomplish in the role you're seeking. Remember, employers are most interested in how you will perform once you're in the position at hand.
Your previous experience is relevant for two reasons: to predict your future success and to show that you have the necessary background and experience to step into the position. Use your cover letter to share how your skills and abilities will benefit the company.
Open your cover letter with a salutation. Then, in the first paragraph of your cover letter, mention the specific job for which you're applying and your interest in working for the company. 
Body of Letter
Use the second and third paragraphs of your letter to explain why you are a strong candidate for the position. You can use bullet points to express some of your accomplishments. Regardless of format, this middle section needs to demonstrate that you are a good candidate with relevant experience, skills, and accomplishments. Close the letter by thanking the company for considering you for the role.
Avoid being generic in your cover letter; the most effective letters are customized for each job application. A compelling letter will show why you are the best-qualified candidate for this management position in particular. Take the time to match your qualifications to the requirements listed in the job posting. Researching the company to get a sense of their needs and goals can also help you write a persuasive letter.
Use this as a space to tell a story about yourself, expand on your resume, or highlight important skills/accomplishments that may be buried in the bottom half of your resume. While the tone should be professional, you can show some of your character and voice in your letter. 
Letter Closing
In the final paragraph of your letter, thank the employer for their consideration and include your contact information, followed by your signature.
This is an example of a cover letter for a management position. Download the management job cover letter template (compatible with Google Docs and Word Online) or see below for more examples.
Cover Letter Sample (Text Version)
Wendy Applicant 123 Main Street Anytown, CA 12345 555-555-5555 wendy.applicant@email.com 
July 12, 2021
Norman Lee Regional Manager Bubbles 123 Business Road Business City, NY 54321
Dear Mr. Lee,
I was glad to see your job posting for the new Store Manager position because I have all the qualifications you are seeking. I will be moving to Cherry Grove in two weeks and I believe I am a perfect fit for the Bubbles store.
I have four years of retail experience as an assistant manager, and my skills include the ability to train and schedule employees effectively, to manage payroll, and to track and control inventory. I also have solid written and verbal communication skills, enjoy working with people, and I have a very flexible schedule.
In addition, I have extensive experience with bath and body care products and an eye for setting up enticing product displays. In fact, at my current store, I was given the responsibility for visual merchandising, including new displays, and sales of featured products increased by 25% over the past three months.
I've included my resume so you may review my experience and education. If you have any questions, please contact me. My cell phone number is 555-555-5555, and my email is wendy.applicant@email.com. I look forward to hearing from you so we can arrange an interview.
Sincerely, 
Wendy Applicant (signature for a hard copy letter)
Wendy Applicant
When you are sending your letter via email include your name and the job title in the subject line of your message:
Subject: FirstName LastName – Manager Position
List yourcontact information in your signature, rather than in the body of the letter:
FirstName LastName Your Email Your Phone Number Your LinkedIn Profile (optional)
Here are some examples of management-level cover letters to draw inspiration from:
Construction Management
Director of Operations
Management Coordinator
Management - Unadvertised Openings
Recruiting Manager
Retail Management Training Program
Retail Sales Management
Store Manager
Supervisor / Development
Sample letters can help you write your own letter. Another helpful tool is a template, which helps you structure your letter. Here is a template for hard copy cover letters , and one for email cover letters . Finally, here are Microsoft Word cover letter templates you can use to get your own cover letter started.
In addition to looking at cover letter examples, review resume examples for inspiration on how to make your management resume the best it can be. For management-related resumes, you may include your management philosophy, examples of accomplishments and quotes from others regarding your management skills, in addition to your work history and other relevant information.
By clicking "Accept All Cookies", you agree to the storing of cookies on your device to enhance site navigation, analyze site usage, and assist in our marketing efforts.
Resume Builder
RESUME SCANNER
EMAIL FINDER
RESUME BULLET ANALYZER
Cover Letter Builder
LinkedIn Headline Analyzer
The Job Search Email Playbook
The LinkedIn Launch Formula
The Interview Preparation System
No Experience, No Problem
Value Validation Project Starter Kit
SEE ALL COURSES
SUCCESS STORIES
Manager Cover Letter Examples For 2023 (20+ Skills & Templates)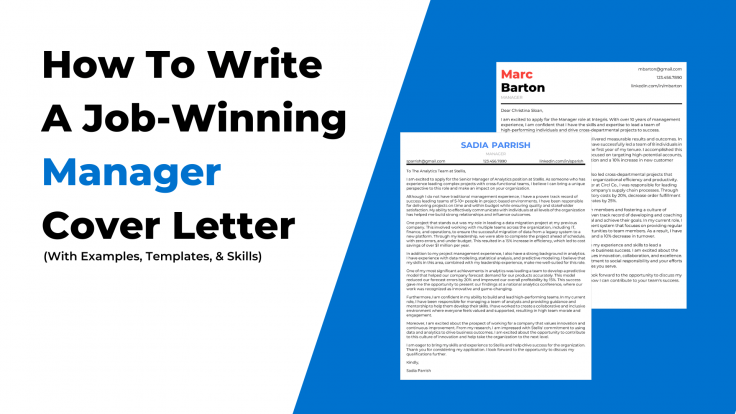 Are you looking to land more Manager job offers?
You're going to need a strong cover letter. This comprehensive guide is packed with everything you need to know in order to write a job-winning Manager cover letter. It's got everything from effective strategies and essential skills to helpful templates and real-life examples.
You can trust that all the insights and tips in this guide are based on data from coaching thousands of job seekers, just like you, who have gone on to secure positions at some of the world's most reputable companies.
Whether you're an experienced manager or just starting out, reading this guide from start to finish can help you land your dream role. But if you're short on time and looking for specific information, here's a breakdown of what's included:
What To Know About Writing A Job-Winning Manager Cover Letter
The Best Skills To Include On An Manager Cover Letter
How To Address A Manager Cover Letter
3 Manager Cover Letter Examples
The 8 Best Manager Cover Letter Templates
3 tips for writing a job-winning manager cover letter.
Here's the step-by-step breakdown:
Manager Cover Letter Overview: What To Know To Write A Cover Letter That Wins More Job Offers
What do companies look for when hiring for a manager role?
When hiring for a manager role, companies look for candidates with a combination of technical expertise, leadership skills, and interpersonal abilities. Effective communication, decision-making, problem-solving, and organizational skills are also essential for success in a managerial position.
Managers should also possess technical knowledge that's relevant to the industry, and have strong interpersonal skills that are necessary for building strong relationships and working effectively with others.
Typically, organizations also look for candidates with prior management experience, as it demonstrates a track record of success in a leadership role. However, this isn't a requirement. Overall, companies seek candidates who can lead their team to achieve organizational goals, communicate effectively, and make timely and effective decisions.
Your resume should show your potential employer that both your personality and your experience encompass all of these things.
Additionally, there are a few best practices you want to follow to write a job-winning manager resume:
Highlight your leadership and management skills.  Include examples of how you have motivated and led teams to achieve organizational goals.
Emphasize your communication and interpersonal skills. Provide examples of how you have effectively communicated with team members, stakeholders, and clients.
Include keywords from the job description:  ensure your resume is optimized for applicant tracking systems (ATS).
Highlight your problem-solving and decision-making skills.  Provide examples of how you have addressed complex issues and made effective decisions.
Include any relevant certifications, awards or professional development courses.  Demonstrate your expertise in your industry or field.
Quantify your work:  Use numbers to showcase the impact of your leadership on your team's performance. Some examples include improvements in employee productivity, increased team morale,  and boosts in overall team performance.
Proofread:  Carefully proofread your resume for errors and typos, as these can give a negative impression to potential employers (I recommend using the  Hemingway App ).
Let's dive deeper into each of these so you have the exact blueprint you need to see success.
The Best Manager Skills To Include On Your Cover Letter
Keywords are one of the most important factors in your cover letter. They show employers that your skills align with the role and they also help format your cover letter for Applicant Tracking Systems (ATS).
If you're not familiar with ATS systems, they are pieces of software used by employers to manage job applications. They scan cover letters for keywords and qualifications and make it easier for the employers to filter and search for candidates whose qualifications match the role.
If you want to win more Manager interviews and job offers, you need to have a keyword-optimized cover letter. There are two ways to find the right keywords:
1. Leverage The 20 Best Manager Keywords
The first way to find the right keywords is to leverage our list of the best keywords and skills for an Manager cover letter.
These keywords were selected from an analysis of  real Manager  job descriptions sourced from actual job boards. Here they are:
Communication
Team Member
Performance
Development
Consistency
Interpersonal Skills
Accountable
Organization
2. Use ResyMatch.io To Find The Best Keywords That Are Specific To Your Cover Letter And Target Role
The second method is the one I recommend because it's personalized to your specific cover letter and target job.
This process lets you find the exact keywords that your cover letter is missing when compared to the individual role you're applying for.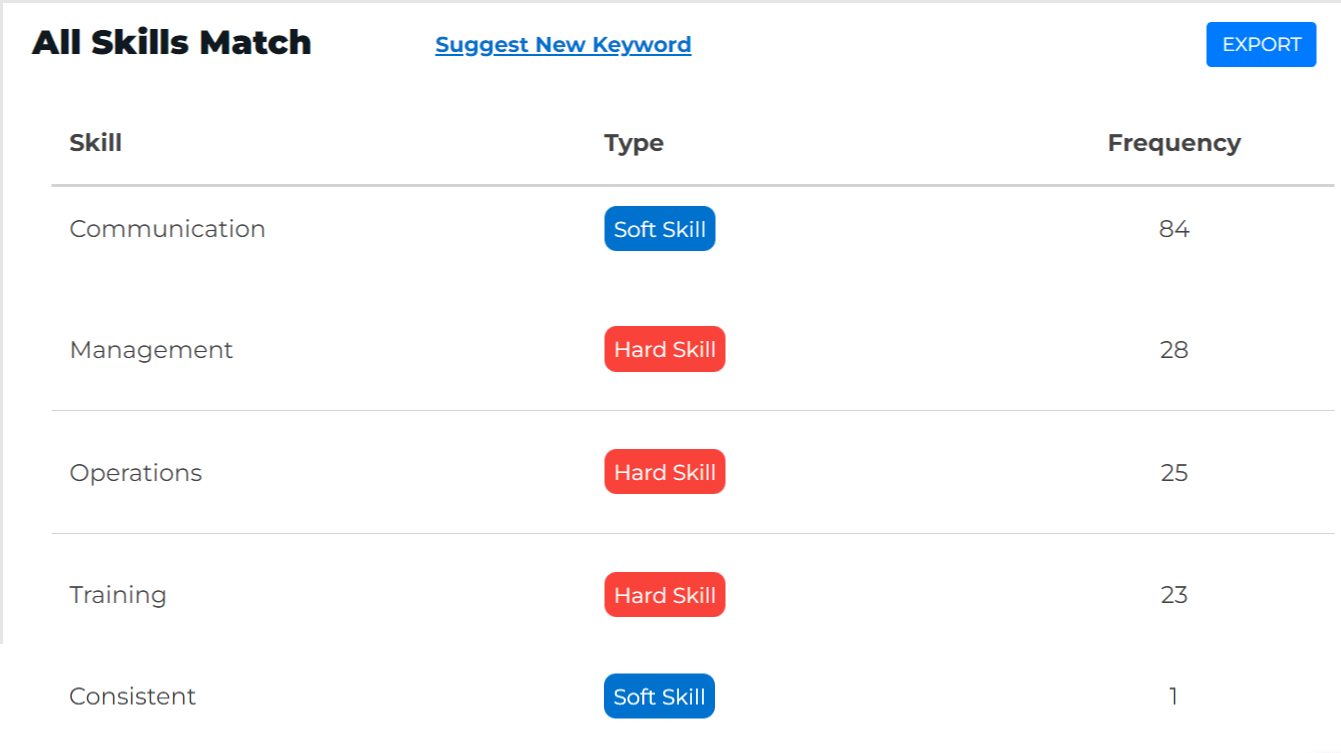 Here's how it works:
Open a copy of your target Manager job description
Head over to  ResyMatch.io
Select the "Job Description Scan" from the scan type selector in the upper right corner of the tool
Copy and paste the Manager job description into the field on the left
Hit scan and review the results
ResyMatch is going to scan the target job description and show you the exact keywords and skills that are relevant for the role and that you should weave into your cover letter.
Here's a video walking through this whole process:
Adding a personal touch is what makes a cover letter stand out, and that starts from the very first sentence! You should always greet the person reading your cover letter and there are two ways to do this well:
1. Use The Hiring Manager's Name
The first, and best, is by including the hiring manager's name. Let's say that you discovered the hiring manager's name from a post on LinkedIn or via an informational interview.
This is the jackpot! All you need to do is use their name in the introduction, like this: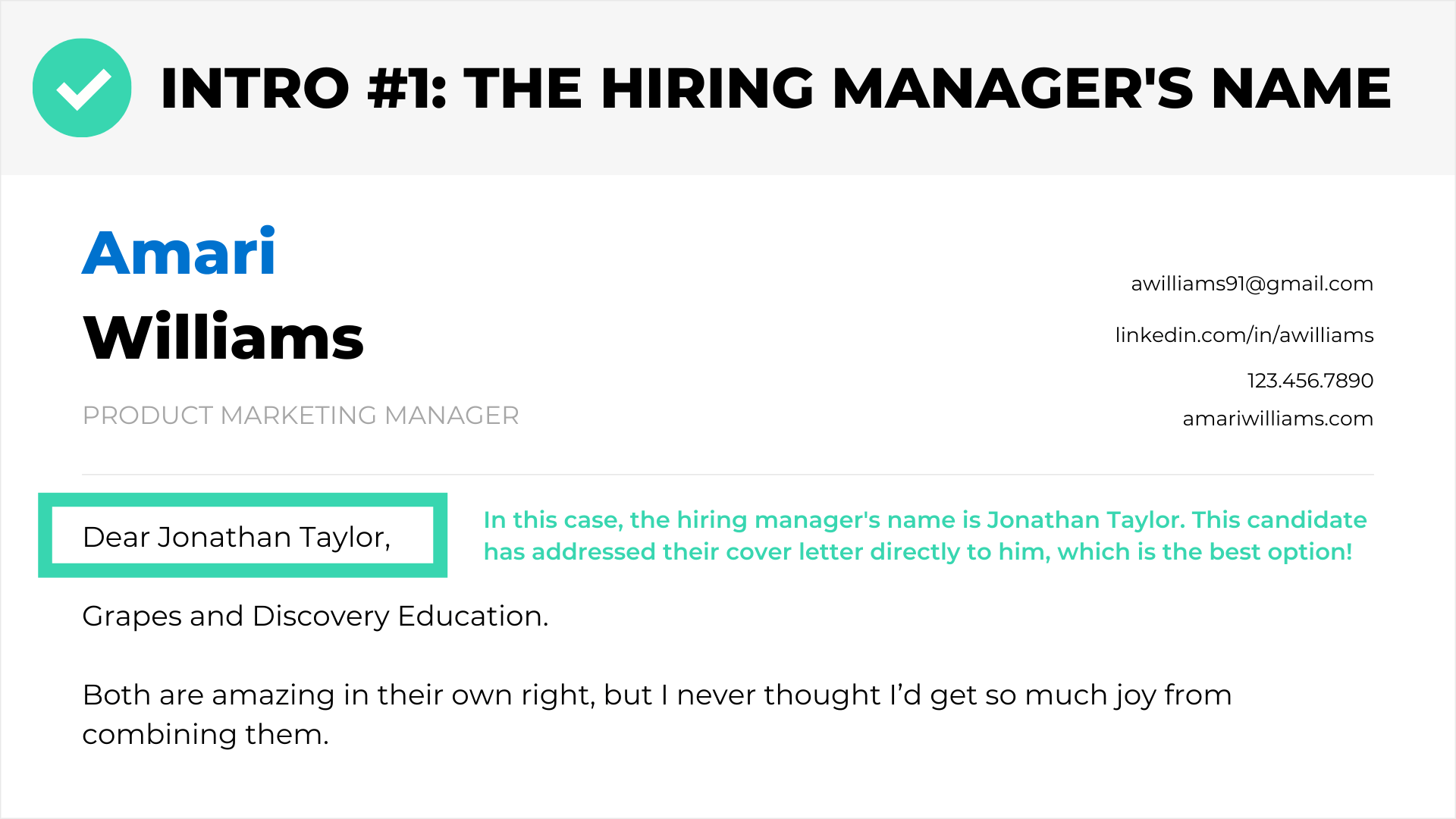 2. Use This Formula: To The [Department] Team at [Organization]
If you don't have the hiring manager's name, no problem! You can address your cover letter to the team that you're applying to.
For example, if you're applying to for a Product Marketing Manager role at Discovery Education, you might start you cover letter like this: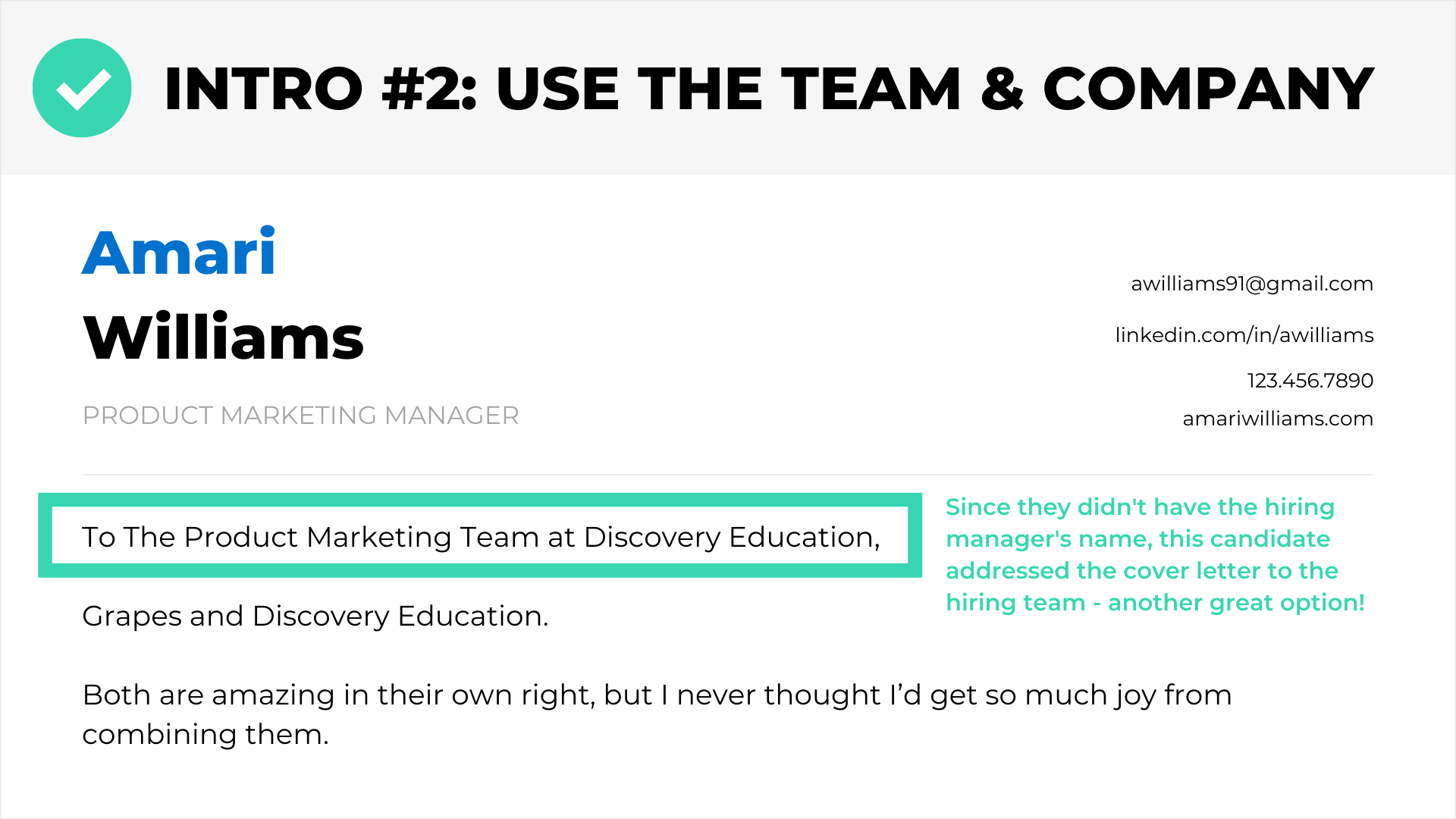 This shows the reader that this letter has been written specifically for them and the content inside of it will support that.
It's much more relevant and personal than  "To Whom It May Concern!"
For more advice on writing a strong opening to your cover letter, check out this guide.
3 Manager Cover Letter Examples For 2023
Now let's take a look at all of these best practices in action. Here are three cover letter examples for different situations from people with different backgrounds that are all applying for Manager roles:
Manager Cover Letter Example #1: A Traditional Background
Our first example is a cover letter written by a candidate with traditional Manager experience. Here is what an example of their cover letter might look like: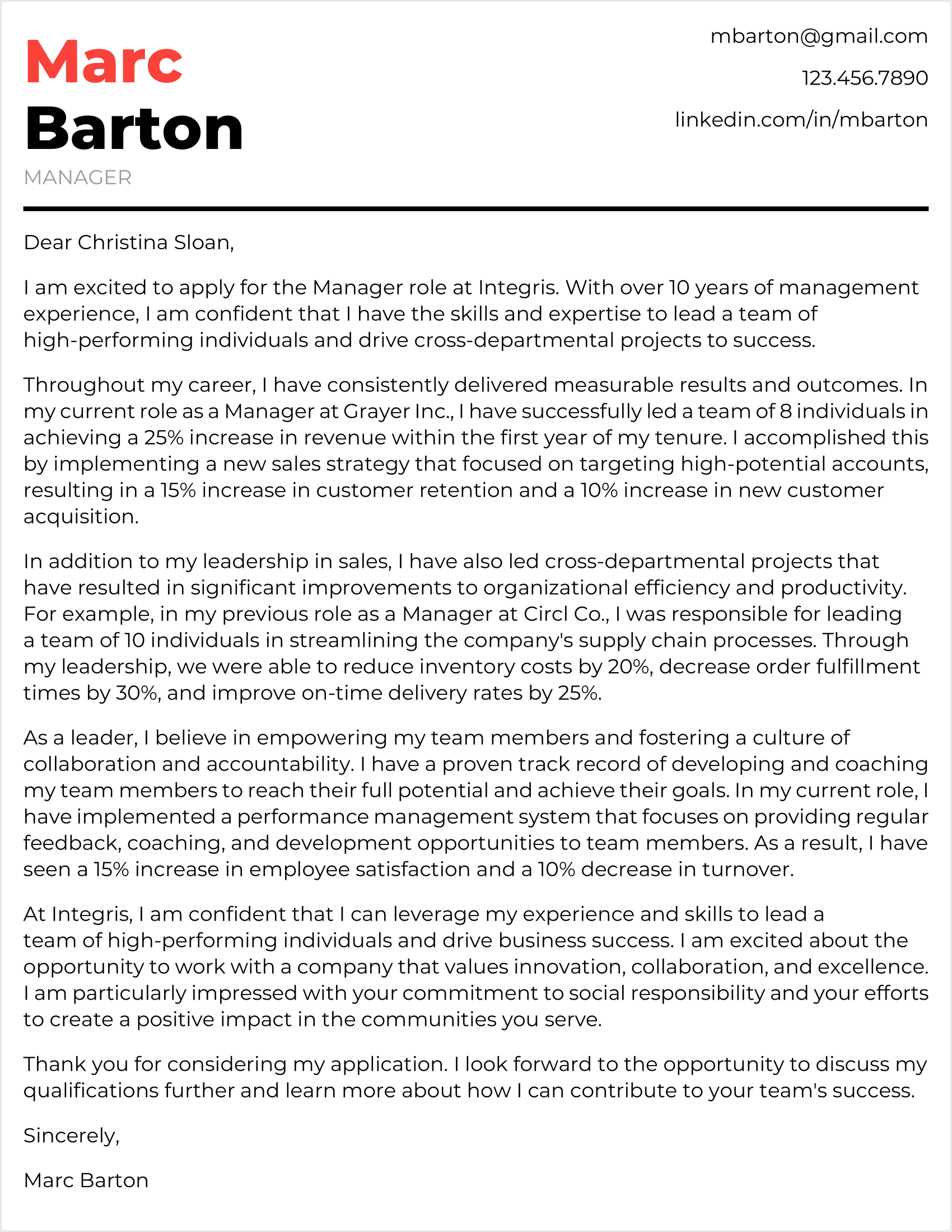 Manager Cover Letter Example #2: A Non-Traditional Background
Our second cover letter example comes from a candidate looking to make the leap from an individual contributor role to a management position. While this person doesn't have traditional management experience, they do a good job of speaking to their relevant leadership skills and how they can transfer to this new role.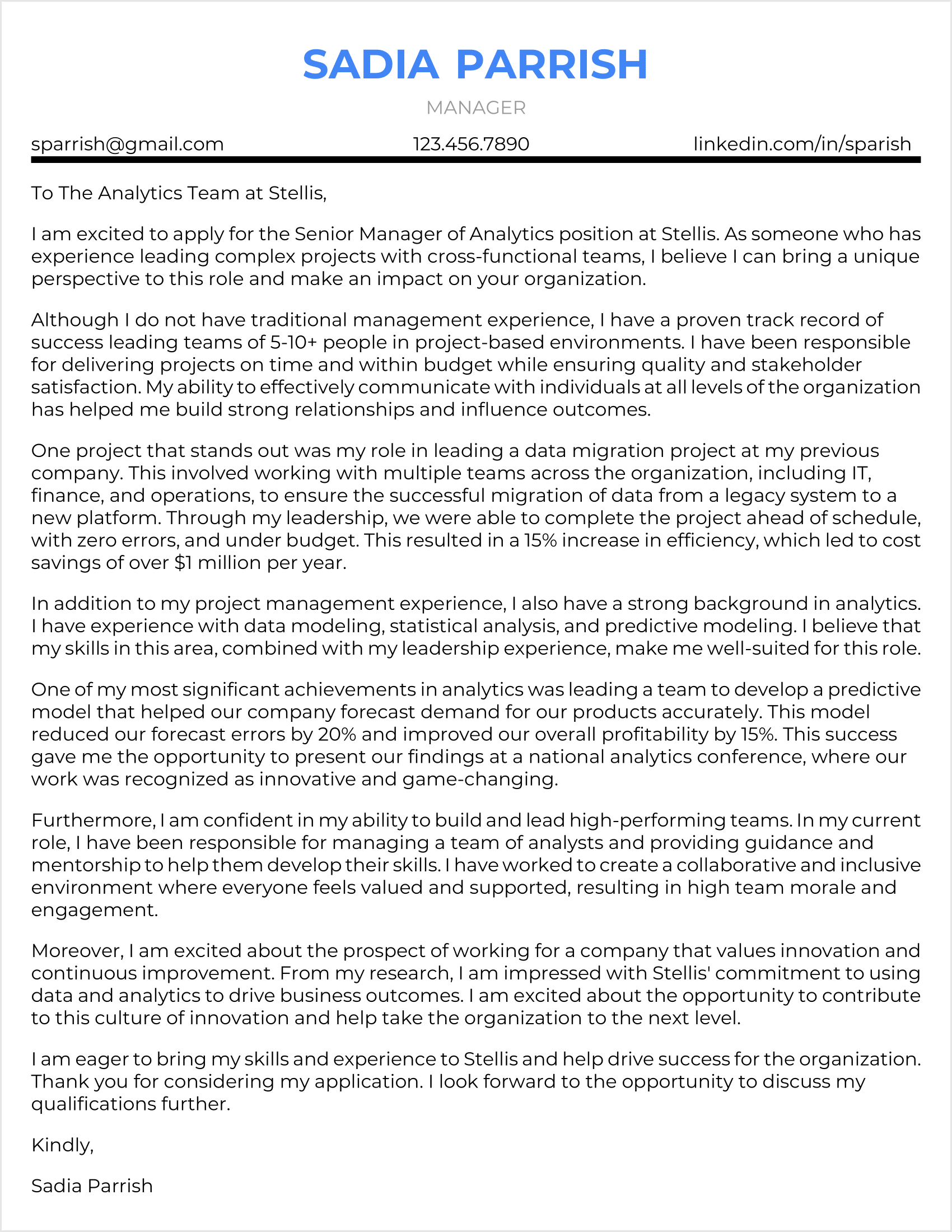 Manager Cover Letter Example #3: Landing a Senior Management Role After a Career Gap
Our third example highlights a candidate with extensive management experience who has been freelance consulting during a career break. Addressing a gap in your employment history can feel tricky, but this person does a good job of demonstrating their value as a leader and what they can bring to this new role.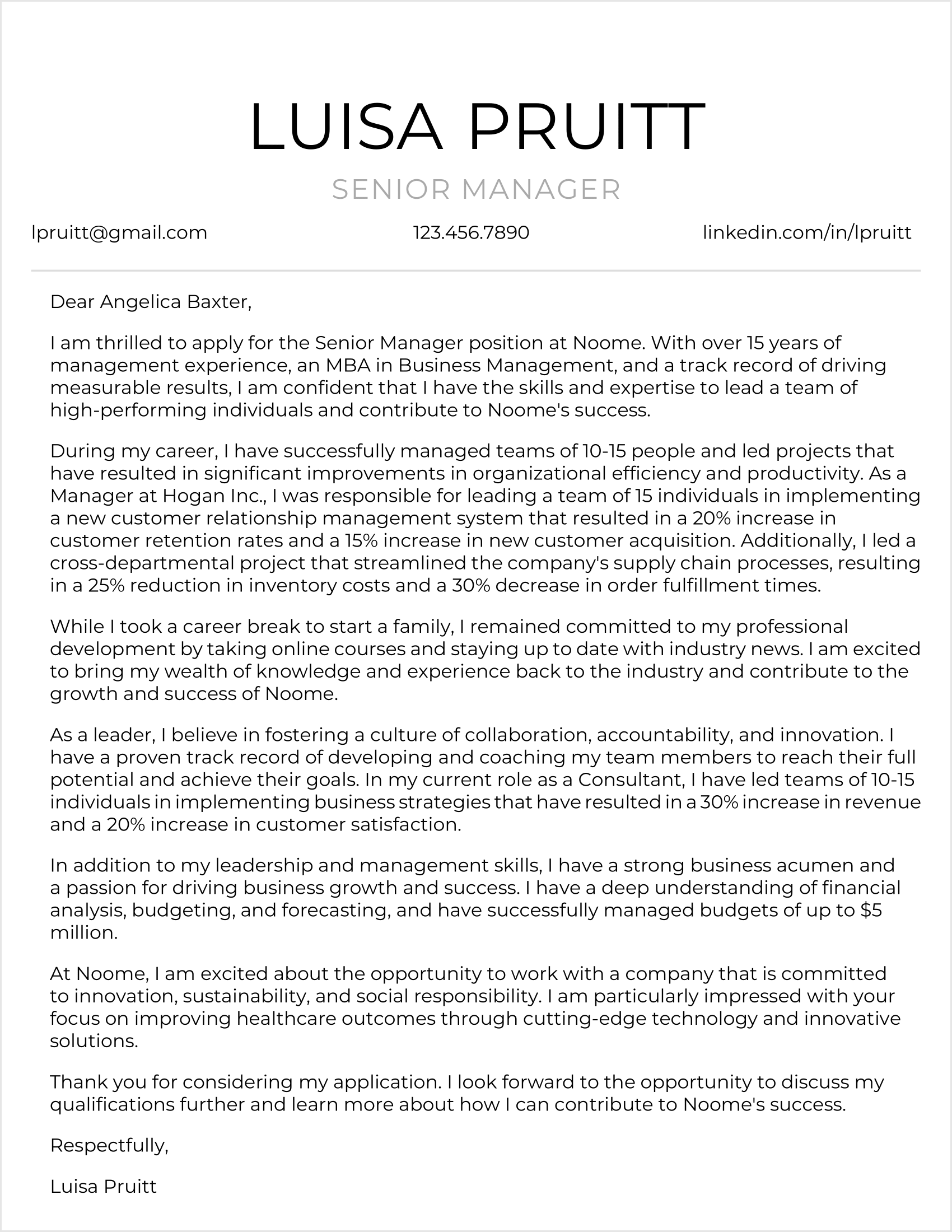 At this point, you know all of the basics you'll need to write a Manager cover letter that wins you more interviews and offers. The only thing left is to take all of that information and apply it to a template that's going to help you get results.
We made that easy with  our CoverBuild tool . It has 8 proven templates that were created with the help of recruiters and hiring managers at the world's best companies. These templates also bake in thousands of data points we have from the job seekers in our audience who have used them to land job offers.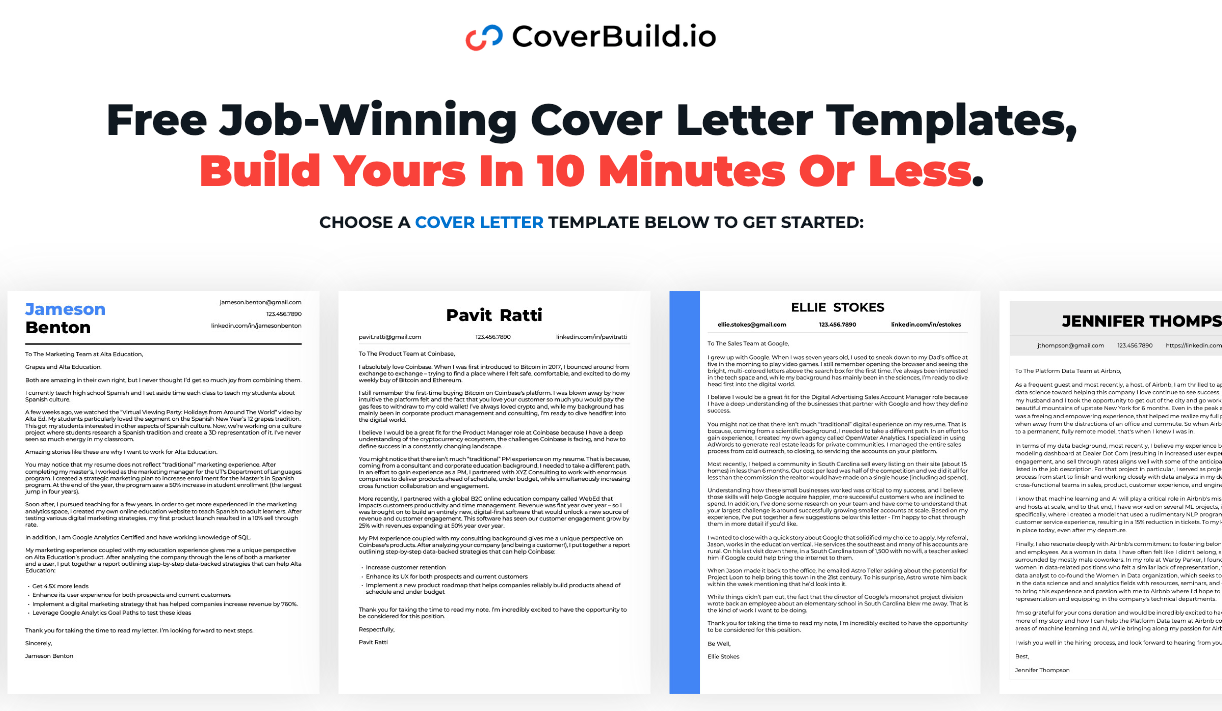 You're off to a strong start! But I've got a few more tips to help you take your cover letter to the next level:
1. Use ChatGPT To Write Your Cover Letter In <30 Seconds
All of these tips and best practices work, but you still have to implement them. Normally, that'd mean you sitting down and spending hours brainstorming ideas, typing, deleting, and typing again, and then feeling absolutely drained.
Now there's a way to work around all of that so you save your best energy for the writing and edits that matter most. Here's how it works:
Head to ChatGPT (you'll need to create an account – it's free)
Ask ChatGPT,  "Please write me a cover letter for an Manager role. The role I'm applying for is [Job Title] role at [Company]. Here is the job description: [Paste Job Description]. And here is my resume: [Paste Resume].
Watch ChatGPT write up a pretty darn good cover letter base!
Here's a video of me doing this with a real cover letter if you want to see the steps in action:
Note:  I  do not recommend or advise that you simply copy and paste the content from ChatGPT into your cover letter and submit your application. ChatGPT is great for doing 80% of the baseline work, but you still need to review, revise, and personalize the content yourself.
2. Include Measurable Metrics And Outcomes
Too many job seekers only focus on the actions that they took and not the outcomes that resulted from those actions. As a campus principal, it's impossible to differentiate between a dozen candidates who were all "Responsible For Creating a Safe Learning Environment." 
If you want to win, your cover letter should speak to the specific outcomes that you drove in previous roles. That could be:
The percentage by which your team increased revenue under your leadership.
The average reduction in overall expenditures.
The average employee satisfaction rate.
The rate at which your employee retention increased from year to year.
These numbers will show hiring teams what you're capable of and make your value crystal clear!
3. Match Your Cover Letter And Resume Design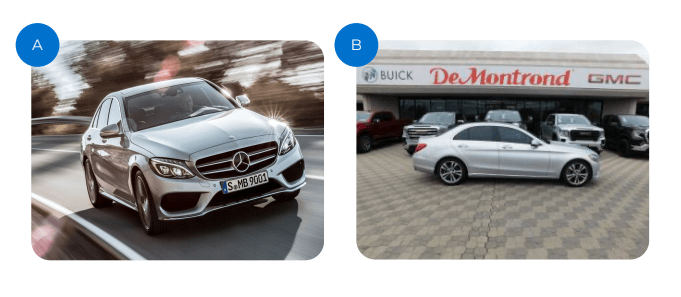 They're the exact same car, down to the year, make, and model. The only difference is the way the product was presented. Like I said, quality impacts perceived value.
One of the best ways to boost the quality of your cover letter is to make it look clean, professional, and have it match your resume. That's why the resume templates in our resume builder tool match the cover letter templates in our cover letter builder: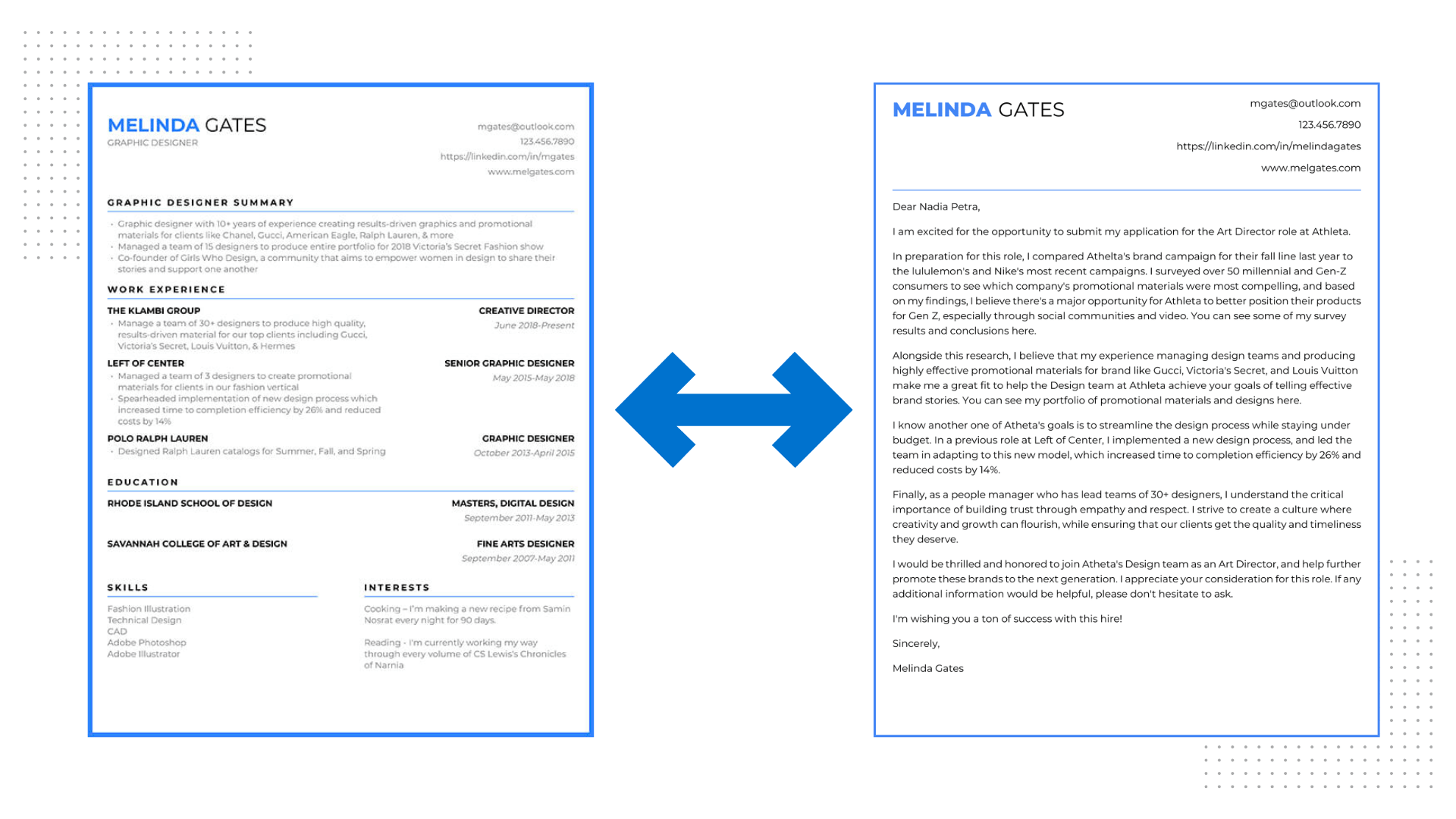 If you use both tools to create your cover letter and your resume, your entire application is going to be top notch.
Key Takeaways To Wrap Up Your Job-Winning Cover Letter
You made it! We packed a lot of information into this post so I wanted to distill the key points for you and lay out next steps so you know exactly where to from here.
Here are the 5 steps for writing a job-winning Manager cover letter:
Start with a proven cover letter template from CoverBuild.io
Use  ResyMatch.io to find the right keywords and optimize your cover letter for each Manager role you apply to
Start your manager cover letter with a personalized greeting for the hiring manager or Human Resources representative.
Emphasize the measurable outcomes and value you drove in previous roles (include metrics!)
Compare the draft of your manager cover letter to the examples on this page to make sure you're on the right path
Use a tool like  Hemingway App to proofread your cover letter before you submit it
If you follow those steps, you're going to be well on your way to landing more Manager interviews and job offers.
Laura Lorta
Laura is an Editor at Cultivated Culture. She transitioned from teaching into the world of content so she's no stranger to career pivots. She also has a bachelors in Entrepreneurship and a Masters in Curriculum & Instruction / Bilingual Education. She currently shares job search advice to help people like you land jobs they love without applying online.
LEAVE A REPLY Cancel reply
You must be logged in to post a comment.
Most Popular Posts
YOU'VE SEEN AUSTIN IN

WHAT CAN I HELP WITH?

Welcome Back To Cultivated Culture!
Log into your Cultivated Culture account using one of the options below:
Forgot your password? Click here to reset.
Need a free acount? Click Here To Sign Up
By logging in, you agree to Cultivated Culture's Terms of Use , Privacy Policy , and agree to receive email updates.
One Free Account, Four Job-Winning Tools
Sign up for a free Cultivated Culture account and get access to all of our job search tools:
Your Bullet Score is:
Sign up for a free Cultivated Culture account to get the full breakdown of your bullet along with suggestions for improving it:
Sign Up To Save & Export Your Resume
Sign up to create, save, and export your resume and get access to our suite of job search tools!
Sign Up To Get More Free Email Searches
Create a free account to unlock more email searches and get access to all four of our job-winning tools:
Your Headline Score is:
Sign up for a free Cultivated Culture account to get the full breakdown of your headline along with suggestions for improving it:
Already have an acount? Click Here To Log In
We Just Need You To Verify Your Email.
We just emailed you a 6-digit code. Please check your email and enter it below.
Note: Your progress will not be saved until your email is verified. Closing this pop up or window might cause you to lose your progress.
Invalid Code
Choose one of the options below to get the verification code we sent you!
We'll need you to verify your email address before you're able to unlock free scans.
We'll need you to verify your email address before you're able to unlock free templates, saves, and exports.
We'll need you to verify your email address before you're able to unlock free email searches.
We sent a verification code to your email, all you have to do is paste that code here and submit to get full access!
Looks Like You Still Need To Verify Your Email Address!
Whoops! Looks like you still haven't verified your email address. We'll need you to do that before granting free, unlimited access to our tools.
If you can't find the original verification email, click the link below and we'll send a new one:
Sent! Please check your email.
Oops you've hit your credit limit..
Looks like you've used all 10 of your free credits for the month. Your credit limit will refresh in days. You can learn more about your credit limit here.
Want to stop worrying about credits?
Sign up for our Unlimited plan to get instance unlimited access to all of our jon search tools for one low price. Click below to learn more:
Go Unlimited!
Upgrade your plan to get unlimited access to all 5 of our offer-winning job search tools and 200 email searches / week:
Go Unlimited (& Save 10%)!
Upgrade to get unlimited access to our resume tools, 200 email searches / week, and 10% off our regular pricing thanks to your friend :
Your Unlimited plan comes with...
Unlimited access to all 5 of our resume tools
200 Mailscoop searches per week
No obligations - cancel any time
By clicking "Upgrade My Plan," you agree to Cultivated Culture's Terms of Service and Privacy Policy
Unlimited Plan Upgrade
Change payment method.
Promo code has been applied to your purchase!
Note: This is a monthly subscription, your card will be automatically charged every month until you cancel your plan.
Terms of Use | Privacy Policy
(C) 2022 Cultivated Culture
Note: You will not be charged for updating your credit card using this form. After your new card is added, you will be billed on the date of your next billing cycle.
Upgrade Complete!
You are officially a
Unlimited Member
Invoice Details
Paid Today:
Start Date:
Subscription:
Next Bill Date (Est.):
Note: This receipt and future invoices will be available in the Billing Tab of your Account Dashboard .
How To Land The Entry Level Team Manager Job
Finding a job opening in the Sports industry isn't tough, but getting hired is a much bigger challenge. You need to demonstrate the skills and experience that hiring managers are looking for, and that's why you need a well-written Entry Level Team Manager cover letter.
The following Entry Level Team Manager cover letter template offers step-by-step guidance to writing a cover letter that will move your application to the top of the pile! Create Cover Letter
Harold Rivera
123 Main Street, Stateland, ST, 99999
Cell: (555) 123-9876 – [email protected]
RE: Marketing and Communication Intern
Dear Hiring Manager,
As a highly skilled sales and administrative professional, I read with interest your posting for a marketing and communication intern. My experience aligns well with the qualifications you are seeking and I am positive I would make a valuable addition to your company.
With almost 10 years of experience in sales and customer service environments, I am accomplished in diverse functions including revenue generation, customer satisfaction, research, and inventory management. My excellent career history is built on well-developed leadership, organizational, and communication abilities. As someone with a strong work ethic and a can-do attitude, I have consistently been able to improve sales and bring positive outcomes even in challenging circumstances.
In addition to my experience and personal qualities, I offer a strong commitment to ongoing education and development and am currently pursuing my MBA in Sports Administration. I am eager to continue to develop as a professional while contributing to your organizational goals with my drive, passion, and expertise.
Please review my attached resume for additional details regarding my expertise and career achievements. I would welcome an opportunity for an interview and I look forward to hearing from you at your earliest convenience so we can discuss the position and your needs in detail.
Thank you for your time and kind consideration.
Create Cover Letter
Advertisement
Online Degree Explore Bachelor's & Master's degrees
MasterTrack™ Earn credit towards a Master's degree
University Certificates Advance your career with graduate-level learning
Top Courses
Join for Free
Project Manager Cover Letter: Example and Tips
Cover letters are an opportunity to showcase your experiences and accomplishments as a project manager, and share your professional goals.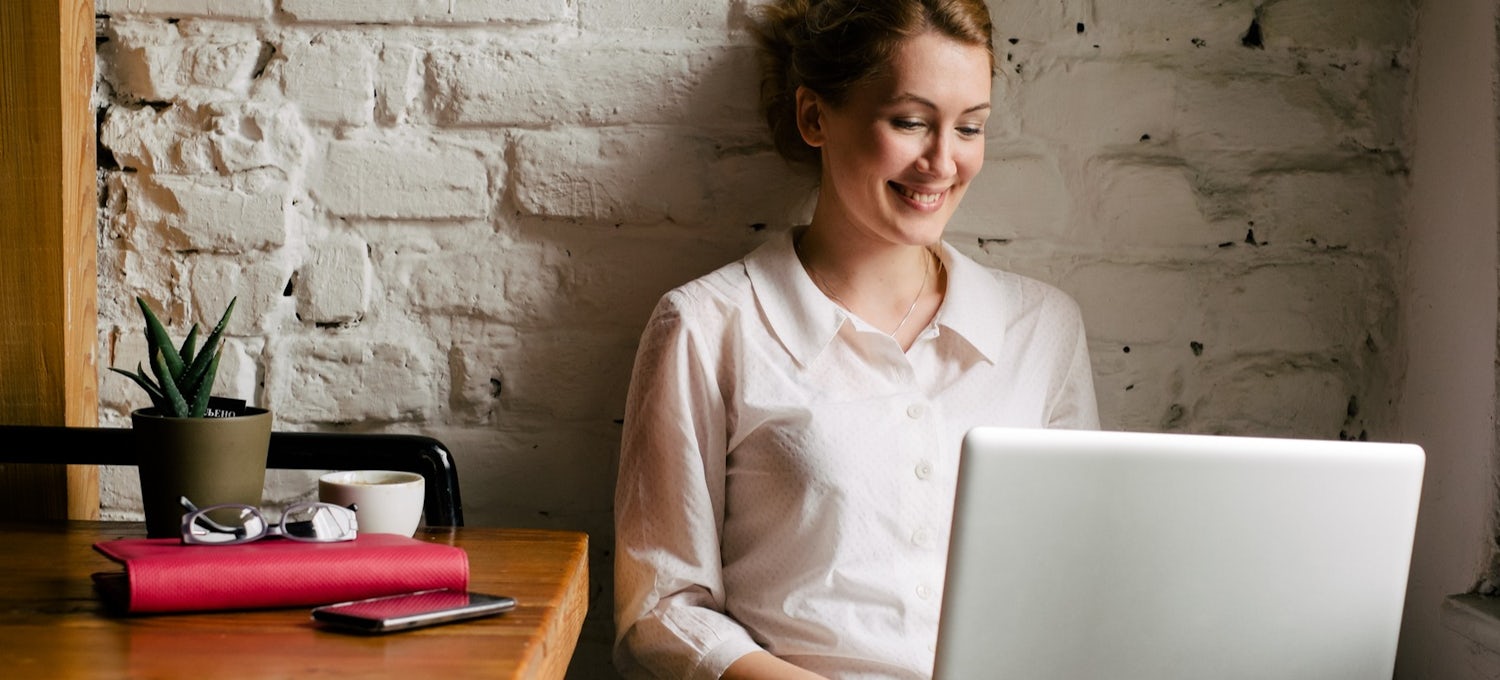 Cover letters are often the first thing that hiring managers see in your application. Though some might argue that cover letters are obsolete, employers still use cover letters to learn more about candidates. Plus, it can indicate that you're serious about the job, and give yourself another chance to convey who you are. It's a good idea to take them seriously, especially if a job application asks for one.
For a project management position , a cover letter can be an opportunity to expand on the skills, motivations, and past successes you have under your belt that didn't fit into your resume. Let's take a look at what that might look like.
Project manager cover letter example
Reading through a sample cover letter can be a good way to jog your creativity and inspire your own.
Here's the cover letter in text format:
October 4, 2021
Harland Sanders
123 Animal St
Chicago, IL 60290
Dear Mr. Harland Sanders,
My name is George Lee, and I am excited to be applying to the Junior Project Manager position at Animax. I am currently a Project Coordinator at Square Paws, where I have supported several projects successfully to completion. I have long admired Animax's work to improve animal adoption processes and would be delighted to contribute my skills to the team.
At Square Paws, I oversaw multiple aspects of running numerous projects. I worked closely with the project manager to develop project schedules, ensure team members had the resources they needed to complete their tasks, and coordinated communication with stakeholders on project updates. I am particularly proud of a project to roll out a feature on our app that users could use to book appointments with veterinarians. As a complex project that involved multiple stakeholders, it was important to be mindful of the details and listen continuously to feedback from users. My efforts to coordinate an early feedback system in a trial period led to the discovery of several bugs and pain points that we fixed for the launch. We were able to reduce customer concerns by 80% and ultimately completed the project under budget by $3,000.
I have long been familiar with animal adoption centers and believe wholeheartedly in Animax's mission. I have volunteered consistently at animal shelters since high school and am familiar with their processes. In college, I took several courses that I believe can be useful to the project manager role, including zoology and business administration. Working as a project manager in this field will allow me to expand my knowledge of the industry, and assist in my ultimate goal to make the world a more livable place for shelter animals.
I believe that my past experience, skillset, and passions make me a strong candidate for Animax's team. I hope to hear from you soon. Thank you for your time.
(123)456-7890
How to write a good project manager cover letter
1. start with your qualifications..
Hiring managers might be inundated with job applications. You'll want to give the hiring manager a reason to keep reading right away by stating your qualifications in the introductory paragraph. State who you are, and what relevant experience you bring in opening your cover letter.
What if I haven't worked as a project manager before?
Even if you haven't held the title of project manager before, chances are you've done some elements of project management. Have you led meetings, assembled a team, or helped improve a process on your team? Those are project management skills. If you're still hoping to build out your project management skills, you can consider applying to more entry-level project management jobs like project coordinator or assistant project manager. Learn more about how to become a project manager .
2. Tailor each cover letter to the job.
Templates or old cover letters you've used in the past can help get your cover letter started. But don't forget to tailor them specifically to each job. Companies like to see that you're genuinely interested in the job and company, and that you've done your research.
Look over the job description to see what kinds of qualities and skills the organization is looking for. If you're applying to a large organization, think about what keywords an automated system might scan for. In project management roles, these might include Agile, mitigation, change management, or risk management. The job description is usually a good way to gauge what qualities and skills might be keywords.
Read more: How to Address a Cover Letter
3. Think beyond your resume.
A cover letter can be a place to expand on your resume , and then some. You can elaborate on one or more of your accomplishments, but don't simply rehash what your resume already says.
Think about what you can include that showcases your value beyond the accomplishments listed in your resume. How can you connect the cover letter to your personal experiences, or your personal story? What made you interested in this field? What in particular excites you about the job or company, and why? How does this job fit into your goals for the future? Your cover letter should both connect your experiences to the qualities the company is looking for, and show why you, as a person, are good for the job.
Read more: 12 Project Management Interview Questions and How to Answer Them
4. Use numbers. 
Concrete numbers can help illustrate your success in past jobs. If you worked on projects, what metrics made them successful? Did customer satisfaction improve by a percentage, or did you complete the project under budget? 
5. Proofread.
Project management is a profession that demands big-picture understanding and a keen awareness of the details. Make sure your cover letter is formatted correctly and free of spelling and grammatical errors. If you can, have a trusted friend or colleague look through your cover letter to catch anything you may have missed.
Need more structure in your job search process? Try creating a job search plan. Learn what they are in the video below.
Getting started in project management
When starting a cover letter, you might consider pulling up a template or past cover letter you've used and tweaking it until it feels right. You might also start by making a list of qualities the job description asks for, and building your letter around those.
Need a refresher on project management concepts? Online courses can help you review the basics, or get you up to speed with the latest project management practices. If you're looking for a place to start, take a look at the Google Project Management: Professional Certificate. The first week is free.
Related articles
How to Become a Project Manager: 5 Steps
Project Manager Career Path: From Entry-Level to VP
11 Key Project Management Skills
What Is a Project Manager? A Career Guide
What Does a Project Coordinator Do?
11 Interviewing Skills to Benefit Your Career
Keep reading
This content has been made available for informational purposes only. Learners are advised to conduct additional research to ensure that courses and other credentials pursued meet their personal, professional, and financial goals.
Take $100 off your annual subscription
For a limited time, you can get a new Coursera Plus annual subscription for $100 off for your first year!
Get unlimited access to 7,000+ learning programs from world-class universities and companies like Google, Microsoft, and Yale.
Build the skills you need to succeed, anytime you need them—whether you're starting your first job, switching to a new career, or advancing in your current role.